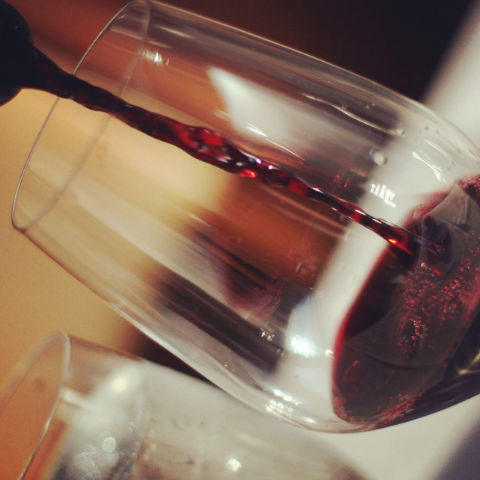 [Doniree Walker]
Define the Wine
I cut my teeth on Zinfandel. Can I use that expression with wine? Either way, Zinfandel is the red that got me into reds. I'm sure I'd had merlot at a wedding before, and lord knows I had my share of jug wines and boxed wines in college. But, when I really started drinking wine, my mother liked Ravenswood Vintner's Blend Red Zinfandel, so that's what I remember as my first real foray into red wines. To this day, Ravenswood and Gnarly Head both have a special place in my wine-stained heart because of the memories associated with staying up late, over-sharing with my mother, and fishing for details of her younger hippie days.
Zinfandel grapes yield a beautiful and robust red wine, and the grape's high sugar content can mean bottles of wine at over 15% alcohol.
The taste of the wine depends on the ripeness of the grape. Makes sense, right? But here's the fun part, and maybe you should experiment (read: drink LOADS of red wine) with this knowledge until you find your favorite zin. If you like red berry fruit flavors (think raspberry) in your wines, find wines from cooler areas, as these regions produce jammier, fruitier wines. If you're more into the blackberry, anise, and pepper notes, look for wines made in warmer areas.
A Grape By Any Other Name
Ever seen a bottle of Primitivo at an Italian restaurant? Good news for Zinfandel lovers -- it's the same grape! Primitivo is just its tall, dark, and handsome Italian name. Not quite as easy to pronounce, it's also genetically equivalent to Crljenak Kaštelanski and Tribidrag.
In the US, Zinfandel is most widely grown in California, though many other states grow and make it as well. Italy's Primitivo is mostly grown in Puglia (the "heel" of Italy), and it's also found in Croatia and Australia. South Africa has a small production of Zinfandel, and Old Vine Zinfandel plantings have been found in Mexico, dating from the 1930's.
Plays Well With Others
Carnivores rejoice! Zinfandel pairs really with meat, including everything from BBQ ribs to lamb. It works well with spicy meats like Italian sausage and sweet/savory favorites like spare ribs and brisket. If you've opted for a lighter meat like poultry, Zinfandel still works well and would hold up against a richer, heavier sauce than other wines.
Not a meat-eater? Zinfandel also works wonderfully with pizzas and pastas served with tomato-based sauces, as well as all kinds of herbs including pepper, basil, thyme, fennel, as well as aged cheeses like parmesan, cheddar, gouda, and asiago.
Basically, it is a most versatile fruit, and you'd do well to try it with just about everything. I know I plan to.
---