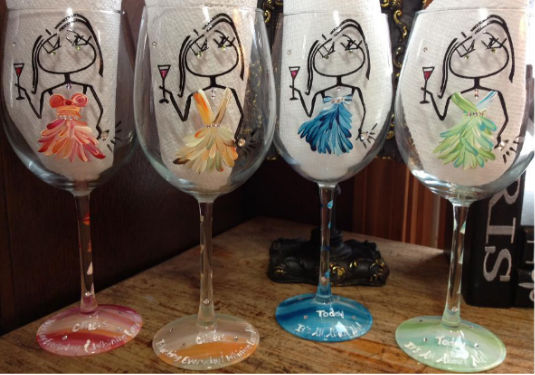 There are thousands of wine glassmakers and today's wine glasses run the gamut from trendy to classic, from stemless to stemmed. Glassware is a hot topic because wine is a sensual thing; it's all about the experience…and part of that experience starts with the choice of glass from which to sip. As wine writer Karen MacNeil says, "Although wine can be happily drunk from just about anything from Flintstones jelly glasses to Baccarat crystal…a good wine glass can heighten the pleasure."
Understanding that concept has helped artist Robyn Spindler propel her passion and talent into a career in the retail side of the wine industry. She's taken ordinary wine glasses, added her whimsical character, Robyn with a ~"Y," and created a message she thinks women can relate to. Spindler's tagline, "Do you know how expensive it is to be me?!" is a line Robyn pulled from her own life, representing women who feel "she's special in the comfort of her own reality and just as deserving of all of life's extras."
Since Christmas 2009, when the idea for Wine With Robyn With a Y was born, Robyn has been in a whirlwind of social media, festivals and fairs as she quickly builds awareness of her brand by combining art and wine for your sipping pleasure.
Without further ado, meet Robyn Spindler as she shares a bit of her story, her reason for choosing stems and her marketing success through social media. She will be exhibiting at the Boston Wine Expo Feb. 16-17.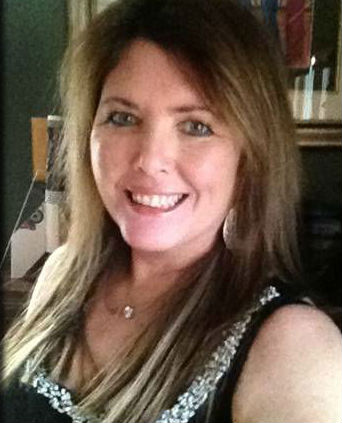 RS: What was your "A-Ha" moment when you knew you were going to combine your love of wine and art as a new career?
ROBYN: I would say my "a-ha" moment was the day I actually started painting on my wine glasses and realized that I could combine my education and love of fashion with my art and my love of wine with a couple strokes of a paint brush… As each glass was completed and new style and colors were emerging I knew I had something that people would love.
RS:Why the Character "Robyn with a Y" and where did she come from?
ROBYN: Characters are always fun. People can relate to them. This character had to be just right. With such a sassy saying, I wanted people to take it all in fun, so she had to have just the right look. I wanted to base her off of me, so she has brown hair, green eyes and a round face. I like my wine and I love big diamonds!! So there you go. Most importantly, she is fun, playful, enjoys life and likes to make people laugh!
RS: Are there other characters available?
ROBYN: I do have a male character on my wine glasses and a young cheerleader girl for my shirts. I do plan to have more in the future.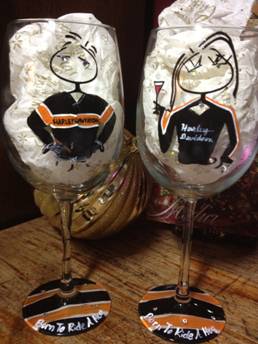 RS: What's behind some of the quotes on your glasses? Do you think they help your glasses stand out from others?
ROBYN: The quotes, Well that is what started everything… That Christmas night we were invited to our best friend's house in our neighborhood for wine and desserts. My husband got me going about spending money on the Christmas gifts and I blurted out, "Do you know how expensive it is to be me?!" (The story is on my website.) I do think the quotes help my glasses stand out from others because they personalize the glasses more and they are different and funny.
RS: What is your background? Were you always an artist?
ROBYN: I may have been an artist but never realized it until my later years. I picked up my first paint brush when my twins were about 3 or 4 and started with acrylic paints on canvas. I did not always enjoy wine—I actually hated it! And my girlfriends made fun of me for a long time. When I did start drinking wine it was white zinfandel. It took a few years, but I finally started to enjoy more reds and whites as well.
RS: What is your favorite food and wine pairing?
ROBYN: A dark red wine with an Italian pasta dish!
RS: Do you prefer stems or stemless glassware and why?
ROBYN: I prefer stems, first because I need them for my sayings on the bottom. Second, you need the stem so you don't warm the wine and change the taste.
RS: What's been your favorite adventure in wine so far?
ROBYN: I guess my favorite adventure in wine so far has been the shows and the people I have met.
RS: What do you feel women bring to the table in an industry that's been mostly dominated by men?
ROBYN: Well so far, from where I'm sitting, I would say a little fun and laughter!
RS: Do you prefer bubbles, reds or whites?
ROBYN: I prefer reds.
RS: Do you have a favorite wine or brand?
ROBYN: I love J. Lohr Cabernet
RS: Do you feel the style of glass matters depending on what you're sipping?
ROBYN: I am picky about my glasses, but not to the point that it has to be in the correct glass for the correct wine. I actually prefer my white and reds to be in a white glass and a large one at that!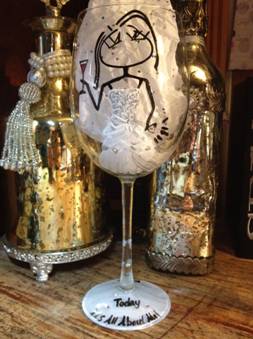 RS: You built a strong Facebook following in a short time, what do you contribute to that?
ROBYN: My facebook following would be due to my always being on it. LOL, but networking with others and having giveaways and just being personal with people on my page too, :)
RS: A favorite toast you'd like to share?
ROBYN: My favorite toast would have to be, "Do You Know How Expensive It Is to Be Me?!"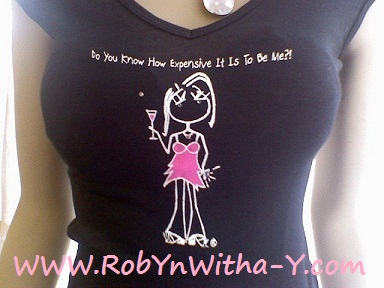 RS: What has been the best lesson you've learned venturing into your own business?
ROBYN: Number one lesson learned is to always believe in yourself.
RS: Corks vs. screw caps: which do you prefer and why?
ROBYN: Corks, not sure why so much in the past, but for Christmas I received a battery-operated cork opener and I just love opening bottles now.
RS: How did your invitation to the Boston Wine Festival for 2013 come about and when is it?
ROBYN: After applying for the Boston Wine Expo this past fall, I was excited to be accepted by one of the representatives. They loved my concept and said I would fit perfectly with their young hip crowd. The Wine Expo is Feb. 16-17.
RS: What do you feel is the number one factor women look for in a wine?
ROBYN: Women, whether they are young professionals, working moms, stay-at-home moms or empty nesters, tend to make purchases with a price in mind. Like me, I think most women don't want to break the bank on a bottle of wine but want to find a great wine at a good price. That is a huge factor.
RS: What woman from history or current, either real or fictional, would you compare yourself too?
ROBYN: Oh boy if I had to compare myself to someone… I would say a cross between Sofia Vergara (personality) and Rachael Ray (her crafty business woman side).
RS: If I were producing a movie about the story of Wine with Robyn with a Y, what would the title be?
ROBYN: But of course, "Wine with RobYnWitha-Y" Maybe for fun we could change the spelling of wine to Whine…
RS: What actor would portray you in that movie?
ROBYN: I would go with Marisa Tomei. She shows a crazy independent sprit about her, very much like me.
RS: What type of role do you feel social media plays in building your brand?
ROBYN: It plays a HUGE role. I first thought I would try to hit up the retail stores in the area, but getting on Facebook, Twitter and Pinterest, I have received so much more attention. I have reached sales as far as Australia and England, as well as all over the U.S. such as Washington, California, New Mexico, Texas, Ohio, Florida and more. It has been amazing!
RS: It's the end of your day, the kiddos are tucked in, what are you reaching for?
ROBYN: At the end of the night I am reaching for my favorite Wine with RobYnWitha-Y Wine Glass, and depending on the night, half full or to the top with my favorite wine!! Lol
Robyn Spindler is combining numerous roles in her life and proving that following your passion is possible. Her hand painted, custom glasses with quirky sayings do add to your wine experience. This writer can say that as I've been sipping from my personal Wine With Robyn With a Y glasses that I bought over a year ago. To learn more about Wine With Robyn With a Y and her custom glassware, visit her website and follow her on Facebook and Pinterest.
Join us at WineTable and connect with me and together we'll experience some fantastic wine and meet some fantastic women in wine. Want to read more about women in wine? Check out our other articles in the Women & Wine Series. >>
---