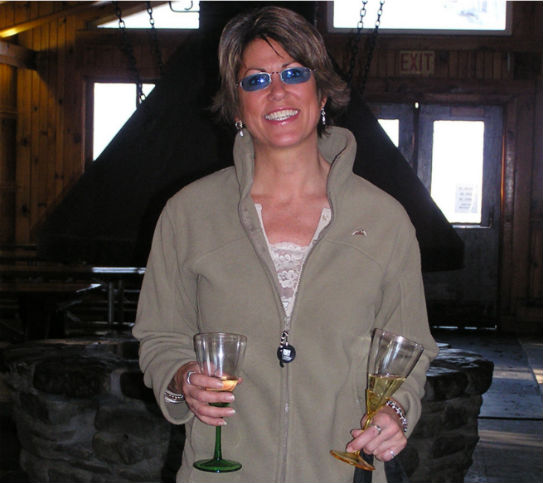 Breathing new life into vintage barn wood one board at a time and creating a unique "keeper of the wine" is the goal of designer/creator Lisa Jacuzzo. Her rustic wine bottle holders, known as Wine Dwellers, are custom engraved and beautifully designed from reclaimed, vintage barn wood and perfectly balance a single bottle of wine. She believes she's created a unique way to display your favorite bottle of wine, as it appears to magically float in place (her favorite is a merlot paired with a nice filet mignon).
Jacuzzo will tell you that if the dwellers could talk, they would tell a story of fortitude and integrity. Each stressed nook, knot and weathered impression shares the character and story that has endured through the decades. Jacuzzo has her own story to tell of taking a leap of faith and leaving behind a career in an ad agency and starting her own design business over 22 years ago. Being true to her passions; design, history and wine has created a nice niche for her stellar wine gear.
Her memory of wine botas brings a smile to my face as I'm transcended back in time to the bota my young dad carried around. I think a dweller and bota bag just got added to my "must have" wine gadget list. Without further ado, meet Lisa Jacuzzo as she shares about Wine Dweller and explains what a bottle blessing is.
RS: What was your "A-Ha" moment when wine dweller was born?
LISA: My "A-Ha" moment was while on a road trip to Vermont...passing by all the old beautiful barns that stood empty. I thought about their character and integrity as they aged over the years. Then, I thought about if the walls could talk - if the wood could talk - what a story they would speak of years gone by. My creative juices started to flow and the next thought path I was on was, "What could be done with some of the wood from these old barns? Something that would breathe new life back into it - my mind turned to wine as I thought of "aging" which turned to what is now known as our Wine Dwellers. I spent the weekend sketching ideas and within a few weeks had purchased our first batch of reclaimed barn wood and our journey began...
RS: How did you come up with the name "wine dweller?"
LISA: After drawing up the initial designs I began working on the name and branding. I wanted something simple yet memorable - a name that would do the design justice. After tossing around thoughts for the weekend while in Vermont, the one thought that kept coming back to me was how the bottle of wine was actually housed in the wood as it balanced, and Wine Dweller was born!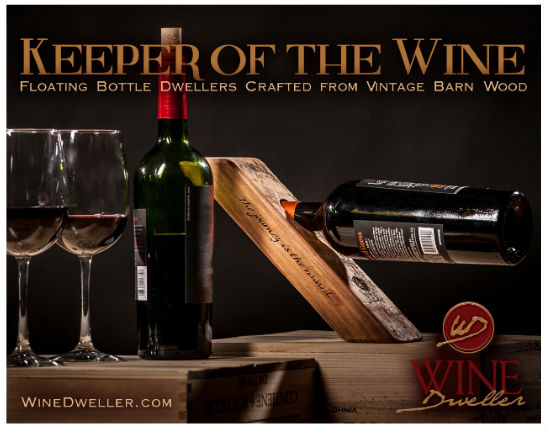 RS: Do you make each dweller by hand yourself?
LISA: Each of our Wine Dwellers are individually crafted from vintage barn wood and are wonderfully unique in character - no two are the same. We work with a talented wood artisan and engraver to bring our designs to life. Our core wood is vintage barn wood. Our current lot is Southern Yellow Pine and Hemlock.
RS: What's the magic behind the dweller? Why doesn't the bottle tip the dweller over?
LISA: Each is individually crafted and unique - not a cookie cutter model you can find online. The center of gravity of a Wine Dweller and the bottle of wine are directly over the angle of the base it dwells on. Looks like a little magic as it seems to float and not tip over. They make a wonderful conversation piece!
RS: Share why you've chosen to use green products, like recycled wood and cork.
LISA: We definitely try to use reclaimed, sustainable products when possible. We live in such a throw-away society and it is such a shame. It is our way of doing our part.
RS: What's a bottle blessing?
LISA: Our Bottle Blessings are various toasts printed on small cards and enclosed in a small muslin bag with a jute string tied to them. You hang them on the bottle of wine you are gifting and the Blessing is read when the wine is shared with family/friends - just a fun little way to spread some good cheer!
RS: What do you feel women bring to the table in an industry that's been mostly dominated by men?
LISA: I guess I would have to say they are great buyers in the wine market for one! I think they add a refreshing lightness to the world of wine - in a very positive, fun way. I also believe they bring a valuable perspective to the industry when it comes to the marketing of wines/wine accessories.
RS: What would be your one piece of advice for women wanting to pursue a career in the wine industry or sharing their passions as you are?
LISA: Believe in yourself. If you have a passion for what you believe in - what you love to do - go for it and give it all you've got. Passion and tenacity pair together nicely!
RS: Would you like to share your favorite toast with our readers?
LISA: My favorite toast is, "May you never lie, steal, cheat or drink. But if you must lie, lie in each other's arms. If you must steal, steal kisses. If you must cheat, cheat death. And if you must drink, drink with us, your friends. Cheers!"
RS: Your top 5 wine choices for your dwellers?
LISA: Hazlitt 1852 Vineyards Riesling, Merritt Winery Pinot Grigio, Kendall Jackson Chardonnay, Spring Lake 2010 Zinfandel Dry Red, One Woman Sauvignon Blanc.
RS: You've just launched the Wine Dweller recently and already have over 900 Facebook fans! Why do you think your fan base has grown so quickly?
LISA: I believe we have grown quickly because we try to engage our fans - we ask their input on new products, have fun contests - our customers are why we exist and we appreciate them.
RS: Can you share something about yourselves or dwellers that most people would never guess?
LISA: People would never guess I rode from Miami, FL to NY on the back of a Harley.
RS: What woman from history or current, rather real or fictional, would you compare yourself too?
LISA: This is a hard one! How about, Sacajawea - she showed Lewis and Clark the way....while carrying a baby on her back...for a thousand miles.
RS: Besides your dweller, what is the next "must have" wine essential?
LISA: Our custom-engraved Spanish Wine Botas are wonderful! I remember my grandparents filling their bota of wine and heading out to hike the Green Mountains of Vermont. When they got to the top of the mountain, they would sit down open the bota and have some cheese and wine - love that memory and wanted to bring a bit of that back to life.
RS: How far have you traveled for a bottle of wine you've always wanted?
LISA: Paris, France - trip of a lifetime!
Read more about Wine Dweller by visiting the website, following them on Facebook or Twitter. Join WIneTable today and connect with Lisa and myself and together we'll discover unique wines, gadgets and more…
Want to read more about women in wine? Check out our other articles in the Women & Wine Series. >>
---