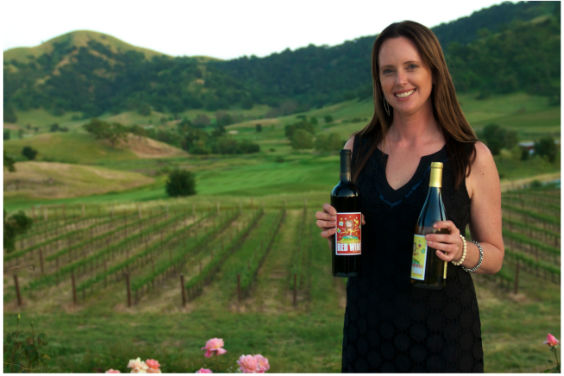 [Mommy Juice Founder Cheryl Durzy at the 2011 Mommy's Night Out at Clos LaChance / Credit: Bryan Kramer, used by permission]
Being a mom is a constant juggling act. One that MommyJuice Wines founder, Cheryl Durzy understands first hand. The 14-year wine industry veteran daily juggles the duties of a wife, mother of two, sales and marketing for her parents' vineyard Clos LaChance Wines. As if one job wasn't enough, in 2010, she took the knowledge gained through working with the family vineyard and turned her vision of bringing balanced, fruit-forward wines that bring a bit of peace after the chaos of everyday life as a parent into the market. Inspired by busy moms, innocence of children and quality wine, this mommy created a brand to reach hurried moms everywhere.
Durzy is also responsible for Clos LaChance's multi-channel sales and manages marketing for the brand and the other business units. She sits on several industry boards, including the Santa Cruz Mountains Winegrowers Association (where she was board president for the past two years) and Free the Grapes. She has obtained several wine certifications along the way; Introductory level Master Sommelier and passed with merit the Advanced Certificate level of the Wine and Spirits Education Trust.
Without further ado, meet Cheryl Durzy as she shares what inspired MommyJuice Wines, the wine region she thinks you should visit and the best lesson she's learned working alongside her parents.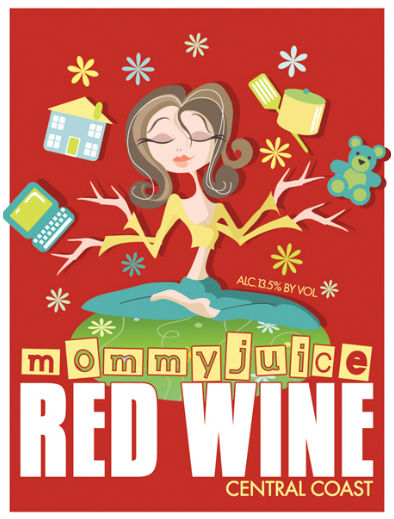 RS: What was your "A-Ha" moment when you knew wine was going to be your career?
CHERYL: I was actually working in high tech for a few years after college. I was NOT loving what I was doing…I dreaded going to work and had no passion for the products I was pitching (I was in PR for an agency). My parents were asking my advice about hiring a sales and marketing person for their small winery—they asked if I could help interview with them because of my marketing background. I came to the realization that I would like that job.
RS: What is the key difference between the family winery Clos LaChance and your adventure with MommyJuice Wines?
CHERYL: Well both wines are made here at Clos LaChance, but with different grapes/blends. We use less or no oak on the MommyJuice to keep the costs down and the flavor profile very fruity and easy to enjoy. The main MommyJuice wines are non-varietal and non-vintage, which gives us a lot of options when it comes to final blends. Our goal is to make it taste consistent at each bottling.
Clos LaChance is your more traditional family-owned-and-operated winery. We have Estate grapes, a tasting room/hospitality center…and it's a more of what you would think of when you think "winery." My parents started it back in 1992 out of a small vineyard in the backyard. My dad was also in high tech and he calls the winery his "hobby run amuck." It has grown from 100 cases from my parent's backyard to 80,000 cases from estate vineyards and a few other properties throughout the northern Central Coast.
RS: Where did the name "MommyJuice Wines" come from?
CHERYL: I have a glass of wine pretty much every night with dinner. I have two kids—9 and 5—so wine has been a part of our family dinner routine since they can remember. They started pointing at my wine glass yelling, "That's Mommy's Juice!" Then one day I was doing my tenth load of laundry and I thought "I can't wait for my MommyJuice tonight." Then a light went off… hey, that's a super cute name for a wine. I did the research, got the approvals and trademarks, developed the label and now here we are!
RS: So, what does MommyJuice Wines look like in 10 years?
CHERYL: Honestly, I have no idea. I feel like the brand is really just in its infancy—even though I have been working on it for three years! I hope that MommyJuice is a brand that moms go to for a regular glass of quality, inexpensive wine or is something they give to their friends as gifts. New moms are popping up every day, so the market is always growing and changing.
RS: That said, what do you believe moms of young children need help with most?
CHERYL: I think moms of babies and toddlers really need to feel okay about taking time for themselves. For the first couple of years, everything is ALL about the kids. I also feel that moms need to give themselves a break and not beat themselves up over perfection. I kind of feel like I am just over that hump—both kids in elementary school and they are pretty much self sufficient. It gets easier in terms of the amount of work, but it gets harder because now it is about raising this little personality. Sometimes I long for the days of staying home while my newborn sleeps, poops and cries. But at the time I couldn't figure out how I would get through the day.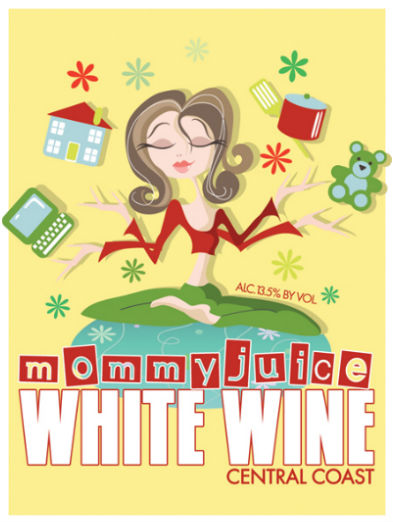 RS: What has been the best lesson you've learned working alongside your parents?
CHERYL: To be a good citizen. It's important while running a business, large or small, to treat people well. Employees, customers, vendors—just be good. And good things will happen.
RS: What is your favorite food and wine pairing?
CHERYL: I love a good Pinot Noir with something earthly like mushrooms or truffles.
RS: What wine region do you wish more people tried?
CHERYL: I know I am a little biased because I sit on the board, but the Santa Cruz Mountains really has some terrific wines. It is kind of a funky region for visiting and tasting because the geography of the mountains has wineries really spread apart. There are some neat little pockets of areas (Los Gatos, South County, Corralitos) that have 4-5 cool properties with really great wines. It is such a beautiful area too; vineyards within huge redwood groves. Love it.
RS: What do you feel women bring to the table in an industry mostly dominated by men?
CHERYL: The industry definitely has more women involved than it did when I first started. I remember going to a sales meeting of 100 people (a wine distributor in Massachusetts) and they had one woman on staff. It was crazy. Now you see more women in sales and buying roles and definitely in winemaking roles as well. I look forward to more women in management roles. I think that women have incredible palates and good common sense (not that men don't). I also think women are very supportive of other women in this industry.
RS: What would be your best advice for women pursuing a career in the wine industry?
CHERYL: This is the wine industry and it includes drinking, trips, dinners and lots of fun events. People in this wine industry area are really nice and want to be here. With that said, the main advice is just be professional, especially on the sales side. I have seen a few younger reps that have a little too much fun at work events. It comes back to haunt you.
RS: Do you prefer bubbles, reds or whites?
CHERYL: That's like asking me to pick between my favorite child! I love them all…they each have a certain place in my life. Different situations call for different wines.
RS: If I were to ask one of your kiddos what mommy does? The reply would be....
CHERYL: Sells MommyJuice.
RS: Why choose wine from a boutique winery?
CHERYL: Wine is such an interesting beverage. Every wine is unique and that's what makes it so fun. I love going to wineries and picking up a bottle that is really limited and can only be purchased at the winery. I also love hitting up my favorite local retailer (the Grapevine in San Jose, CA) where they save bottles of this really unusual, limited wine just for me because I love it (Pinot Meunier).
RS: Corks v. screw caps—which do you prefer and why?
CHERYL: Screw caps. Easy access. And way too many corked bottles in my lifetime.
RS: Can you share something about yourself that most people would never guess?
CHERYL: I am absolutely obsessed with Words with Friends. I have about 10 games going right now. I like to think I am really good. But I'm not. I'm A-W-E-S-O-M-E. Also, I want to write a book someday. I have a few ideas—but don't have the discipline to put them on paper.
RS: What do you feel is the number one factor women look for in a wine?
CHERYL: Quality. I think like most things, if something is just not good, women will not be back. No matter what the price. And then they will tell all their friends about how much they don't like your wine. Quality is key—no matter what.
RS: What woman, rather real or fictional, would you compare yourself to?
CHERYL: Wow, that's a tough one. When my friends and I talk about the fabulous compound we are going to have on a Greek island when we are old and gray, we compare ourselves to the Golden Girls. I am Sophia—but that's only because I go to bed earlier than everyone else. I have had people tell me I look like Julianne Moore—but I think that's just wishful thinking on my part. My Sex and the City character would be a cross between Charlotte and Miranda.
RS: If I were producing a movie about the making of MommyJuice Wines, what would the title be?
CHERYL: "Have Kids? Need Wine!"
RS: What type of role do you feel social media plays in branding MommyJuice Wines?
CHERYL: It's a big role in awareness of the brand. It will be interesting to see what happens once the wines are widely available. I am excited to be able to start doing some marketing around the brand. We are planning to expand on our annual "Mom's Night Out" and do them in a few other cities around the country.
RS: It's the end of your day, the kiddos are tucked in, what are you reaching for?
CHERYL: Wine glass and the remote. I get up at 5am, so I have about an hour after the kids go to bed before I fall into a coma. Hubby and I have a few shows we love together, so that's our downtime. I will also have my iPad in my lap playing Words with Friends simultaneously.
***
Cheryl Durzy graciously balanced her busy schedule to fit our interview in. At the time she was excited to share that MommyJuice Wines just got picked up by their first large national chain, so the wines will be available in 1200 more stores this spring. As the MommyJuice website says, "Moms everywhere deserve a break. So, tuck your kids into bed, sit down and have a glass of MommyJuice – because you deserve it!"
Read more about MommyJuice Wines by visiting the website, following them on Facebook or Twitter @MommyJuiceWines. Then discover more about the family vineyard over at Clos LaChance Wines.
Want to read more about Women in Wine? Check out our intro piece and check back weekly for a new feature. Join us at WineTable and connect with me and together we'll experience some fantastic wine and meet some fantastic women in wine.
---