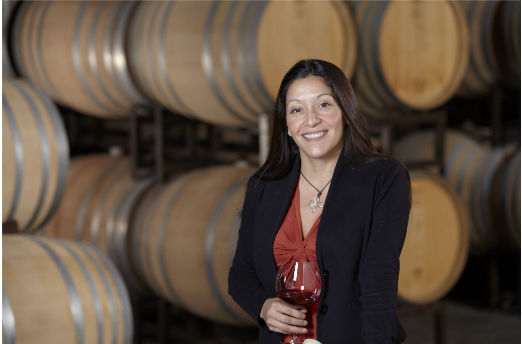 Theresa Heredia, Winemaker at Gary Farrell Winery, Russian River Valley, California
Gary Farrell Winery has legendary status. They have been producing award wining pinot noir and chardonnay for decades. In May 2012, they hired Theresa Heredia to take over their winemaking.
I've recently gotten to know more about Theresa, and her impressive wine credentials. We actually have related scientific backgrounds. She also shares my fascination with cork taint (trichloroanisole, aka "TCA") and the issues around developing a wine closure that can retain the pageantry that is removing a cork, yet not have so many limitations such as taint, bottle-to-bottle variation, and premature oxidation. In fact, she actually worked on a treatment process designed to produce TCA-free corks using carbon dioxide (CO2) in its supercritical state. In short, she shares my love of wine and nerd power. I hope you can get to know Theresa a little bit better, below.
21 Questions
1. What were you before you were a winemaker? A scientist focused on cancer-related peptide research.
2. If you weren't a winemaker you'd most likely be a chemistry professor.
3. Happiest moment(s) during the wine crafting process (besides "finishing")? Walking around the cellar during harvest, smelling the grapes and fermenting must in tanks, tasting wines from tanks and barrels during and after fermentation…I often think how nice it is that somebody is paying me to do this. ;)
4. Worst moment(s)? Hmmm…are there any? How could anyone complain about any aspect of this job? Ok, maybe the bees or the pincher bugs crawling up your pant legs while on the sorting table…
5. For the rest of your wine-crafting days, if you could only make wine from one red grape variety what would it be? Pinot Noir, of course. ;)
6. For the rest of your wine-crafting days, if you could only make wine from one white grape variety what would it be? This could be a boring answer but I do love making Chardonnay. There are so many different ways to make it that I don't think I would get bored. I love a crisp, steely Chardonnay just as much as a more oxidized style that is golden and honeyed. You can ferment it cold or hot, stir it or not, barrel it or put it in stainless steel, inoculate it or let it ferment spontaneously, use heavy or light solids, top it up frequently or infrequently to let it oxidize slowly, use skin contact, make it a sparkling wine and, if I dare say this, with a little botrytis perhaps? There are so many other variables! It is a very robust grape that holds up well in lots of weather conditions.
7. How do you define "bottleshock"? This term describes a mini psychological breakdown that a winemaker suffers from during and shortly after bottling. ;) Or the serious answer: A period of up to several months post-bottling during which a wine displays diminished fruit characteristics and can show more oak and acid. May be due to sulfur dioxide additions before bottling or by the abrupt change from barrel or tank to bottle where significantly less "breathing" occurs.
8. How long do you let your purchased wines rest after they have been delivered? Generally a few weeks, but sometimes longer since I often put my purchased wines in storage for consumption on a special occasion.
9. Please list 5 words (or more) to describe Mega Purple and/or its use and/or users. Well, I've never used this product and do not plan to use it, but the name makes me think of Hummers and steroids. A few more words to describe it would be artificial, grape concentrate, jammy, pruny, unnatural and "dirty little secret."
10. What is your favorite beer(s), and why? Belgian-style ale, lambic and IPA. Some favorites: Pliny the Elder, Chimay Blue and Lost Abbey Framboise or just about any Kriek lambic.
11. Your favorite cocktail(s), and why? Oh Snap! A cocktail from Millennium restaurant in San Francisco made with organic Snap-a ginger molasses spirit, muddled fresh ginger, bitters, fresh lemon juice, ginger agave, soda, rocks; I love a classic mojito with a good Dominican or Jamaican rum since I can't get Havana Club; a very personal family favorite is Jack and PAMA liqueur on the rocks with a twist of lime (no juice); a Smoky Local with Black Maple Hill Reserve bourbon, Qi Black Tea liqueur, Noilly Prat sweet vermouth and Angostura bitters from Spoonbar in Healdsburg; just about anything with cayenne. I like drinks that are refreshing, either with a lot of citrus or something super spicy or smoky. I also love Noilly Prat Rouge on the rocks with a twist of lemon.
12. How long to you typically decant the following red wines prior to enjoying them? Cabernet, Merlot, Meritage and Bordeaux blends, Syrah / Sirah. At least 30 minutes to allow the wine to open up a bit.
13. Under what circumstances would you decant a Pinot? If it's a new wine that is quite tightly wound and in need of air; if the wine is stinky or reduced; if it is an older wine that needs to be decanted off sediment; if I'm doing a blind tasting and I don't want to show the bottle.
14. Under what circumstances would you decant a white wine? If I want to cool or warm it slightly; if the wine is young, restrained and in need of air; if the wine is stinky or reduced; if I am doing a blind tasting and I don't want to show the bottle.
15. Choose one or more of the following to describe vacuum aerators and similar apparatus.
A. Gimmicks.
B. Useful, have a positive effect on the wine above and beyond what decanting can accomplish.
C. Same effect as decanting, just quicker.
Answer(s): C
16. Choose one or more of the following to describe metal dipping devices and similar apparatus advertised to almost instantly "age" wine.
A. Gimmicks.
B. Useful, have a positive effect on the wine above and beyond what decanting can accomplish.
C. Same effect as decanting, just quicker.
Answer(s): A
17. Your favorite brand of wine glass is Spiegelau for reds, Spiegelau for whites.
18. Some of your favorite non-US and non-European wines come from where? New Zealand and Argentina.
19. Have any wine / food pairing(s) that seem odd, but really work? Fried pickles and a nicely chilled rosé.
20. What work do you suppose you will do after your final wine is made? Complete my PhD and teach at a university.
21. If you could give any beginning wine drinkers one sentence of advice, what would it be? Just enjoy the wine and don't take it too seriously! Who cares what other people think about your level of wine knowledge?
Theresa Heredia Official Biography
"Theresa Heredia was the long-time winemaker at Freestone Vineyards in the far west part of the Sonoma Coast. Heredia brings extensive experience with cool-climate Pinot Noir and Chardonnay as well as small-lot, single-vineyard wines. Gary Farrell Winery specializes in Pinot Noir and Chardonnay from some of the top vineyard sites in the Russian River Valley.
At Freestone, Heredia's Pinot Noir and Chardonnay brought the Joseph Phelps-owned winery significant critical acclaim. She made the first vintage of Freestone wines in 2002 when it was still an experimental project at Phelps, and she later moved to the Sonoma Coast to open the new Freestone winery in 2007. In early 2012 she was named "Winemaker to Watch" by the San Francisco Chronicle, reflecting her interest in wines that offer a pure expression of their vineyard site and her willingness to experiment with different winemaking techniques.
Heredia brings a hands-on Burgundian perspective to Gary Farrell Winery, having worked in France at Domaine de Montille. She trained with renowned winemaker Craig Williams at Joseph Phelps Vineyards in the Napa Valley, after starting her career as an enologist for Saintsbury. Heredia was a Ph.D. candidate in chemistry with an emphasis on enology at U.C. Davis, before leaving to follow her calling as a hands-on winemaker. She has a bachelor's degree in biochemistry from Cal Poly, San Luis Obispo.
"Theresa is a visionary leader who brings us a spirit of innovation in winemaking and an impressive background in cool-climate, single-vineyard wines," noted Nancy Bailey, general manager for Gary Farrell Winery. "She has a keen appreciation for our house style, which emphasizes elegance and balance in the wines. Theresa's experience and interest in exploration, both in the vineyards and in the winery, make her an ideal person to carry on our strong legacy, while adding her own signature to Gary Farrell Winery."
Ready to try some of Theresa's wine? Find and review them on WineTable >>
Visit Gary Farrell at their website, on Facebook or Twitter.
---