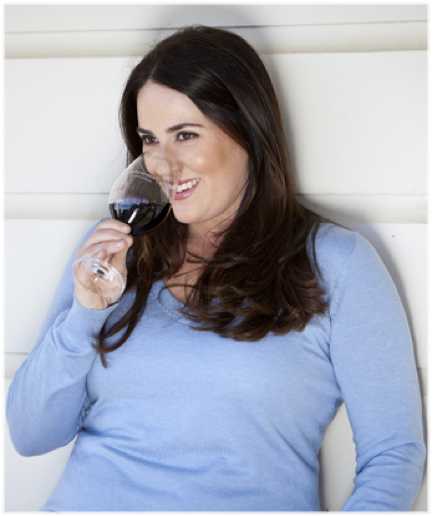 [Photo: Natalie West / Credit: Natalie West]
In our ongoing series of 21 Questions with winemakers, we get answers to questions you may have always wondered...some you might never have thought of. Today, Natalie West, winemaker at Foppiano Vineyards tells us about herself, her thoughts on wine and reveals some of her favorite moments during winemaking. Share your thoughts in the comments section: how does getting to know a bit about a winemaker change or impact the way you think about the wine?
1. What were you before you were a winemaker? An assistant winemaker … I've always worked in the wine industry.
2. If you weren't a winemaker you'd most likely be a distiller.
3. Happiest moment(s) during the wine crafting process (besides "finishing")? There are a lot of great moments during the crafting process. Knowing that a wine is going to be amazing is a very happy moment, or when you have a wine that you're not sure about, but after finding the perfect blend, it transforms the wine. It still surprises me how a little amount of another wine can have such a profound difference. The start of harvest is also an exciting time.
4. Worst moment(s)? That moment that you know you have a problem with a wine. It's a sick to your stomach feeling. Usually everything turns out fine and the problem wasn't as bad as you think… but for that first moment…
5. For the rest of your wine-crafting days, if you could only make wine from one red grape variety what would it be? Pinot Noir
6. For the rest of your wine-crafting days, if you could only make wine from one white grape variety what would it be? Sauvignon Blanc
7. How do you define "bottleshock"? Bottleshock to me is after the wine has been bottled (it goes through hell to get in that bottle) it goes through a phase where the fruit seems muted and the palate falls flat. It can be scary to a winemaker, wondering what in the world happened to your beautiful wine! The wine always comes back, but the timing is different in every wine. To me it seems like the heavier the wine, the worse the bottleshock, the longer it takes to return. Also, filtration of a wine will have the same affect.
8. With regard to bottleshock….how long do you let your purchased wines rest after they have been delivered? At least a week, but sometimes that is not enough. A month is safe.
9. Please list 5 words (or more) to describe Mega Purple and/or its use and/or users. Sickly Sweet, Syrupy, Dark, Unnatural, Gross.
10. What is your favorite beer(s), and why? Russian River Brew Co.'s Pliny the Elder because it is a very balanced beer, great use of hops, clean, refreshing but with good weight. Transcends all seasons… I can drink it when it is hot or cold! Also, Bear Republic Brewery's Racer 5. In Healdsburg, the Bear is where you start your night. Great memories come with this beer. It is also delicious!
11. Your favorite cocktail(s), and why? In the Fall/Winter: An Old Fashioned, made with Bulliet Bourbon and an amerena cherry. Not too sweet with just the right amount of bite. Spring/Summer: A Gin and Tonic, again, not sweet and very refreshing!
12. How long to you typically decant the following red wines prior to enjoying them? Cabernet 2-3 hours. Merlot 1 hour. Meritage and Bordeaux blends 1-2 hours. Syrah / Sirah 1 hour.
13. Under what circumstances would you decant a Pinot? Pinot is so delicate that I try not to decant much, but if a Pinot is really young and closed in, a gentle decanting can open up the aromas.
14. Under what circumstances would you decant a white wine? Sometimes a white wine can have reductive characters (rubber or skunky aromas) which a little air can reduce. As with Pinot, decant gently.
15. Choose one or more of the following to describe vacuum aerators and similar apparatus.
a. Gimmicks.
b. Useful, have a positive effect on the wine above and beyond what decanting can accomplish.
c. Same effect as decanting, just quicker.
Answer(s): C
16. Choose one or more of the following to describe metal dipping devices and similar apparatus advertised to almost instantly "age" wine.
a. Gimmicks.
b. Useful, have a positive effect on the wine above and beyond what decanting can accomplish.
c. Same effect as decanting, just quicker.
Answer(s): I've never used one, so I don't know.
17. Your favorite brand of wine glass is Riedel for reds, Riedel for whites.
18. Some of your favorite non-US and non-European wines come from where? New Zealand and Chile.
19. Have any wine / food pairing(s) that seem odd, but really work? Humboldt Fog Cheesecake with a Dry Rosé.
20. What work/career do you suppose you will embark on after your final wine has been bottled? Distilling.
21. If you could give any beginning wine drinkers some quick advice, what would it be? My advice to a beginning wine drinker is to be confident. Wine to a lot of people has become so pretentious and intimidating. All that is important is whether YOU like the wine! There is no wrong or right wine.
About Natalie
Winemaker at Foppiano Vineyards, Sonoma Valley, California
Earning her Bachelor of Science degree from the University of California at Davis in viticulture and enology, Natalie West arrived at Foppiano Vineyards with an impressive viticulture and winemaking background. She has experience with many established brands including Ferrari-Carano Vineyards & Winery, J Vineyard & Winery, Clos La Chance Winery, Peterson Winery, and Montana Wines of New Zealand. Raised in Dry Creek Valley, where her parents have owned and operated a 10-acre, old-vine Zinfandel vineyard all of her life, Natalie speaks fondly of tending vines by the time she was a pre-teenager. Although she always enjoyed being in the vineyards with her parents, she attended UC Davis to become a medical doctor, leaving behind the work of her family and youth. But, once embroiled in her studies viticulture and enology won her over. Natalie began her winemaking career outside of her family vineyard by helping Fred Peterson for two harvests. When her father realized she was headed for a winemaking career, he planted Petite Sirah and Grenache as "pet" projects, giving Natalie the perfect elements needed as Foppiano's winemaker. Natalie understands that great wines begin in the vineyards, and works hand-in-hand with Vineyard Manager and family member, Paul Foppiano. "The fruit produced at Foppiano is of such great quality – it is my job to make sure I maintain that quality, with as little manipulation as possible, in an effort to produce excellent wines," Natalie says.
About Foppiano Wines & Vines
"Foppiano Vineyards' premier location, combined with our foundation of core family values, has allowed us to produce quality wine for over 100 years. Since 1896, our sustainably-farmed estate vineyards have produced ripe, expressive fruit, enabling our award-winning wines to speak for themselves vintage after vintage. Our estate Petite Sirah, Pinot Noir, Sauvignon Blanc and Chardonnay vineyards thrive in the temperate climate of the Russian River Valley, an American Viticultural Area Louis J. Foppiano helped to establish.
"Foppiano Vineyards sits on a 160-acre estate in Sonoma County's Russian River Valley, known as one of the most esteemed wine regions in the world. The family planted grape varieties that thrive in this temperate coastal region: Petite Sirah, Pinot Noir, and Chardonnay, among others. Paul Foppiano, grandson of patriarch Louis J. Foppiano, manages the vineyard and maintains superior vineyard practices. With a great respect for the earth, the Foppiano family farms their land sustainably by limiting pesticide use and providing the highest level of care and maintenance."
Next Winemaker in the Spotlight: Cynthia Cosco >>
CTRL + Q to Enable/Disable GoPhoto.it
---