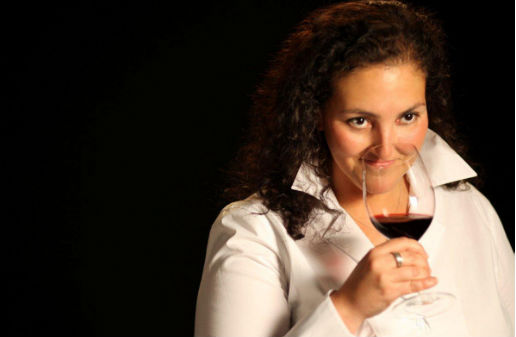 [Photo: Elizabeth Vianna / Credit: Elizabeth Vianna]
It is my belief that winemakers, not just brands and specific wineries, should be a much bigger focus for fine wine consumers. Why? Well, it is the net sum of a multitude of small and big decisions they make (during a wine's journey from bud break to dinner party swirling) that can have far more influence on a final wine than the climatic influences during a given growing season, the impact of local terroir, etc.
To that end, I thought a series of winemaker Q & A's might bring more of the spotlight to the always interesting personalities who craft our favorite wines.
I've had the great pleasure of meeting Chimney Rock Winery Winemaker and General Manager Elizabeth Vianna a few times now and tasted many of her phenomenal wines. She graciously agreed to field some questions.
20 Questions
1. What were you before you were a winemaker? A clinical toxicologist.
2. If you weren't a winemaker you'd most likely be a pianist.
3. Happiest moment(s) during the wine crafting process (besides "finishing")? I LOVE watching people enjoy the wines I make.
4. Worst moment(s)? I hate laying in bed hearing the rain when the fruit is still hanging.
5. For the rest of your wine-crafting days, if you could only make wine from one red grape variety what would it be? Cabernet Sauvignon.
6. For the rest of your wine-crafting days, if you could only make wine from one white grape variety what would it be? Sauvignon Blanc.
7. How do you define "bottleshock"? The strangely muted period a wine goes through after it goes into bottle.
8. How long do you let your purchased wines rest after they have been delivered? As long as I can resist them which is typically not much more than a year or two. I'm terrible at aging wines – too curious I guess.
9. Please list 5 words to describe Mega Purple and/or its use and/or users. Viscous, Zygosaccharomyces, Sweet, Tricky, Don't need it.
10. What is your favorite beer(s), and why? Russian River Brewery Pliny the Elder. Because of its intense richness.
11. Your favorite cocktail(s), and why? Caipirinha. Brings me back to where I was born and reminds me of beaches and samba. (Note from Keith - also one of my favorite drinks ever, it is the national beverage and passion of Brazil (where Elizabeth was born), made with a distilled spirit from sugar cane, Cachaça).
12. How long to you typically decant the following red wines prior to enjoying them?
Cabernet, Merlot, Meritage and Bordeaux blends, Syrah / Sirah. For all of these – an hour decanting if very young – decanting just before drinking if older wine with sediment.
13. Under what circumstances would you decant a Pinot? Only for sediment with older Pinots, otherwise never.
14. Under what circumstances would you decant a white wine? Haven't had to so far. Maybe if it threw tartrates in the bottle.
15. Choose one or more of the following to describe vacuum aerators and similar apparatus.
A. Gimmicks.
B. Useful, have a positive effect on the wine above and beyond what decanting can accomplish.
C. Same effect as decanting, just quicker.
Answer(s): A
16. Choose one or more of the following to describe metal dipping devices and similar apparatus advertised to almost instantly "age" wine.
A. Gimmicks.
B. Useful, have a positive effect on the wine above and beyond what decanting can accomplish.
C. Same effect as decanting, just quicker.
Answer(s): A
17. Your favorite brand of wine glass is: Riedel for reds, Riedel for whites.
18. Some of your favorite non-US and non-European wines come from where? Argentina, South Africa, New Zealand.
19. Have any wine / food pairing(s) that seem odd, but really work? Popcorn and Parmesan cheese with Chardonnay – my favorite harvest dinner.
20. What work do you suppose you will do after your final wine is made? Sleep!
About Elizabeth
Winemaker/General Manager, Chimney Rock Winery
Elizabeth Vianna attributes her career in winemaking to a glass of 1985 Sociando Mallet, which she enjoyed at a pre-auction tasting at Christie's in New York. A biology major at Vassar College, Elizabeth was originally on the pre-medical school track. She fell in love with wine as a consumer while living in New York City, working as a clinical toxicologist at New York Hospital-Cornell Medical Center. Her strong science background and sudden infatuation with wine propelled her to apply to the University of California – Davis, and its renowned winemaking program instead of medical school.
Vianna first came to Chimney Rock as a harvest intern in 1999, while completing her Master's degree in enology at U.C. Davis. Upon graduation, she became an enologist at Napa Wine Company and was soon named assistant winemaker there, where she worked directly with many of the region's top winemakers including Heidi Barrett, Erin Green, Pam Starr and Celia Masyczek. Vianna was named to the position of assistant winemaker at Chimney Rock in January 2002, and advanced to the position of winemaker in April 2005.
Recently Vianna was promoted to the position of General Manager of the famed Stags Leap District winery. Vianna will continue in her role as Chimney Rock's head winemaker and is excited to be building on the unique history and reputation of the winery. Vianna approaches her craft with an artistic sensibility creating wines praised by critics and highly sought after by collectors.
In 2009 Vianna was honored by the University of California-Davis School of Graduate Studies when she was invited by the Dean of Graduate Studies to deliver the commencement speech to the class of 2009. She is frequently selected for tasting panels and judging wine competitions. She currently serves as the president for the Stags Leap Winegrower's Association executive board.
About Chimney Rock Winery
[Photo: Chimney Rock Winery / Credit: holman photo]
Hack and Stella Wilson bought the Chimney Rock estate in 1980, a 180-acre parcel of land on the east side of the Silverado Trail in the southernmost part of Stags Leap District, Napa Valley's smallest sub-appellation (barely a mile wide and three miles long). Many of the most acclaimed American Cabernet Sauvignons are grown and produced from the 1,350 acres of vines planted in the district. The Wilsons produced their first vintage in 1989. In 2000, they were joined by the Terlato family, who assumed full ownership of the estate in 2004. They now tend 119 acres of vineyards consisting mostly of Cabernet Sauvignon, but also including Merlot, Cabernet Frank and Petit Verdot.
---