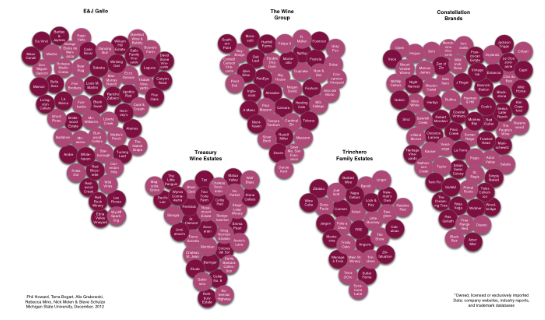 So many wines, so little time. What is going on with all these wines on the shelf? Where are they from and how did they get here? If you are feeling confused—even disillusioned—while strolling the wine aisles of your local liquor store, you are not alone. A December 2012 University of Michigan study revealed that a small number of distributors control the majority of wine brands you see on the shelves, creating an "illusion of diverse ownership." It's a fact people in the industry know well, but one that evades many consumers.
"Concealing where wines come from is misleading the public," said the study's leader researcher, Phillip H. Howard, associate professor of community, agriculture, recreation and resource studies, in a follow-up interview with me.
An appearance of diversity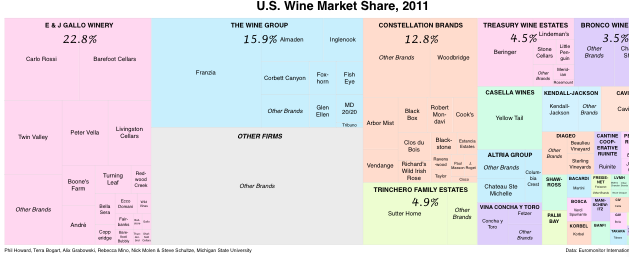 Despite the incredible degree of choice on the shelves, "wine sales are dominated by a much smaller number of brands, and an even smaller number of distributors," the study's authors said after researching over 4,000 wines and finding that wines of only three distributors were available at less than a dozen stores in Michigan alone. Those three parent brands are E & J Gallo, Constellation Brands, and the Wine Group.
"The top firms each contribute to an illusion of diverse ownership by offering dozens of brands (and hundreds of varieties), many of which do not clearly indicate the parent company on their label," they wrote.
With this kind of brand monopolizing, it is increasingly hard for a small wine distributor to represent good but lesser known wines on the same shelves. Small distributors have to offer better delivery times, more creative merchandising and even hours of aisle walking with customers to help hand- sell their wines and remain in the competitive mix of beverage sales. Not a simple task. However, this approach allows smaller distributors to bring consumers more unique, handcrafted wines from small family-owned vineyards—a welcome variation to the mass-produced wines.
Second, the top distribution companies contribute to an illusion of diverse ownership by offering dozens of brands (and hundreds of varieties), many of which do not clearly indicate the parent company on their label. According to the study, "Some of the more than 200 brands are available with only the five largest wine firms in the U.S."
Label ambiguity makes it hard to support independent winemakers
Multiple companies represent wine from various vintners and may put their own label on wines available from co-op markets. For example, a wine might be given a name, but that name does not represent any specific winery, but rather an organization that produces the wine with grapes sourced from many locations and creates its own label for it. To make it even more confusing, the organization might then work through a separate distributor for these wines, introducing another name and further confusing a consumer about the source.
Though these practices are perfectly legal, they are confusing to the public. It is increasingly "difficult for consumers to recognize which companies they are supporting with their purchases," Howard writes in the study. Labeling for alcoholic beverages is far less strict than for foods, as it regulated only for financial reasons like taxes, not public safety. The FDA regulates food and the Alcohol and Tobacco Tax and Trade Bureau (TTB) regulates liquor with very different guidelines, according to Alix Grabowski, who assisted Howard with the study.
While it seems the choices are so diverse—certainly more diverse than the choices for margarine or soda, for example—the numbers don't lie and more evidence indicates an increasing number of distributors (or firms) are extending stealth ownership of wine grapes. Stealth ownership refers to a large company quietly purchasing an independent company and withholding this information on the product labels. While this concept of knowing the origins of your purchases is often transparent to the average consumer, not being forthright or covering it up is quite another story.
If you want to support a local company, it is difficult to do so without extensive research. It's a scenario supporters of the organic food movement face, too, according to previous research by Professor Howard. But average consumers do not usually have the time or resources to manage such extensive research. We expect the producers of products to be honest and forthcoming with where the products originate.
So what? Why does this even matter? Who should be concerned?
Since Professor Howard's study did not include response data from consumers, I asked Karen Steinwachs, winemaker for Buttonwood Wines in California's Sierra foothills, Santa Ynez Valley, for her take on the study. A 12-year veteran in the wine industry, her vantage point proved quite interesting as well.
"From a small-medium sized winery perspective, we would not even be able to fill those big guys' supply chain nor do we have the marketing dollars, so by default, only the big guys can own those shelves," she said.
Small, specialized vintners like Buttonwood have to seek out retailers other than the local grocery chains to sell their wines. It limits brand variation at the bigger retail suppliers and makes selling handcrafted, small-production wines like Karen's more challenging. And it makes choice for the consumer sparser.
According to Brad Taylor, wine guru and manager at Republic National Distributing Company-Colorado, while some states find it especially hard to stock a variety of wines on their shelves, Colorado's approach to wine business is to offer limited single license operations, which means even chains like WalMart, Costco, Sam's Club and World Market are only able to hold one liquor license for one location within the state.
"Because of this legally created system of alcoholic beverage distribution, there is much greater room for competition and small business," Taylor said. "Colorado has some of the best diversity in wine offerings because of the small business-focused model. Should legislation change that, many independent family-owned businesses will go under, and there will be less diversity of choice in the market."
Needless to say, location can be everything in this business.
In spite of the incredible diversity of wine variety, Wine Economist Mike Veseth points out that when it comes to the public's access to wine availability at national wine retail chains, true choice still exists if brands managed by Mega producers retain their autonomy in the production of their wines.
"Some of the national retail chains treat wine as they do other products and attempt to minimize the number of suppliers while maintaining choice," Veseth wrote in response to Howard's study. "Choice is diminished when the availability of 'Mini' products and especially locally-produced wines is taken into account, and this would be a problem if these stores are the only choice for wine (as they may be in some areas). Apparently we need a mix of different retail suppliers to assure that the true diversity of wine is represented on the shelves."
My take
Even if mega-suppliers allow individual wineries some level of production autonomy, it leaves open questions surrounding limited free enterprise, price control and even quality control of wine products. Squeezing out the little distributor is not necessarily a goal of the major management companies, but it is often the result.
As a previous representative of the "little local guy," I highly object to this trend. I think there still is room for the small, unique, hand-crafted, family owned wines; we just have to find the right retail outlets that support local and small businesses.
So, unless you are apathetic to what is going on in the food and wine industries, conversations regarding this subject will likely get increasing coverage. Since we are a nation that values choice, stay tuned for the continuation of the illusion-of-choice conversation as it relates to the wine industry and the consumer response to who it will support and thus which companies survive.
---