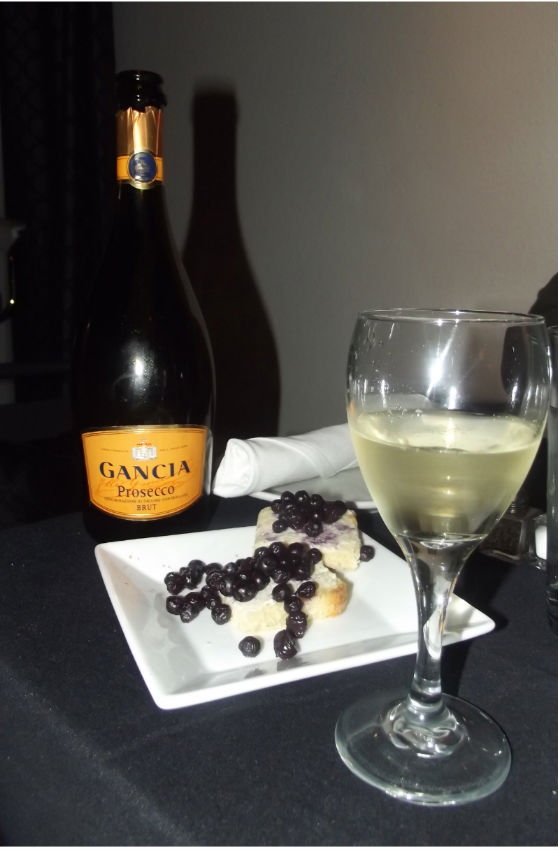 [Photo: A biscuit and blueberries surrounded by Gancia Prosecco and a glass of Grandin Cuvee Prestige / Credit: Janine Buchal]
Curious about what goes on at a typical wine tasting event? Quite simply, it is a combination of interactive education, tasting, and my favorite, "eat, drink and be merry!" Sounds like fun, right? Usually a representative from a local distributor arranges the event intending to bring awareness to a particular region, varietal or style of wine. They hold these wine tastings at restaurants, wine bars and coffee shops hoping to aid in the selling of the wines offered. You can count on tasting at least three wines but often there are four to six wines featured. You pre-register with the staff of the location and pay at the event. You are likely to spend $20 to $60 and the event will last an hour or two.
Arrive on time, so you can save your spot at the table and belly up to some good nibbles that are available to pair with the wines selected. Some distributors offer reading material on the wines to be tasted. It's not homework, just information should you care to delve deeper into the history or the vineyard, the region or the grapes used in the making of the libation. Notes can be taken, questions asked and answered and even novice wine swirling practiced. It is a wonderful and inexpensive way to learn more about wines, open your palate to the wide variety of wines available, and sample away while on a date or with a fellow curious wine enthusiast. These events often lend themselves to great socializing and sharing of wine experience. You discuss what you are seeing, smelling and tasting and confer with your fellow curious counterparts. Try before you buy is the general idea here.
You can often learn more about the regions the wines come from and the winemakers themselves. Before you know it, you may even find that you prefer a particular varietal or region and you can seek out tastings with that emphasis.
Many local restaurants and liquor stores hold these events as a fun way to entice customers to try new things and buy. Liquor store tastings are usually free. For example, Tenacity Wine Shop in Longmont, Colo. and World Beverage, in Loveland, Colo. hold free Friday tastings. You can go online and see the theme being covered, such as "Pinot Noir from Oregon," "Rieslings from Germany, "Cheap Chilean Varietals" or even "Colorado Cabernets." There are quite a number of options to explore.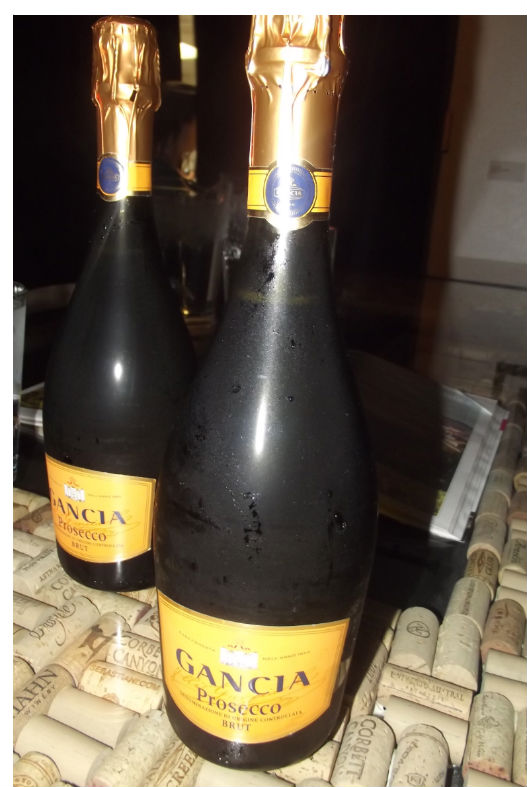 [Credit: Janine Buchal]
I recently attended a tasting at Generations Martini and Wine Bar, in Loveland, Colo. for a sparkling wine event. There were some truly amazing sparkling wines to taste, including Gancia Prosecco - Brut, Grandin Cuvee Prestige, Gruet Blanc de Noirs and our favorite, Gancia Brachetto d'Acqui, which had a lovely color and raspberry-forward fruity taste. These wine would typically cost $15 to $25 each retail, so coming to a tasting and trying four allowed me to determine which I may go look for at my favorite wine shop next time I'm there. Delightful food samples of the local fare were offered as part of the event. Cheese, crackers, fruit and nuts are often commonly paired with the wines at these events to let tasters explore how flavors meld. There was no pressure to buy--in fact, we had to ask the Distributor where we could purchase the wines! (Near me in Colorado, World Beverage and Wilbur's Total Beverage are the stores carrying them for now.)
Ask for your favorite local liquor store's tasting schedule or check out your favorite restaurant's website under their "Events" tab. You can also search the WineTable calendar for upcoming wine events near you.
Some restaurants hold monthly wine dinners as well. If you get on the restaurant's email list, they will let you know about upcoming events you can attend and not only try wines but get a full dinner and learn to pair the wines with particular menu choices. Let's face it, we have all stared at a menu from time to time and wondered what wine to order with which entrée. These events can help narrow down your choices and take the guesswork out of your dining experience, not to mention that they are amazingly entertaining in themselves. The wine dinners often cost more than a simple wine tasting but are well worth the tradeoff in wine education, great conversation and supporting a local business to boot.
Regardless of your reason for attending a wine tasting, distributors and owners of retail liquor stores and restaurants alike agree the more educated we, the customers are, the better choices we make and often the more wine we purchase which truly helps their bottom lines and increases our culinary satisfaction. Cheers!
---