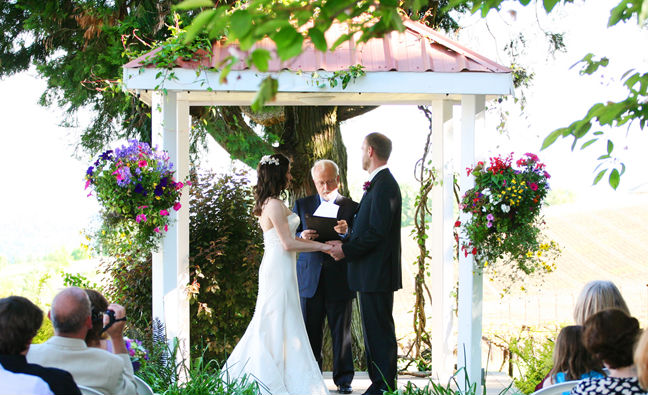 [Photo: Making their Vows in Wine Country / Credit: Angelique Vinther]
When my husband and I got engaged, everyone was anxious for us to set a date. But the date wasn't nearly as important to us as the place. We wanted to get married somewhere scenic, peaceful, and, most of all, special to us. Looking back on our favorite trips, we decided that a destination wedding in Oregon wine country felt like "us." Wine Country Farm is a beautiful B&B and winery on Dundee Hill in the Willamette Valley where we'd had one of our most memorable vacations. It seemed like the perfect place to share a special occasion with family and friends.
There are many features to the Willamette Valley that make it an amazing place to get married, but planning any major event is a lot of work. It becomes an even bigger challenge when you're planning it yourself and all the vendors are in another state. Here are just a few things we learned along the way:
When the place is beautiful, you can cut back on your decoration budget.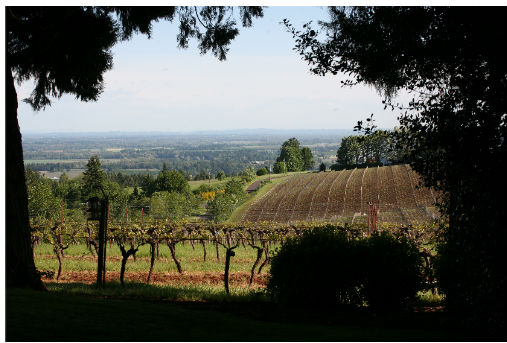 [Photo: Overlooking the Willamette Valley / Credit: Angelique Vinther]
There's something inherently romantic about wine country. For me, Oregon is particularly so. It's incredibly verdant, with patched hillsides of wine rows and clover fields. Dramatic mountain peaks hover in the distance when the clouds break. It's quiet and contemplative and simply one of my favorite places to vacation. Being in such a beautiful area also made the idea of wedding decorations seem a bit redundant. We had our ceremony under a vine-covered pergola overlooking the valley, with our guests seated on the lawn under a blooming tree that rained little pink petals. What more do you need?
Just because you love fine wine, doesn't mean everyone (or anyone) in your family does.
When we first started planning the meal and accompanying wines, I really wanted to pair everything the way I would for an intimate dinner party at home. The Willamette Valley is one of our favorite wine regions, so I wanted to feature our favorite wines from that area. But when you start adding up the costs to stage a dinner like this for an entire wedding guest list, it gets unbelievably expensive. And, ultimately, it's not going to be appreciated if the guests aren't interested in wine the way you are. We took a much simpler route with the wines we offered and everybody loved them. One benefit of being in an area like the Willamette Valley is that, with so many amazing wineries, even if you go with wines that are somewhat unassuming by the area's standards, they're still ten times better than what you'd find almost anywhere else. My husband and I saved the elegant pairings for our honeymoon, which was special for the two of us and infinitely more affordable.
Post-wedding events can be a lot of fun, but some are better than others.
Since we're in wine country, we wanted to have a wine-themed event. So, following the day-after brunch, we planned a wine tour for our close family and friends. When we were planning the outing, it sounded great. But, as is often the case with these kind of celebrations, people were carried away in a river of wine during the actual wedding festivities, so a wine tour on the following morning was a bit difficult on some people. If we had to do it all over again, we would definitely be more mindful of the inevitability that when you have a wine-themed wedding, there are going to be wine-themed hangovers. Plan accordingly.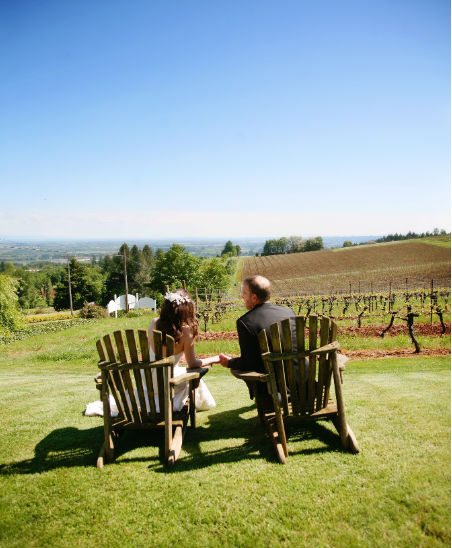 [Photo: Enjoying the romantic views of Oregon's vineyards / Credit: Angelique Vinther]
Looking back, there are probably a dozen decisions we would make differently. Mostly things we'd simplify because wedding planning has a way of snowballing. But we're so happy about where we chose to get married. We already loved the Willamette Valley, but now it's even more special to us. And we know we'll have a wonderful place to re-visit on many anniversaries to come.
---