If you're planning a menu for a formal affair, these chef-developed recipes and wine pairings from the chef at Jordan Vineyard & Winery will make your guests ooh and aah. Savory, full of flavor, incredible presentation. This is a pair of recipes that just ask for black tie.
Panzanella with Marinated Manchego
This recipe was developed by Todd Knoll, Executive Chef, Jordan Vineyard & Winery. Here's what he says about it: "Elevate your cheese course with these savory flavors and impressive presentation. The creamy, slightly salty Manchego, accentuated by the heirloom tomato, pairs perfectly with the lively acid and crispness of Jordan Chardonnay."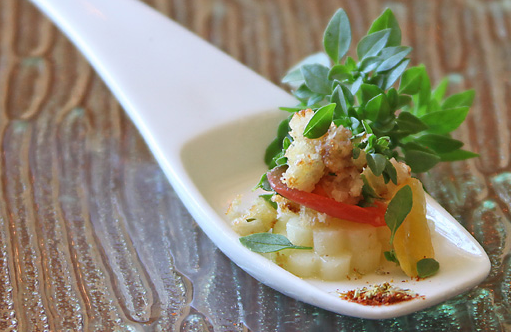 Yield: 20
Preparation Time: 45 minutes
For the marinate Manchego:
¼ lb aged Manchego
¼ C. Jordan Extra Virgin Olive Oil
Zest of one lemon
1 T. cracked black pepper
6 sprigs of thyme
4 bay leaves, whole
For the Salad:
20 toy box tomatoes
1 ¼ C. 1/8-inch croutons
2 T. Greek basil leaves, small
¼ C. Champagne vinaigrette
2 t. tomato powder
2 t. fennel pollen*
fleur de sel to taste
*Fennel pollen may be purchased at fine groceries or collected in the wild.
Begin by preparing the tomato powder. Cut 10 tomatoes in half and dehydrate cut side up in a food dehydrator or on a sheet pan in an oven set to 200 degrees until completely dry, up to two days. Grind dried tomatoes in a spice mill or food processor until they are a fine powder. The finished tomato powder may be prepared and stored for up to a week prior to use.
Next, prepare the marinated Manchego. Slice cheese ⅛-inch thick. In a nonreactive bowl, combine sliced Manchego with Jordan Extra Virgin Olive Oil, lemon zest, cracked black pepper, thyme and bay leaves.Gently toss. Cover and set aside to marinate at room temperature for eight hours or refrigerate for up to three days.
Prepare an ice bath then blanch remaining tomatoes in boiling water for 1-2 minutes. Immediately shock the tomatoes in the ice bath to stop the cooking process. When cool to the touch, peel and cut in half.
Half an hour prior to serving, toss croutons with 1 tablespoon of Greek basil leaves and tomatoes in the Champagne vinaigrette. To assemble the hors d'oeuvres, carefully cut the marinated Manchego into ½-inch rounds. Arrange one round slice on a small spoon and top with crouton mixture. Garnish with tomato powder, fennel pollen and remaining Greek basil leaves. Season to taste and serve immediately.
Grilled Sonoma Lamb with Blackberry Sauce
This recipe was developed by Todd Knowll, Executive Chef of Jordan Vineyard & Winery Here's what he says about it: This hors d'oeuvre is the definition of effortless elegance. The bright berry sauce and smoky grilled lamb make the perfect first bite when served with Jordan Cabernet Sauvignon.
Yield: 16
Preparation time: 8 hours 45 minutes
1 boneless lamb loin, 8-10 oz.
2 inches of grapevine cuttings (any fruitwood may be substituted)
1 C. blackberry or huckleberry juice
1 clove black garlic, minced (roasted garlic may be substituted)
salt and sugar to taste
8 fresh blackberries, cut in half
20 sprigs of rosemary
Flowering thyme and berry leaves for garnish
For the Marinade:
1 medium Maui onion
1 clove black garlic (roasted garlic may be substituted)
3 T. Jordan Extra Virgin Olive Oil
4 sprigs of thyme
2 T. black pepper
To prepare the marinade, purée the onion and garlic in a blender. Combine with Jordan Extra Virgin Olive Oil, thyme and black pepper in a shallow dish. Add the lamb, cover and let marinate in the refrigerator for 8 hours. Remove lamb one hour prior to grilling to bring to room temperature.
Grill lamb on medium high heat for 2-3 minutes per side, or to an internal temperature of 130 degrees for medium rare. Remove lamb from grill and allow to rest for 10-15 minutes.
Turn grill up to high heat and char the grapevine cuttings.
To prepare the sauce, combine grapevine cuttings, berry juice and garlic in a saucepan over medium heat. Reduce by half and add salt and sugar to taste. Strain sauce to remove grapevine cuttings. Discard cuttings.
To assemble, cut the lamb into bite size cubes. Arrange a silver or stainless steel pick beginning with a blackberry, then add an herb sprig and finish with a piece of lamb.
Serve along with the sauce, topped with a dusting of thyme flowers, if available. Garnish plate with fresh berry leaves.
Click here to see the original recipes for the Panzanella and the Grilled Sonoma Lamb.
---