As harvest moves into late fall, it's the opportune moment to talk a bit about late-harvest dessert and fortified wines. These wines are often overlooked as drinking wines, but they make an excellent pairing to those delicious sweets we love to enjoy, probably in decadent abundance, during the holiday season. Not sure how to go about finding the right one for your dessert? Consider our WineTable Food Pairings guide and upcoming articles your crash course in dessert and fortified wines.
When grapes are left on the vine into the late fall—even winter—they develop a high sugar level. Winemaking from these grapes involves stabilizing the sugar to retain the sweetness. When you hear the term dessert wine, think moscato, port, sauternes, madeira, sweet sherry and others. Legally, dessert wines in the United States are defined as those over 14% alcohol by volume, but it's a somewhat outdated definition because German dessert wines often contain half that much alcohol and other dry wines have a high alcohol concentration without any additional fortification.
Because fermentation is a process of causing yeast to form and develop by eating the available sugar, dessert winemaking typically follows one of two methods. The first inhibits the growth of yeast by the addition of sulfur. The second uses raised or lowered temperatures and "sterile filtering" to strain out yeast that has not yet metabolized.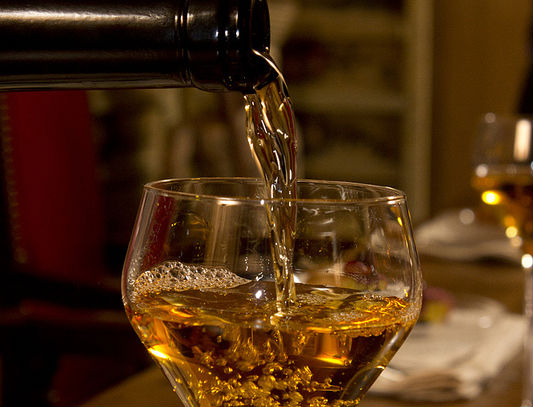 [Photo: Dessert wine / Credit: Dinner Series]
Late Harvest – Wines such as sauternes, semillon and sauvignon blanc are always or often produced from overripe grapes that have been allowed to remain on vines to reach high sugar concentration and even begin to dry. German Rieslings, Loire Valley chenin blanc, several Alsatian varieties and a number of wines in Australia and the United States are all developed from late harvest grapes which are treated with chilled temperatures or sulfur.
Want to find a late harvest wine? Explore them on WineTable.
Fortified – Port, sherry and marsala are all examples of wines to which distilled spirits are added during the fermentation period. The extra alcohol overwhelms the yeast, stopping fermentation and thus preserving a higher sugar level. These wines have fallen out of disfavor as drinking wines but remain popular additives in cooking.
Looking for a fortified wine? Find it on WineTable.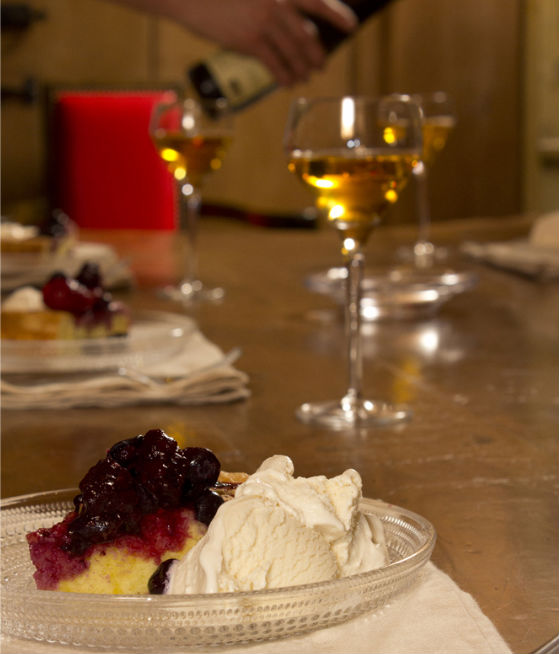 [Photo: Wine with dessert / Credit: Dinner Series]
Serving – The general rule of thumb on serving dessert wines with food is it should be sweeter than the food. White dessert wines are generally chilled; red dessert wines may be served at room temperature or just below.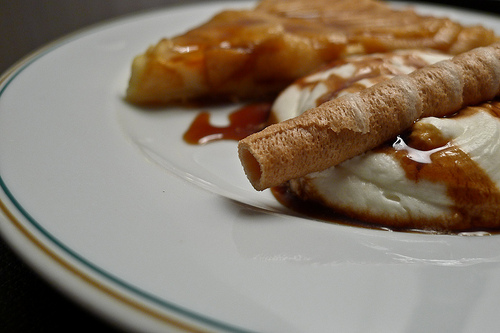 [Photo: A creamy swirl of caramel-topped ice cream / Credit: UggBoy]
Caramel. Desserts featuring the oozy, sticky sweetness of buttery caramel makes a good pairing for the late-picked German Riesling known as Spätlese.
[Photo: Classic vanilla crème brulee / Credit: Malmaison Hotels & Brasseries]
Crème Brulee. The richness of custard pairs quite well with at least two of the sweeter dessert varieties, namely French sauternes and madeira from Portugal.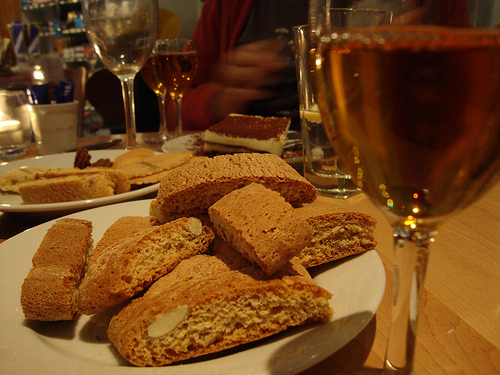 [Photo: Almond biscotti and dessert wine / Credit ajleon]
Nutty Desserts. For the slight bitterness that is found in desserts with nuts, a port tawny can make a good pairing. Alternatively, try a sherry fino or olorosa from Spain.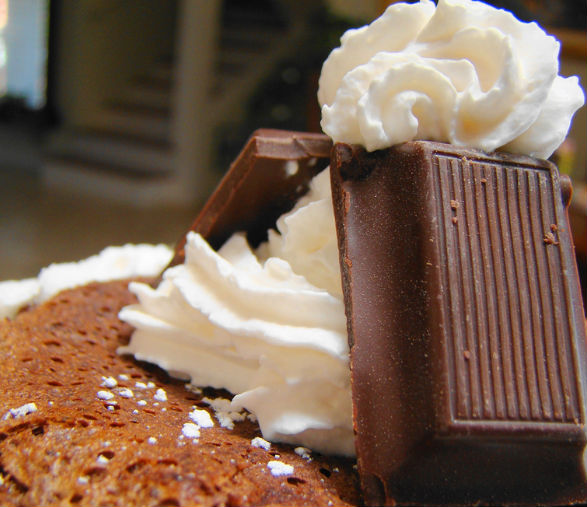 [Photo: Swiss chocolate cake / Credit: Vegan Feast Catering]
Chocolate. The rich silkiness of chocolate desserts serves as an ideal partner for the fortified wines: madeira, port and sherry. But if you're not keen on going the fortified route, try a Moscato d'Asti.
---