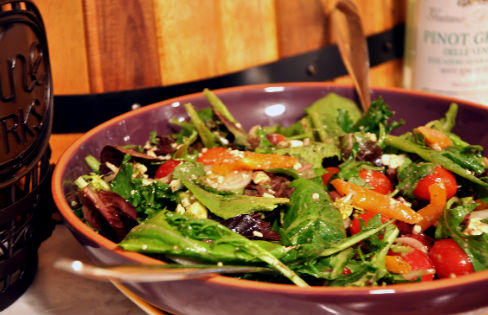 [Whitney Stewart]
It's amazing what can come out of your produce drawer when you approach it with the attitude of NO FEAR. Here's a salad that may not necessarily claim any particular cultural lineage, but nevertheless will imbue you with full zest for life.
You may remember my previously expressed unabashed pride in my salad-making prowess. Well, I'm back with another tale of adventure, having just emerged from my refrigerator's crisper, again. For this dinner, I jumbled together a combination of ingredients that may not have immediately leapt out at me, and found myself in yet another vegetable happy place (quite different from a vegetative state, I assure you).
For this salad, I sought out a few special ingredients I could add to spike the flavor to new heights. The chopped parsley adds sharp zing, but it's balanced by the creaminess of the black beans in the remnants of their canning liquid (I used southwestern jalapeno black beans with lime juice), not to mention one of my favorite secret salad weapons, feta.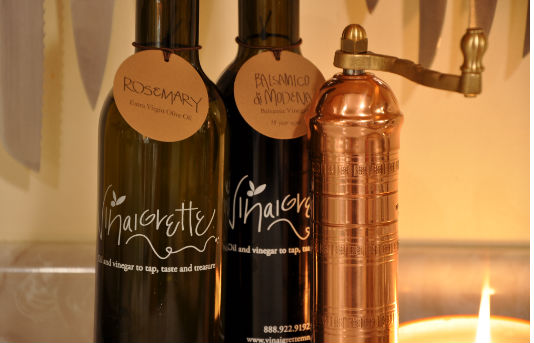 [Whitney Stewart]
The dressing, an otherwise fairly typically oil and vinegar, is eons better, thanks to the incredible vinaigrette set I recently received as a wedding gift from VinaigrettMN (thanks, Joyce!). My advice on this is, if you've been adventurous enough to purchase flavored oils or vinegars, then be sure and use them. My heart cries for the waste of gastronomic creativity so often sacrificed on the altar of the culinarily afraid's desperate grasp at empty epicureanism when I see gourmet oils and vinegars sitting artistically arranged on the counter while Chef Boyardee simmers on the stove. Point is, use the damn stuff if you got it.
Serves 2-4
12 oz. salad greens *
1 pint Cherry or grape tomatoes
1 bell pepper, thinly sliced
½ spring onion, thinly sliced
1 avocado, diced
2 oz. feta cheese
3 T. chopped parsley
¼ to ½ C. canned black beans, drained but not rinsed
3 T. rosemary-infused olive oil
1 T. balsamic vinegar
½ to 1 T. lemon juice
Freshly ground salt and pepper, to taste
Toss the salad ingredients together
* A note about the choice of greens. When I was a kid, one of my dinner prep chores was washing the grit from the romaine. It likely contributed to my lack of saladacious enthusiasm until more recently, with the rise of the prepared and bagged salad green options. I love a healthy mix of greens, and for this salad, I used Dole Spring Mix—listed as tender, with a complex and robust flavor—a combination of young lettuces and salad greens, endive and radicchio. It was what I happened to have on hand. Typically, my drawer is stocked with baby spinach, my husband's salad base of choice for its tender sweetness; but this time, my longing for something a bit more peppery proved an excellent base for this zesty salad.
As for wine, yes, you can drink wine with salad (thank goodness). Here are WineTable President Paul Giese's recommendations for my salad.
This Spanish beauty is a great wine to have on hand at all times and will pair nicely with the fresh mix of vegetables, the citrusy lemon juice and the flavor of feta cheese.
This highly acclaimed California Sauv Blanc will have this salad tasting light and crisp, helping to excentuate the lemon juice and acidity of the tomatoes.
A French Sancerre will stand up to the spiciness of the lettuce mix allowing it to mellow it out while bringing out the full flavors of lemon and avacado.
Bring out the earthy flavors of the beans and feta with this Spanish Garnacha. The wine will pair nicely with the balsamic vinegar, feta, and salt & pepper. Use less lemon juice if you are planning with this wine in mind.
---