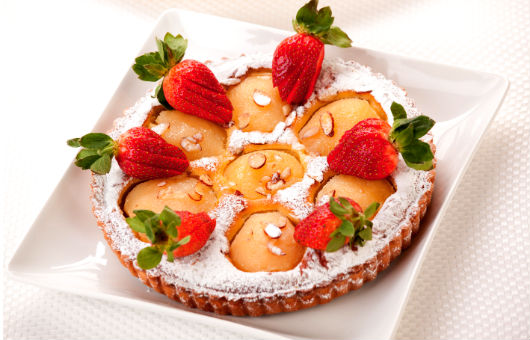 Harry's Pairing Tips: My first choice is an Auslese of Beerenauslese from the Mosel or the Rhein, or a Vendage Tardive from Alsace. The sweet of the late harvest grapes, balanced by the inherent acidity of the Riesling itself, with its notes of ripe pears and sweet apple and spice would be a great pairing or pairings. Second choice is Quart de Chaumes from the Loire Valley, which is made from the Chenin Blanc grape [editor's note: check out other chenin blanc wines from the Loire Valley]. Its sweetness with notes of lemon, orange and roasted hazelnuts make it a great choice.
Ingredients:
Your favorite pastry dough
Raspberry or blackberry jam
15 oz. almond paste
4 oz. butter
4 oz. sugar
5 large eggs, beaten
4 oz. flour
4 oz. milk
4 medium pears, peeled, cored and sliced
sliced almonds
To make the tart:
1. Line a fluted ring pan with your favorite pastry dough.
2. Spread with melted raspberry jam or blackberry jam.
3. Cream together the almond paste, butter and sugar. Add the beaten eggs and incorporate well.
4. Gently stir in the flour and milk alternately, scraping the bowl to make sure all is well mixed.
5. Spread the cream evenly over the lined pan and smooth the top.
6. Peel, core and notch 4 medium pears and place evenly on the almond filling.
7. Sprinkle with sliced almonds and bake 350°F until golden all over.
Serve with vanilla sauce, any berry sauce or vanilla ice cream.
---