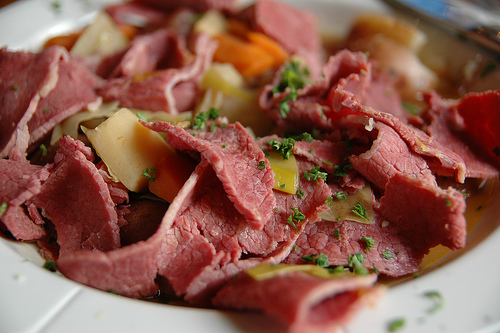 [Corned beef and cabbage / Jeff Kubina]
Happy St. Patrick's Day! Need a suggestion for pairing your cabbage and pork, your stuffed cabbage roll, corned beef sandwich or your authentic roasted cabbage wedge salad? Look no further. Here are some wonderful wine pairings that will leave you satisfied and looking forward to those St. Patty's celebrations.
Try an Australian Sauvignon Blanc to offset the fat of the pork and not overpower the suppleness of your cooked cabbage. Like flavors balance each other without overpowering the natural flavors within the vegetable or the wine. Since cabbage of all types tends to have a strong gastro effect, wine is a natural digestive aid leveling the concern over an overpowering effect. In fact, Dr. Oz recommends red wine as part of his five tips on anti-aging health protocols.
Light red wine, such as Beaujolais, is nice not only for the stomach-calming properties, if served with cooked cabbage, but also because it cuts through fat due to its high acidity. It also provides a refreshing counterbalance to the saltiness of the accompanying corned beef.
If you're servicing spicy sausage and Sauerkraut (cooked cabbage), a Riesling or other white from Alsace will also be a welcome relief to the taste buds. A Riesling from the Mosel, Germany would also suffice. After all, the Germans and the Irish have similar experiences with food and wine choices historically. Meat and potatoes were main staples of the time and the choice to pair with light wines was a solid one.
A final pairing option not to be overlooked by our Irish friends, is Rosé. If you're looking for perhaps a more modern twist on the cabbage tradition instead of the meat-and-cabbage Irish tradition, a roasted cabbage wedge salad with blood oranges, pecans and a creamy dressing is sure to make even the strictest dieters relish with satisfaction. And Rosé is a light and flavorful pairing option. French Rosés, in general, are terrific with many food pairings.
Wine has many regional implications that tend to pair with foods typical of that region but at this St. Patty's holiday, there are really many suitable wine choices from around the world. So, regardless of following traditional Irish meal themes or not, there are some delightful wine pairing options for you to consider this year. Enjoy and remember to hug an Irish person today!
---