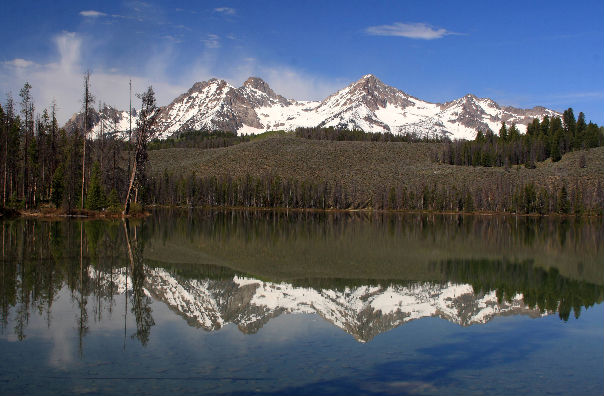 [Photo:Sawtooth Mountains reflect on Little Redfish Lake / Credit: Alaskan Dude]
If you think of the Pacific Northwest wine regions, Idaho may not roll right off the tip of your tongue. This underdog wine region is definitely the lesser known, to say the least, but it's worth a moment in the spotlight. Let's explore the similarities between the already famed wine regions of the West Coast—Washington, Oregon and California—and our underdog friend, Idaho.


Vines were planted in the mid-to-late 1800's.


Serious winemaking was going on and wineries were producing award-winning wines.


Prohibition annihilated the entire wine industry.


Revitalization in vineyard planting and modern winemaking re-emerged in the 1970's.


Volcanic and mineral soils, large diurnal temperature swings help ripen grapes during the day yet cool down at night so they retain acidity.


Each state boasts lots of microclimates for a diverse range of grape varieties to flourish in.


With all these similarities to the great wine regions of the West, what happened in Idaho that didn't happen in Washington, Oregon and California? Let's just say it's a very long hard road to success. Napa Valley got put on the serious wine region map by the 1976 Paris tasting. Oregon also had recognition for their Pinot Noir early on but really didn't start flourishing till the turn of the millennium. Washington State, although a maker of world-class wines, is still very much in the campaigning, advertising, and spending-lots-of-money phase to get the world to recognize them for their everyday purchases. So it will be a long hard journey for Idaho, and I hope they're up for the challenge.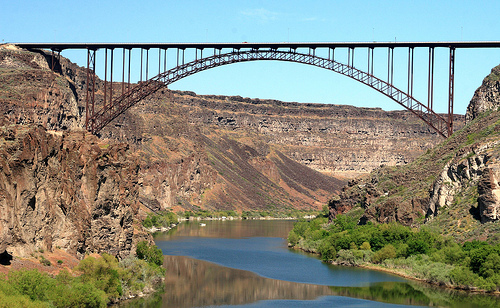 [Photo: Perrine Bridge spanning the Snake River in Twin Falls, Idaho / Credit: Alaskan Dude]
Although vinifera vines were planted in Idaho as early as the late 1800's, the first AVA (Snake River AVA) was just formed in 2007. It's a large AVA that covers 8,000 square miles, but most of the vineyards are located in the southwest portion of Idaho and carry into eastern Oregon. High elevations more than 2,000 feet above sea level are where most of these vineyards are located, and they're on the same latitude as the south of France. Geographically speaking, the southern part of the Snake River AVA has all the right elements to make premium wine. They have the warm sunshiny days to ripen grapes and get the sugar levels high while the 30-40 degree temperature drop at night is necessary to retain acidity and balance out the sugars. The acidity is what growers in the warmer California climate can be jealous of, and the sugar ripening is what Oregon winemakers long for, so they have the ideal recipe for weather conditions.
With all that being said, a couple wineries come to mind who pioneered, laid down their roots, invested in Idaho vineyards and are the largest operating wineries there today: Ste Chapelle Winery, with about a 150,000-case production, and Sawtooth Winery. Both are owned by Precept Wine Brands, which has serious wines in its portfolio and is the largest privately owned company in the Pacific Northwest. They believed in both of these wineries' potential as well as the geographical conditions Idaho has to offer. I think we will see both these wineries on more shelves across the United States, and I suggest picking up a bottle and educating your friends on your new-found knowledge of Idaho!
---