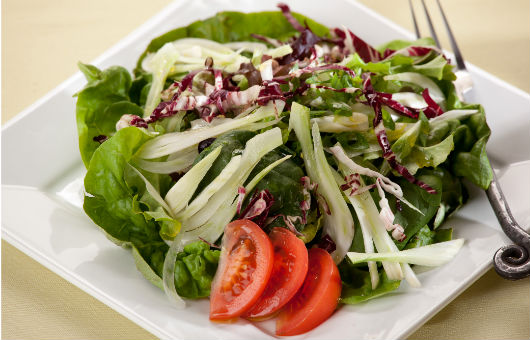 Editor's Note: Salad can be a challenging meal to pair to wine, but if you pay attention to a few key elements—namely, the standout ingredients and the acidity of the dressing—you can find a great match. It's easy to overpower a salad with wine, but if you pay attention to the weight and body of each, you can strike the right balance. In this basic salad recipe, look to the flavors of the mixed greens, fennel and ripe tomatoes to guide the flavor profile of the wine. Also note the hefty presence of the tarragon and mustard in the dressing, which broadens out and mellows the sharpness of the vinegar. Check out this basic salad recipe and wine pairing, then share your own variations and wine pairings!
Harry's Pairing Tip: With salad grens and fennel, we have a combo of bitter and sweet so try a sauvignon blanc from Chile or a white from Entre deux Mers. With its grassy notes it will complement the salad. A pinot bianco from Friuli or Gruner Veltliner from Austria would also be nice. However, ingredients should change with the seasons so the wine pairing may change as well. If you're making a grain-based salad, think about the spiciness and texture of the grains. A hot curry-based salad would like an off dry riesling or Vouvray. A salad with some fruit notes, e.g. a spinach and strawberry salad, take a look at an off dry rose from the Loire Valley or Spain.
Ingredients:
1 red onion, quartered and peeled
1 medium carrot, washed, green tops cut off
¼ fresh fennel bulb. trimmed and sliced thinly
8 oz. mixed greens, at least half of which should be arugula, escarole, chicory, and mâiche and the remainder is Boston, limestone, romaine or another salad green
2 fully ripe medium, plum or heirloom tomatoes
To make the salad:
1. Cut the onion in quarters first and reserve 3 quarters for another use. Slice paper thin.
2. Grate the carrot on the large-holed side of a 4-sided box grater.
3. Remove the tops of the fennel and reserve. Cut bulb in quarters, cut out core and slice as much as desired.
4. Wash the greens and spin dry, then pat dry with absorbent paper towels.
5. Core, peel and slice or wedge the tomato.
Mix all ingredients except for tomatoes and carrots and divide on 4 plates. Garnish each with some carrots and tomato.
Tarragon Vinaigrette:
1 small clove garlic
1 small shallot
1 t. whole grain mustard
1/4 C. good quality tarragon vinegar
1/2 to 3/4 cup extra virgin olive oil
1 T. finely chopped fresh tarragon
1. Finely chop the garlic and shallot and add to a bowl with remaining ingredients EXCEPT oil and mix well.
2. Drizzle in the oil, less will make it lighter, more will make it thicker. Whisk well to emulsify the dressing.
3. Dip a piece of lettuce in the dressing, taste for salt and pepper and add to taste.
Finally, add the fresh tarragon.
Tip: If you cannot find heirloom tomatoes, used Italian plum tomatoes or try yellow and red grape tomatoes. Both of these will have a little more acid presence than the heirlooms, so if you're using them, substitute honey mustard in the dressing rather than whole grain.
---