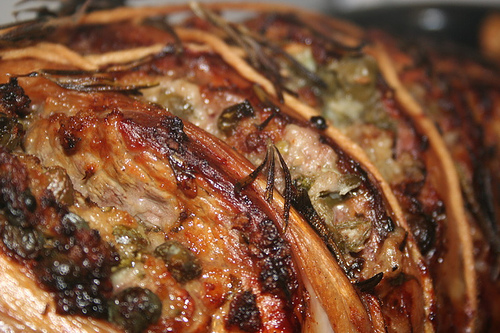 Rich and buttery, roast leg of lamb needs a structured red wine that can stand up to the weight of the meat. With the robust treatment of the plum and merlot sauce, this dish is particularly suited to pairing with a red presenting notes of late summer fruit.
Harry's Wine Pairing Tip: Pick a good Saint-Emilion, which is the classic pairing with roast lamb. The fruit in the wine will pick up the plum flavor in the sauce, which serves as a bridge between the meat and the sauce itself. Alternatively, a Washington Merlot would work well.
Ingredients:
1 leg of lamb, butterflied, bones reserved
16 dark plums, halved and stoned
2 T. tomato paste
1 pint brown broth, packaged, no or low sodium
1 pint plus 1 C. merlot
2 T. butter
24 black peppercorns in a piece of cheesecloth
To make the lamb:
Ask your butcher to bone, roll and tie or net the lamb and get the bones back with the meat.
Pre-heat the oven to 350°.
Stuff 8 of the halved plums into the center of the rolled lamb. If there is not an opening large enough to stuff with the plums, make several slits on the outside of the lamb and stuff the plums directly into the meat. You want to get all the plums inside the lamb. Season with salt and pepper.
Put a large roasting pan on the stove, get it hot and brown the lamb on all sides then remove from the pan and reserve.
In the fat leftover in the pan, brown the reserved lamb bones thoroughly. Add the tomato paste and mix it up with the bones.
Arrange the bones to form a shelf in the roasting pan. Place lamb on the bones and roast until a thermometer inserted in the thickest part of the leg registers 130°.
When temperature is reached, remove the lamb from the pan being careful not to lose the collected juice. Tent with foil.
To make the sauce:
Replace the pan on the burners on medium heat. Add the brown broth, bring to a boil with the bones and reduce by half. Add the merlot and reduce by half again.
Remove the bones and strain the pan sauce and reserve.
Melt the butter in a saucepot large enough to hold the sauce.
Add the rest of the plum halves to the saucepot and cook about 5 minutes.
Smash the peppercorns, tie the cloth and add to the saucepot.
Add 1 C. of merlot to the pot to deglaze and reduce until almost dry.
Add the strained sauce and reduce by half. Puree in a blender, strain back into the pot. Adjust seasoning off the fire and swirl in 2 tablespoons unsalted butter. Strain and serve on the side.
To serve:
Carve the lamb and serve with the sauce on the side. Serve with roast potatoes with rosemary and caramelized garlic.
Photo used through a CC license by dps
---