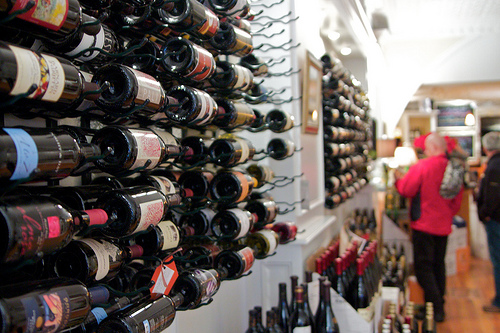 [Photo: Stocked shelves at an Illinois wine store / Credit Mike Miley]
In the beverage industry, winemakers and spirits and brew masters do not sell directly to restaurants or liquor stores. They need distributors. Yep, us pesky, but often entertaining and always-ready-with-the-latest-libation sales people who visit accounts weekly hoping to get our products into any successful, well-patronized business that is seriously motivated to bring great spirits, wine and beer to consumers. Much like the food industry, a three-tiered system is in place to achieve this. Producer, distributor and restaurant or retail shop owners all work in harmony to provide the makings of stellar libations from around the world.
Being a wine rep is not for the shy or faint of heart. We are, in a sense, business partners to the restaurant proprietors and the liquor store owners with whom we work. A substantial investment goes into a wine list of a restaurant or what appears on the shelves of a local liquor store. Since the rep makes recommendations and products available, they need to sell and move that product for the account's business to be successful. Wine reps become good friends and even allies with the bartenders, staff and managers of local restaurants and wine shops. All share the goal of selling customers quality libations from a portfolio we know best. In the industry, there is much talk about what is available and from which distributors. Many of the larger portfolios are held by distributors who manage their customers' choices by availability, price and market trends.
Typically, wine reps make regular sales calls to the restaurants within their territory and suggest product to local restaurateurs, managers, chefs and sommeliers. Timing is crucial. They follow up with deliveries and manage selling goals and expectations. They also organize events to promote wine, lead wine tastings and educate servers about wine pairings and wine trends. Some reps are responsible for creating and distributing marketing materials, like the wine list, table tents and shelf talkers that assist the customer in making an informed purchase. Reps also build their business by calling on new accounts in their territory, discussing the business focus and matching that need with what is available in their portfolio. Many reps have quotas to fulfill by selling not only in volume but the type of product the distributor has in the warehouse. These quotas are based on the relationship and goals that are set with the wine, spirit or beer producers. The trick is to match the need with the right product. Reps are paid on what they sell and it behooves them to assist in this as they will get reorders and thus get paid accordingly.

Wine reps must know their product. They often receive on-the-job training, but a career in the industry demands that reps keep up with the latest trends. They read a lot and may travel to the vineyards where wine is made. They also attend tastings, take classes and extensive notes. For those with a passion for wine, representing a distributor requires constant education of the wines in the portfolio, but it is amazingly fun. You are being paid to taste wine, learn and sell the distributor's products.
Not every distributor sells only wine. Many have liquor and beer in their portfolio as well. The content is determined by a group of people who decide the focus of their particular portfolio. It may be a particular region like South American wines or Microbrews of Colorado. Cost is a factor as is availability and case production.
Why are distributors needed? Five main reasons:
1) The law requires Distributors to sell to on-premise (restaurants) and off-premise (liquor stores) liquor sellers. Many states find it easier to collect taxes from a limited number of federally and state-licensed distributors than the hundreds or thousands of retail establishments in their state that sell alcohol products.
2) Distributors properly store the wines/liquor and beer within inventoried warehouses. Distributors secure beer, for example, from a wide variety of brewers and preserve those perishable products in a temperature-controlled warehouse. This is essential to the quality of the product and its longevity. Distributors maintain a fleet of trucks and employ numerous delivery employees.
3) Distributors provide solid relationships with the vintners. Years of visits to and conversations with vintners go into building a trusting relationship with a winemaker and his investment. Telling the story of the vineyard, whether it was passed along from a farming grandfather or built from mortar by a husband-and-wife team, is essential to the integrity of distributors in the industry. Wine is not just fermented grapes, it may tell a family's interesting life story. It is important that the story of the origin of the wine be handed to a trusted friend, not just someone who sees dollar signs.
4) Distributors manage shipping costs. Wine is bought and sold in pallets. A single liquor store is not likely to afford the shipping cost or have the storage space for 56 cases of one product. There are also costs associated with maintaining a secure, temperature controlled warehouse.
5) Distributors add value by aiding in the education of wines, liquor and beer from around the world to their customers and the public. Let's face it, distributors can make wine that is otherwise hard to obtain available to the consumer. Furthermore, statistics say that the more informed and educated a customer is on the product, the more they tend to spend and the more variety they seek. This is good for a lot of businesses.
Most distributors are clearly invested in the success of their businesses partners. Teams they put together to promote a product are incredibly important. The care they take in shipping the product, the lengths they go to obtain and store the wine, beer and liquor and the relationships they build with the vintners ensure repeat, sustainable business and support of the winemakers themselves. This is supply meeting demand, the basic building block of any business.
About Janine: Most recently writing for wine publications and holding educational wine tastings, Janine has a background representing distributors in Wine Sales with Global Wines (CO), Baroness (CO), and Orangewood Wines (AZ). She holds a BA from Hamline University, MN in English. She is married and lives in Colorado where her enthusiasm for wine is matched by her love to travel, bike, cook Simply Ming recipes, and find new food/wine pairings at local restaurants!
---