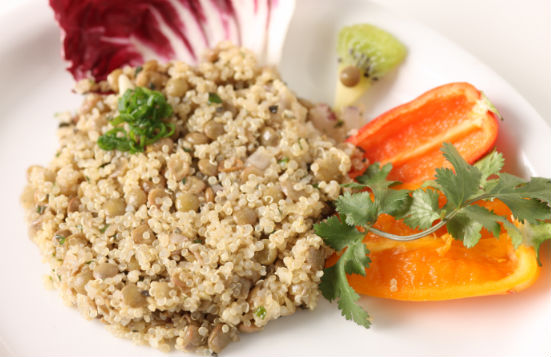 Harry's Pairing Note: This salad is spicy, fruity and herby, if that is a word. I would look to a lightly chilled Beaujolais Villages for pairing. It is fruity, not astringent, due to low tannins, and the chilling plays down the acid. An un-oaked pinot gris from Oregon or a pinot grigio from Alto Adige would also work well.
Ingredients:
4 oz. quinoa
4 oz. dried lentils, soaked overnight and cooked until tender
2 garlic cloves, crushed
1 medium red onion, medium dice
1 T. Harissa
1 T. each finely chopped fresh oregano, chives, parsley, mint and basil
2 T. fresh lemon juice
2 oz. or to taste Extra Virgin olive oil
2 T. plain yogurt (optional)
Salt and fresh ground pepper
Make the Salad:
1. Cook the quinoa according to package directions. Use half white wine and half vegetable broth for a great flavor.
2. Soak lentils overnight in water and cook until tender.
3. Wash and finely chop all herbs.
4. Place remaining ingredients in a bowl, mix well. If you want an emulsified dressing, add 2 tablespoons of plain yogurt.
5. Stir in remaining ingredients.
6. Fluff and mix the grains, add the dressing and arrange on a bed of greens. Serve with soft tortillas or pita.
---