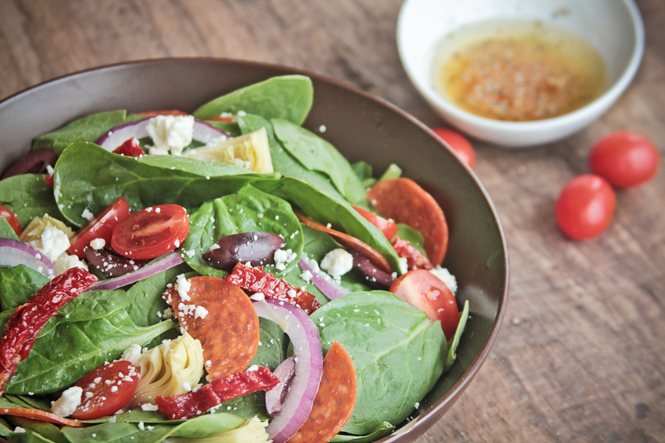 Sometimes, it's the meals you can pull out of a seemingly empty pantry that become your biggest successes. That's how it seems to be with me, anyway. I don't have an ounce of Italian blood in me, but I wish I did and I try to cook like I think I would if I had grown up with a gaggle of siblings in some provincial town in the south of Italy. Mainly, that means lots of fresh vegetables, garlic and olive oil (oh yes, and the pasta and array of fresh meats)—prepared in simple ways that still feature a full palette of distinct flavors.
I shared my amazingly good recipe over at our friend EmmaleeElizabeth's site…only because I salivate uncontrollably every time I think about the salad. So a little distance is good. I really don't know if this salad is more Italian or Greek, so I went with the more generic term "Mediterranean." I'd love to hear some feedback from you, if you're so lucky as to have some real roots in that delicious part of the globe.
Get Whitney's Amazing Mediterranean Salad Recipe >>
The salad dressing for this one is pretty vinegar-and-lemon heavy, which can make wine pairing a bit of a struggle. However, Paul Giese says you're on safe ground with one of the below vino options.
Emile Beyer 'Lieu dit Hohrain' Pinot Gris J Pinot Gris
Maso Canali Pinot Grigio Ponzi Pinot Gris
---