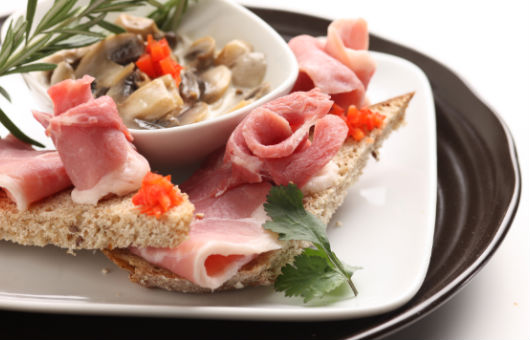 Harry's Pairing Note: Select a Pouilly-Fume. Crisp acid balances the cream, smoky/mineral notes complement the mushrooms, and the weight of the wine is well-suited to go with the ham. Also try a slightly off dry Rheinhessen.
Serves 4
Ingredients:
8 oz. button mushrooms, stems removed and reserved, cut in quarters
4 oz. dry white wine
2. oz. water
2. oz. fresh lemon juice
4 oz. heavy cream
2 oz. heavy cream, whipped to soft peaks and reserved
4 slices whole grain bread
4 one-ounce thin slices of dry cured ham
Make the Dish:
1. Mix wine, water and lemon juice in non-reactive pot, bring to a simmer, add mushrooms, cover tightly and cook about two minutes. Remove from heat, strain and return cooking liquid to pan, reduce by ¾.
2. Reduce cream by half. Add to reduced mushroom cooking liquid, return mushrooms.
3. Toast bread and cut in half diagonally, place on heatproof serving plates.
4. Place small slices of ham on each triangle of toast, and place plates in 300°F oven.
5. To serve, fold whipped cream into mushrooms in sauce, spoon evenly over ham covered toast, sprinkle with cayenne pepper. Serve immediately.
---