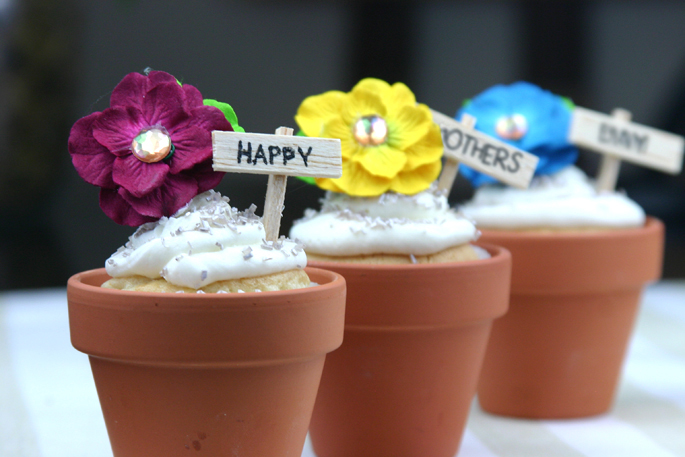 [Flowerpot Cupcakes / EmmaleeElizabeth Design]
Mother's Day doesn't have to be about expensive gifts. Sometimes it's the simple things made with love that can make a day super special. Save the spa date or walk around the lake for later in the day. This year, start her day (or ask your man to start your day) with some Delicious Banana Cupcakes baked in flowerpots and everyone's favorite fruit-laden beverage, sangria. (Cake for breakfast is divine, you really must try it.)
This miniature cake garden comes from my longtime friend and fellow creative living devotee, Emmalee of EmmaleeElizabeth Design. You're going to be seeing more from her in coming weeks, but for now, just appreciate the beauty of this edible floral lineup.
In honor of Mother's Day, Emmalee shared her grandmother's cupcake recipe, but if you don't have the time to make a from-scratch recipe, no sweat. The adorableness of the presentation is what really counts here. Whip up a cake mix or just pick up a dozen at the local bakery. For frosting, Emmalee tells me buttercream frosting holds up best for cupcakes.
Get the Flowerpot Cupcake Tutorial & Delicious Banana Cupcake Recipe >>
Sangria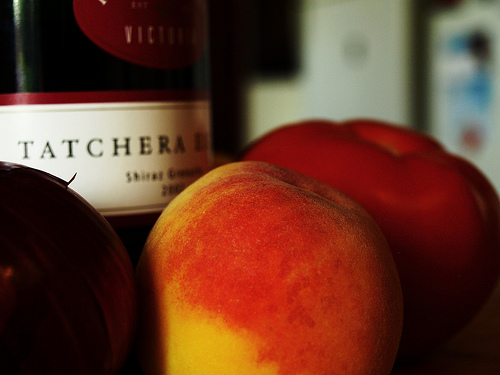 [Wine + fruit = Yummy Mother's Day Sangria / geyergus]
For beverages, is this not the perfect day for the girly, fruity, lovable, always sippable sangria?
Sangria is pretty much any of your leftover wines dumped into a pitcher, tossed with some ice and fruit combination and served up in pretty glasses. WineTable President and Sommelier Paul Giese says if you want to get a special bottle for Mother's Day, try one of these:
Domaine Lafond Roc Epine Tavel (generally too dry, but if you're adding sugar, you can make this one work)
San Alejandro 'Las Rocas' Garnacha
As to what to add to your pitcher, Paul particularly recommends strawberries, blackberries, cherries and orange slices in either a Garnacha or Pinot Noir sangria. For Pinot Grigio, he says to go with lemon, orange, lime, strawberry and pineapple. Here are a couple other favorite combinations. Of course, any of the fruits would taste delicious in any combination (it's hard to go wrong with Sangria, which is why I've left out specific measurements). Let your brew sit for a couple hours before tossing over ice to blend the flavors. And always make sure to rim your glasses with lime or lemon juice and sugar:
Apple-Citrus: red wine +brandy + triple sec + lime juice + orange juice + sugar + sliced oranges/lemons/limes + apple slices + sparkling water
Hawaiian: red wine + lemons/oranges/limes + sugar + orange juice + gin + raspberries/strawberries + diced canned pineapples + ginger ale
Watermelon: white wine + cubed watermelon + vodka + triple sec +simple syrup + sliced limes/oranges + fresh blueberries
Southern Belle Peach: rosé wine + vodka + peach nectar + lemonade concentrate + sugar + ripe sliced peaches + fresh or frozen raspberries + club soda
Mexican: red wine + tequila + orange juice + sugar + lime juice + sliced apple + raspberries + diced mangos
Other ingredients to add to any of the above:
---