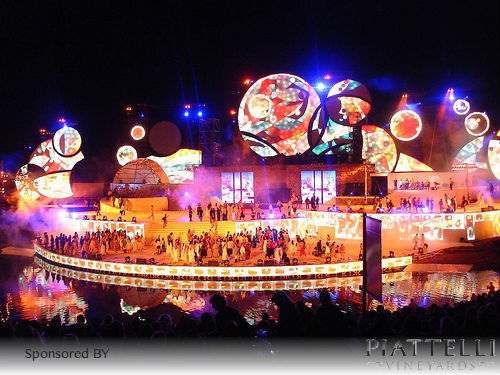 [The dancing and lights of Fiesta Nacional de la Vendimia / Moriz mdz]
The beginning of March marked the 77th annual Grape Harvest Festival in Mendoza, Argentina. Known as Fiesta Nacional de la Vendimia, this is the biggest festival in the whole country and has been named the second-best harvest festival in the world by National Geographic. From Feb. 24 until March 5 this year, the festival took over our city while tens of thousands of people gathered to watch the crowning of the Queen of the Harvest, dance and musical performances, and of course, drink wine.
Each year, everyone from the winemaking community here brings their families to the festivities for different activities all day and night. Events include the blessing of the grapes on the first Sunday, parades in the streets, the national beauty pageant where the National Grape Harvest Queen is chosen, and fantastic light and dance shows. The regional harvest queens, selected earlier in the season from each of Mendoza's 18 districts, parade through the street on Friday night, tossing clusters of grapes into the crowd. For the dancing and shows, our Frank Romero Greek Theater has paid seating for 20,000, and spectators watch the show from hillsides around the theater as well. Believe me, it was a packed crowd.
Wine harvest festivals have been going on since the ancient Egyptians toasted Osiris and the Greeks toasted Dionysus. They represent an important part of culture in many parts of the world, especially because of the romantic and ceremonial role wine plays in society. People throw harvest festivals in many farming and mining towns, but wine has a more personal appeal to most communities than a normal crop.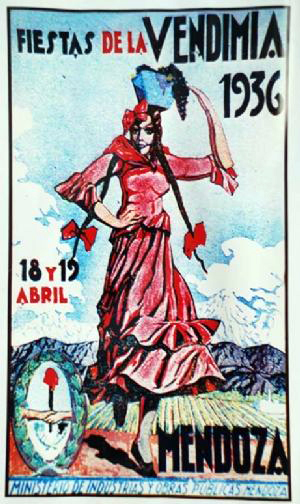 [The first poster of Fiesta de la Vendimia, 1936 / public domain]
When we celebrate the harvest in Mendoza, it is a moment when we give thanks to nature and to each other for getting through the growing season successfully. Our mission in winemaking is to create an emblem of our personalities and the best characteristics of our environment, so each wine becomes like a time capsule of this moment and this place.
Until next time, may your life be filled with meaningful times with family and friends.
- Valeria
My name is Valeria Antolin and I'm the principal winemaker for Piattelli Vineyards. Our lead winemaker in our Salta vineyards, Alejandro Nesman, and I will be updating educational content for you all to enjoy on this site. Feel free to reach out if you have any questions about our winery and visit our WineTable profile.
---