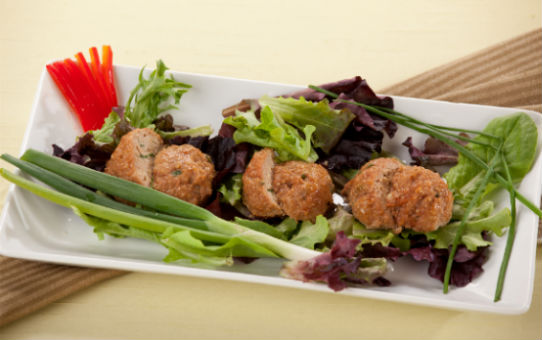 Here's an easy Asian meatball appetizer that works well alone or as the protein topping to a salad of mixed greens spritzed with rice vinegar. You'll want to balance the heat out with a slightly sweet white wine.
Harry's Pairing Tips: Try a slightly off-dry Rhein Riesling or a Semillon-Sauvignon blend from Chile or California. The appetizer is a little spicy so the balance of the acid and slight sweetness in each of the wines both complements and contrasts with the food.
Serves four
Ingredients:
About 1 lb. ground pork or half pork and half chicken (ground turkey can also be used) Tip: Keep the meat very chilled.
3 eggs, separated, yolks added to the meat mixture, egg whites whipped to soft peaks.
2 cloves of garlic, crushed
2 T. scallions, sliced on the diagonal
1 T. grated fresh ginger
Salt, to taste
To Make the Meatballs:
1. Pre-heat oven to 425°
2. Mix meat, garlic, ginger, salt, pepper, scallions and 3 egg yolks in a bowl.
3. Beat the egg whites to soft peaks and fold into the base.
4. To evaluate the flavor balance, make a test by frying a small patty in a pan.
5. When you're satisfied, scoop with a 1-ounce scoop and shape as desired. Place on a silicon baking mat and bake at 400° to 425° until brown.
To Serve:
Serve on a small bed of mixed organic greens sprinkled with rice vinegar or your favorite dipping sauce.
---