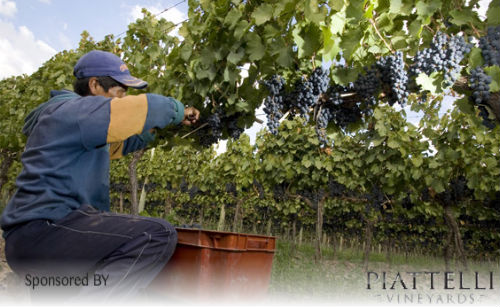 [A vineyard hand harvests grapes for a new vintage of Piattelli / Piattelli Wines]
In the past 10 years Malbec has become one of the most popular wines in the United States and has been fueling the growth of Argentine wine in the international market. The explosion of our Malbec market has shot Argentina into fifth place among the world's largest wine producers, and, with double-digit annual growth rates in imports, Argentina has become the third-largest wine import in the United States.
While the surging-financial side of the Malbec story is what makes headlines, there is a more romantic and historical side to this tale. As part of an initiative to diversify and increase wine production in the mid-1800s, Domingo Faustino Sarmiento, then-provincial governor and future Argentine president, instructed French agronomist Miguel Pouget to bring new grapevine clippings to Argentina from his home country. Malbec is one of the original varietals of Bordeaux, but it was nearly wiped out of production in the mid-20th century during the phylloxera epidemic. Malbec is still grown in the Cahors region of France but is now mostly used for its blending qualities.
Since Argentina's economy suffered through most of the 1990's, the wine industry has experienced a unique resurgence. The terroir qualities of Argentina— especially clean water, soil and air, high altitudes and low pest population—inspired foreign investments from some premier global wine producers and helped spur the improvement in winemaking quality and opened up trade opportunities into the rest of the world. The dry, warm climate turned out to be ideal for Malbec. Furthermore, the creation of a D.O.C. in the Mendoza province for Malbec gave credibility to the varietal and attracted many of those investors.
For Piattelli Vineyards, Malbec has also been our most popular wine—and our most prominent. Out of the nine lines of wine we produce, five of them are Malbecs or have Malbec in them. We offer our Premium Malbec, Grand Reserve Malbec, two blends with Malbec, and even a saignee-method Rosé of Malbec. We make our Malbecs at the estate level, with intense personal oversight.
My goal as a winemaker is to create the best Malbec representing the heart of our terroir and our identity. That is why, with the whole Piattelli team, both in Agrelo and Cafayate, we work every day to get the best grapes. We strive to give our customers wine that over-delivers on quality and judging by the reception our wines have received from renowned critics, we have been successful thus far. Still, we'd rather have you be the judge, so please try our Malbec, and let us know what you think!
Want to explore Malbec even more? Visit the Did You Know? page on Piattelli's website >>
Until next time, may your life be filled with meaningful times with family and friends.
- Valeria
My name is Valeria Antolin and I'm the principal winemaker for Piattelli Vineyards. Our lead winemaker in our Salta vineyards, Alejandro Nesman, and I will be updating educational content for you all to enjoy on this site. Feel free to reach out if you have any questions about our winery and visit our profile.
---