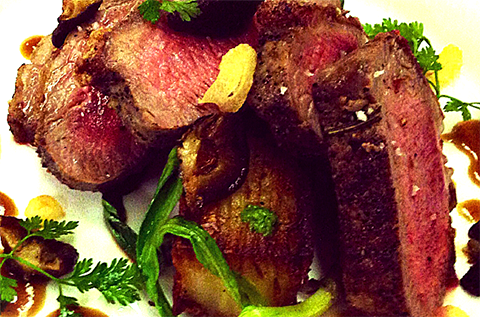 Chef David Gutowski shared this trifecta of lamb dinner perfection with WineTable writers William and Natalie Myers. Seared lamb loins, ramp pesto and manchego potato cakes. A gourmet dinner that looks and tastes superb.
Read our interview with David >>
Lamb Loin
Colorado Lamb Loin – 6oz
Olive Oil – 1 tbsp
Rosemary – 1 sprig
Shallot – 1 each
Garlic – 2 cloves
Ramp Pesto (recipe below) – 1 tbsp
Manchego Potato Cake (recipe below) – 1 each
1. Thinly slice shallots and garlic. Mix with chopped rosemary and olive oil.
2. Rub mixture on lamb and refrigerate overnight.
3. Wipe off marinade from lamb and let sit covered at room temp for thirty minutes.
4. Season with salt and pepper and sear in hot pan fat side down.
5. When fat is caramelized flip over and place in 400 degree oven for three minutes.
6. Remove from pan and let the lamb rest for ten minutes.
7. While lamb is resting sear potato cake in the same pan with all the lamb fat in it on all sides.
8. Slice lamb and plate with potato cake and pesto. Finish plate with sautéed ramps, garlic chips, lamb demi and chervil.
Ramp Pesto
Ramps – 1 small bunch (10 ramps)
Extra Virgin Olive Oil – ½ cup
Pine Nuts (toasted) – 2 Tbsp
Grated Parmesan – 2 tbsp
Parsley – 1 bunch
Lemon Zest – ½ Lemon
Salt and Pepper – to taste
1. Chop and blanch ramps leaves. Slice root end.
2. Place everything in blender and puree. Season with salt and pepper.
3. Done
Manchego Potato Cake
Idaho Potatoes – 3 each
Heavy Cream – 2 cups
Manchego (shredded) – 1 ½ cups
Butter – 6oz
Salt and Pepper
1. Apply light coat of butter to inside of oven proof baking dish.
2. Thinly slice potatoes lengthwise on a mandolin and place in bowl with heavy cream.
3. Place an even layer of sliced potatoes in dish, sprinkle layer of cheese on top along with a few small pieces of butter. Season with salt and pepper.
4. Repeat step 3 until all potatoes are gone.
5. Cover with foil and bake at 325 for two hours.
6. Remove foil and let cool for 30 minutes.
7. Cover with plastic wrap and place weight evenly on top of potatoes. Place in cooler overnight.
8. Next day remove cake from baking dish and slice to desired thickness (about an inch and a half)
9. Done.
---