With the weather warming up it's a sign that it's time to get out in the fresh air and enjoy the onset of spring with friends. For a get together with a difference, why not hold a wine-tasting party? This type of party is easy to organise, incredibly fun and light-hearted.
Wine tasting parties can either be formal or informal, but both are fun. Formal parties are generally geared towards more educated wine drinkers who would like to experience some great wines and learn more in the process. Informal parties are generally for people who may be discovering wine or just like to have some fun with them. For the purpose of today's post, we are all about the fun!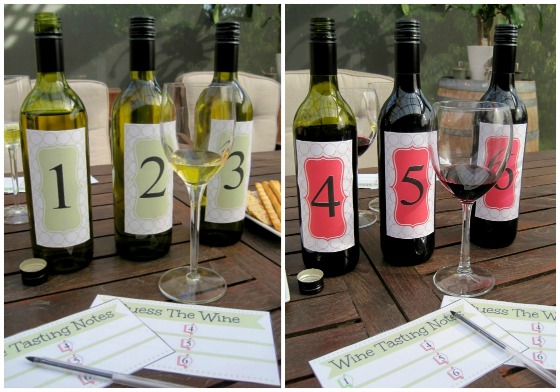 For something a little bit different, make it a blind wine tasting party. Test your guests' wine knowledge and preferences as they try to identify the wine that you are serving them. Choose six wines—three white and three red—and you are ready to go. Print off some wine labels and attach them to your chosen bottles (you'll find the ones I've designed a little later in this post).
If you are lucky enough to live in a wine region, you can easily pick up clean skin wines (aka unlabelled wines). Otherwise, peel off the existing label and add on your secret one. Just remember to make a note of what each bottle of wine is before you remove the labels!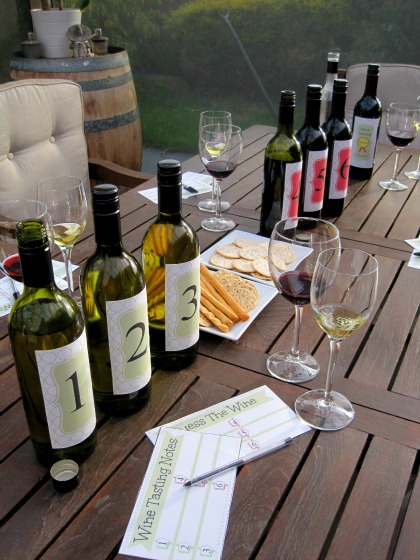 As people arrive at the party, start out by greeting them with a glass of bubbly. Sparkling wine is always a great way for your guests to relax and enjoy the atmosphere of the party without getting into the nitty gritty of it.
Typically when tasting wines, you want to move from dry to sweet for white wines and from light to full bodied with red wines. Bear this in mind when numbering your wines.
Once you have chosen your wine, the rest of the party organisation pretty much falls into place. To help make the party more professional, here are some ideas for you:
Glasses: Whilst this is an informal fun party, you still want to ensure you give the wines the etiquette they deserve. For this reason ensure that you have at least two glasses for each guest, one white wine and one red wine glass.
Throw away bucket: Your guests may not like all the wines that they are tasting—or they may want to just taste one and fully enjoy another. Any wine cellar you visit will always have a 'dump bucket' for people to tip wine in that they may not like to continue tasting. Ensure you have one at the ready.
Water bottle: It is a good idea to have a water bottle available for guests to not only cleanse their palates but also to ensure they are drinking sufficient water during the party.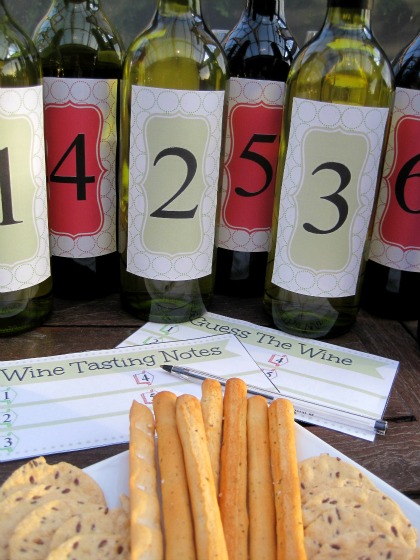 Bread and crackers: Whether or not you are providing food at the party, it is essential to provide some plain bread and crackers as palate cleansers. Have these readily available to enable guests to pick at them in between each tasting.
Wine tasting & guessing sheet: Provide each of your guests with a wine tasting sheet to enable them to record their thoughts about each wine. Also provide them with a wine guessing sheet for your guests to record their final guess.
Humor: This party holds a level of competition as everyone will want to win, but still try and encourage your guests to share their thoughts with each other. Some of your guests will have more knowledge of wine than others, so they might like to talk about their taste of fruitiness or the aromas they can smell.
To spice things up a little, provide a bottle of wine for the winner, to keep a competitive edge amongst your friends. You may want to have more than one bottle, just in case you have several guests with the same score!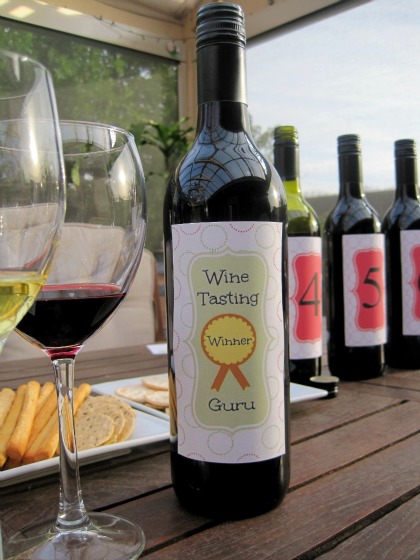 If you wish to serve food at your party other than the palate cleansers, it is advisable to pair the food to the wines you are serving. This may be a bit tricky given you will be serving six wines, and you don't want your guests to be given too many clues. If you would like to pair the wines, the WineTable food pairing guide can offer some ideas.
All that is now left to do is relax and enjoy the party. This will be something different for your guests but most importantly, something fun.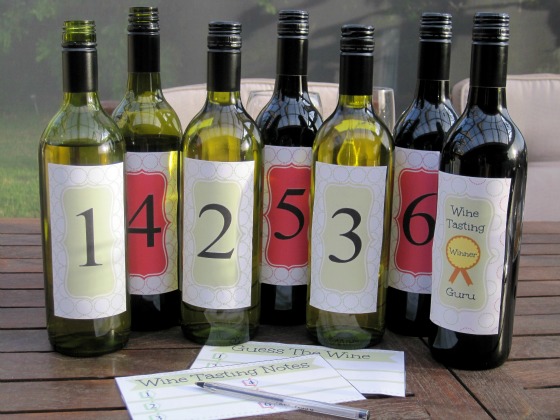 To print your own wine tasting party click the links below:
To print the wine tasting labels click here (1-3)
To print the wine tasting labels click here (4-6)
To print the wine tasting labels click here (Winner)
To print off the wine tasting sheets, click here
To print off the wine guessing sheets, click here
Catherine Holt is a stay-at-home mom in Adelaide, Australia. She loves to entertain and blogs about party ideas at her website, Smart Party Planning. Follow Catherine here on WineTable and check out her blog for more great party tips.
---