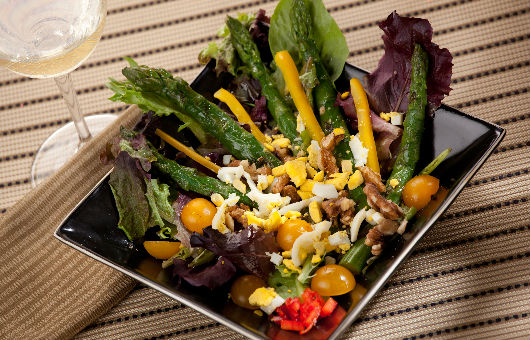 Editor's note: Grilling makes anything good, and asparagus is no exception. Bright green, crisp-tender, with a hint of smokiness. Yum. Here's a salad that offers a nice mix of flavors to excite all your taste buds. The walnuts and egg round out the tartness of the asparagus, making the whole dish more wine-friendly, and add the satisfying protein your body needs to feel full, as well. It's a great option for a lighter but complete meal. Time to break out the grill and take your stand against a never-ending winter!
Harry's Pairing Tip: For asparagus, look to Gruner Veltliner from Austria or a New Zealand, or Chilean Sauvignon Blanc. The New Zealand will be more citrus flavored, the Chilean a bit more grassy (and asparagus is a grass).
1 pound fresh medium asparagus
1 hard-cooked egg, grated
1 oz. fresh lemon juice
1 oz. fresh chives, snipped
4 oz. walnut oil
2 oz. toasted walnuts, chopped
1. Wash and trim the asparagus to equal length. Peel the spears of the fibrous outer layer, to reveal the brighter green under layer. Dry and place on a plate and brush with regular olive oil.
2. Grill over a medium hot charcoal fire until al dente.
3. Add the remaining ingredients to a bowl. Mix well to blend and pour over the asparagus.
4. And a twist or two of fresh ground black pepper and add a sprinkle of fresh grated parmesan cheese.
Arrange the asparagus nicely on chilled serving plates and dust with freshly cracked pepper before serving.
---