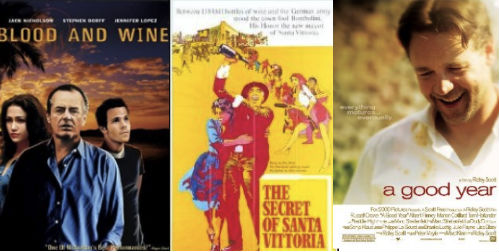 As the biggest night in Hollywood approaches I am often asked about wine-themed movies and whether I have any recommendations. As a lover of movies and wine I wanted to put together a list of the top 5 movies in which wine played a major role in the plot and the actors have a link to the Academy Awards. Turns out there really are some great stories—and even a little bit of history to be learned. Here are the movies I would recommend to those who seek entertainment vino style. While you're at it, grab a great bottle of wine and some good company to make for a great evening at your home cinema.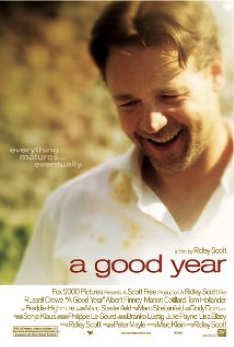 #5: A Good Year (2006)
Starring: Oscar-winner Russel Crowe (2001), Oscar-winner Marion Cotillard (2008), and Oscar-nominee Albert Finney (1964, 1975, 1984, 1985, and 2001).
This fish-out-of-water romantic comedy is a great film that brings back the beauty of telling a story through movie-making. Based on the Book by Peter Mayle, the movie stars Russel Crowe as the high-powered English investment banker and nephew of a chateau owner in Provence, France. Upon learning of his uncle's (Finney) death, he returns to the chateau to prepare it for sale. There he is introduced to a laid-back and beautiful way of life.

Pair this movie with a Rose' from Provence >>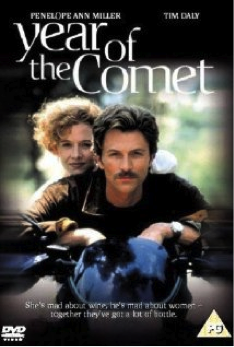 #4 Year of the Comet (1991)
Starring: Tim Daly (co-starred in Diner, nominated for Academy Award, 1983) Penelope Ann Miller (co-starred in The Artist, winner of 5 Academy Awards, including Best Picture 2011).
This European cat-and-mouse caper is centered around an extremely rare bottle of wine, called comet wine. The comet wine, which gets its name for being bottled during the appearance of the Great Comet of 1811, is to be sold at auction for a large sum of money. Margaret Harwood (Miller) is a wine professional sent to retrieve the rare vintage wine and bring it to auction. Oliver Plexico (Daly) becomes her bodyguard and tries to keep the wine safe from the international crooks who will stop at nothing to steal the wine before it is brought back and sold at auction.
Pair this movie with a French wine like Veuve Clicquot Ponsardin Brut >>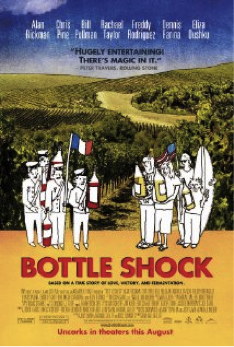 #3 Bottle Shock (2008)
Starring Chris Pine (star of Oscar-winner Star Trek, 2009) Alan Rickman (co-star of Oscar-winners Sweeney Todd, 2007 and Sense and Sensibility 1994) and Bill Pullman (co-star of Oscar-winner Independence Day, 1996).
When an Englishman (Rickman) in Paris tries to promote his wine shop to boost sales, he sets up a wine tasting competition between the French and the Americans in the Bi-Centennial year of 1976. The movie highlights the story of one California winemaker's (Pullman) impact and the lives of those around him who are influenced by his decision to partake in the event. Later this historic and life-altering blind tasting became known as the "Judgment of Paris."
Pair this movie with Chateau Montelena Chardonnay >>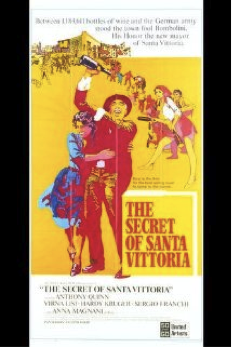 #2 The Secret of Santa Vittoria (1969)
Nominated for two Academy Awards and Won the 1970 Golden Globe for Best Picture – Musical/Comedy. Starring Academy Award-winner Anthony Quinn, 1953 & 1957.
Anthony Quinn shines as Bombolini, a drunk in the small Italian town of Santa Vittoria in the closing days of World War II. As the Fascist government comes through town during the surrender and withdrawal, the Germans, in retreat, plan to take all of the town's best wine with them. Bombolini, now appointed the new mayor, must work with his town's people to hide the 1,000,000 bottles of good wine before it is too late.
Pair this movie with an Italian Rosso like Moroder Aion >>
Oscar winner for Best Screenplay – Adapted and Nominated for four other Academy Awards including Best Picture, 2005. Also won a Golden Globe for Best Motion Picture – Musical/Comedy. Starring Oscar nominee Paul Giamatti, 2006, Oscar nominee Thomas Hayden Church, 2005, and Oscar nominee Virginia Madsen, 2005
The movie that will never let you look at a spit bucket the same way again. This dark comedy tells the story of two men going through disappointing mid-life crises, who travel to California's wine country for a weeklong bachelor's getaway. This movie is said to have boosted the notoriety of Pinot Noir while single-handedly sending the market for Merlot back several years. The brilliant performances of Madsen and Hayden Church earned them Oscar nominations and many felt Giamatti was snubbed by the Academy for this career-making performance.
Pair this movie with a southern California Pinot Noir like the Edna Valley >>
Other Wine Movies Worth Mentioning
Whether you want to impress your friends or need a great date night movie, check out these highly recommended wine films.
Starring Multi-time Oscar winners Jack Nicholson and Michael Caine.
Starring Keanu Reeves (Star of Academy Award-winner The Matrix, 2000) and Anthony Quinn.
Did we miss your favorite? Is there one you would recommend? Let us know in the comments section below.
---