[Map of Rhone Wine Regions / DalGobboM]
Rhone is a southern French wine region that is centered on the Rhine River. It is usually split into north and south sub-regions that differ both geographically and stylistically in the manner of making wine.
The Northern Rhone
The Northern Rhone features an inland continental climate with harsh winters and warm summers which are cooled somewhat by the famous mistral winds. Syrah is the sole red grape permitted by the AOC. This is sometimes blended with white grapes such as Viognier, Marsanne and Roussanne. The few white wines produced and shipped are made from the same three white grapes with varying rules on blending and percentages that change from each individual appellation.
From bottom to top, the appellations in the Northern Rhone sub region are:
Ste. Peray (Marsanne & Roussanne) – Mostly young fresh whites, with the majority of them sparkling.
Cornas (Syrah) – 100% Syrah wines that traditionally needed age to approach but newer styles are allowing for fresher fruit-forward flavors.
Hermitage (Syrah, Marsanne & Roussanne) – Wines from Hermitage are meant to be aged, often for 12+ years and provide earthy tones featuring leather, dried berries and cocoa.
Crozes-Hermitage (Syrah, Marsanne & Roussanne) – Mostly fresh young reds, balanced with white grapes to allow for easy drinking in their youth.
Ste Joseph (Syrah, Marsanne & Roussanne) – Wines meant to be drunk young and fresh, the French version of Vinho Verde.
Chateau Grillet (Viognier) – Wines are meant to be aged and drunk after 8+ years with aromas of apricot and honey).
Condrieu (Viognier) – Wines are full-bodied, either dry or dessert with powerful aromas of peach, pears, dried fruits and flowers).
Cote Rotie (Syrah and a little Viognier) – Wines are known for the aromas of olives, raspberry, violets and what some describe as bacon).
Check Out Wines from the Northern Rhone >>
The Southern Rhone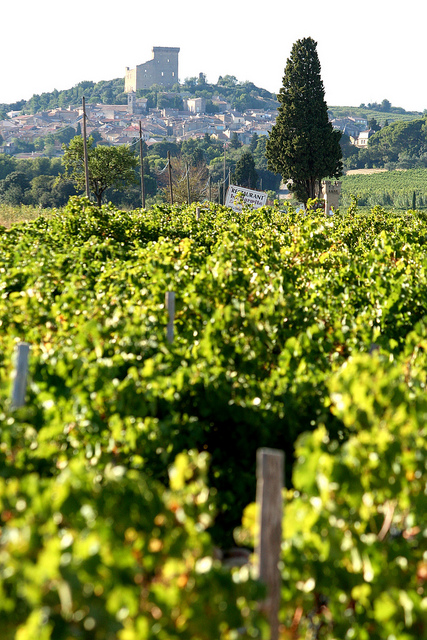 [Châteauneuf-du-Pape / Megan Mallen]
The Southern Rhone has a warmer climate, thanks to its location just inland from the Mediterranean coast. It features hot summers and cool/mild winters with a much wider variety of wines and grapes. Perhaps the most famous of the Southern Rhone wines is Châteauneuf-du-Pape, a big, blended wine that can legally feature from 13 to 19 varietals, including 10 red grapes and nine whites. Some of the grapes which can be included are: Syrah, Mouvedre, Grenache, Carignan, Cinsault, Counoise, Muscardin, Terret Noir, Vaccarese, Picardin, piquepol Blanc, Clairette Rose and others.
In alphabetical order, the appellations in the Southern Rhone are:
Beaumes de Venise – The same mountainous area that produces the naturally fortified Muscat, also produces a Cote du Rhone Village-style dry red wine.
Châteauneuf-du-Pape – The most famous of Rhone wines, these full-flavored wines can be either red or white and may include over 10 varietals in the blend. Both red and white wines must have a minimum alcohol of 12.5% and most are meant to be aged before consumption. Red wines are often described as gamey and spicy.
Cotes du Rhone – Wines are made using many different grapes, though all wines must be a minimum of 11% alcohol. Syrah, Grenache and Mouvedre are the most informing red grapes for both rose and red wines. Many white grapes are used.
Cotes du Rhone Villages – This step up from Cotes du Rhone features 95 communes with reduced production and specific reputations. Minimum alcohol is 12% and Grenache must make up at least 50% of the wine.
Cotes du Rhone named Villages – 18 premier locations in the Cotes du Rhone.
Cotes du Vivarais – Wines are predominantly red, with some rose and white using Syrah, Grenache Noir, Carignan and Cinsault.
Gigondas – The classic producer of GSM or Grenache/Syrah/Mouvedre blends. Grenache can be no more than 80% of the blend, though it is often the informing grape. Depending on grape quality and producer, wines are drunk within two years to more than 10.
Grignan-Les Adhemar (formerly known as Coteaux du Tricastin) – A varied area not much known in the United States, probably most well-known for the nuclear accident that preceded the name change.
Muscat de Beaumes de Venise – Known for a naturally fortified sweet wine made from the Muscat grape. The vineyards' positions high up on the side of a limestone mountain influences terroir and absorbs sunlight and warmth to aid the grapes.
Rasteau – This area is known for sweet fortified wines using the Grenache grape and its clones. It has just been allowed to produce dry reds as well.
Tavel – Known solely for dry rosé wines that are often fuller and more robust than other rosés.
Vacqueyras – Red wine is almost solely produced here, very much in the style of Gigondas, though often at a lower cost.
Check Out Wines from the Southern Rhone >>
The Rhone's 4-Tiered System
The Rhone region does not feature a classification system like Bordeaux or Burgundy. There are no premier cru levels or named Chateaux that automatically earn premium rates per bottle thanks to historical production or recognized names. Instead the Rhone has a geographical and standards-based tiering system. It has four tiers:
Cotes du Rhone – The starting classification which may be used by any of the winemakers in the region.
Cotes du Rhone Villages – Allowed for 95 communes that follow higher standards of grape production.
Cotes du Rhone named Villages – Allowed for the 17 premier communes that follow higher standards and have a more established history of winemaking.
Cru – 16 named appellations that are known for producing quality wines for a long period of time.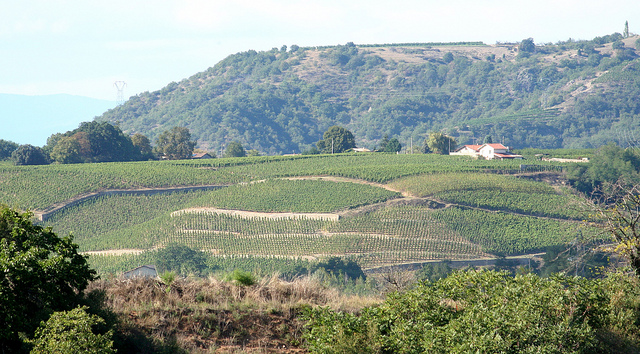 [Grapes in the distance / Megan Mallen]
Rhone wines can range from young approachable blends and roses to full bodied reds that need aging to even begin to become drinkable. The Rhone also features many value wines as it has been less commonly distributed in the United States. With a few exceptions, such as Hermitage and Chateauneuf-du-Pape, we have only just started seeing these wines in recent years.
Seasonality is key in Rhonish wines. The rose wines of Tavel and the whites of Ste. Peray and Ste. Joseph are great for the warm days of spring and summer. Fall is a great time to enjoy a Cote du Rhone red blend or a fuller bodied Condrieu or Chateauneuf-du-Pape. And a Muscat de Beaumes de Venise or a Chateau Grilletare just about perfect in front of a roaring winter's fire.
You can find value pricing for most of the regions in the Rhone and it is a great place to explore the grapes and interesting winemaking styles of Southern France.
---