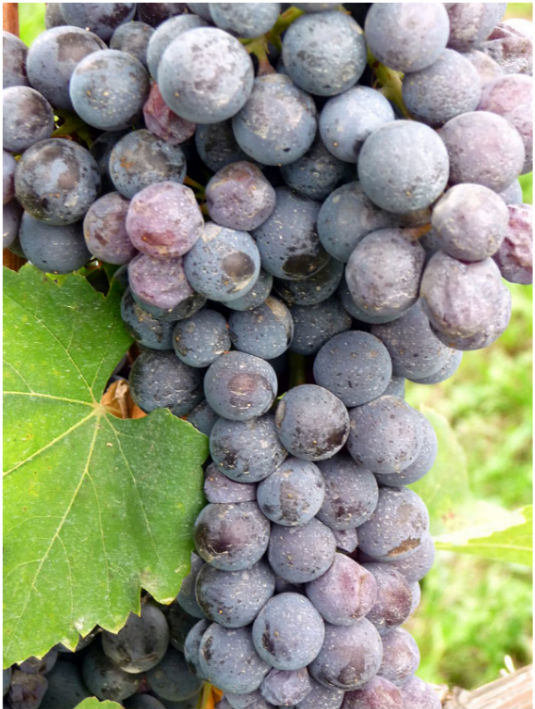 [Photo: Close-up of Nebbiolo / Credit: Hanna]
Nebbiolo is the prince if not the king of Italian grapes, even though it amounts for less than 6% of Piedmont grape production. That 6% is responsible for the famed Barolo, Barbaresco, Ghemme and Gattinara wines. Those wines are perhaps the most rewarding wines to cellar and collect, with a potential to remain full flavored and complex for up to 30 years.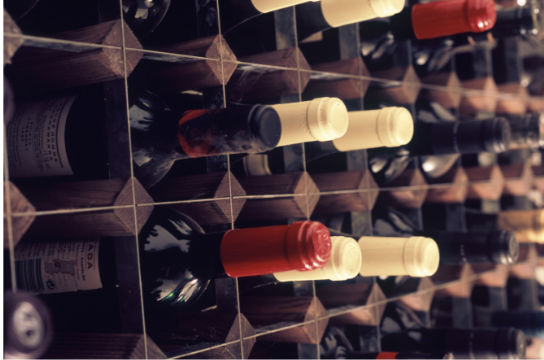 [Photo: Wine Cellar / Credit: christmasstockimages.com]
The name likely derives from the Italian word nebbia which means fog. This could refer both to the heavy fogs that flow into the region famed for this grape or to the milky veil that forms over the grapes as they reach maturity. It could also refer to the undeniable nobility of the grape with the Italian word Nobile for noble.
Nebbiolo can be traced back to 14th century writings in the Piedmont area, but it was an already well-loved wine at that point and may have originated in Piedmont or Lombardy. Pliny the Elder describes, but does not name an exceptional wine from what is now Piedmont, in the 1st Century AD. It was so well-regarded in Piedmont that repeat offenders who damaged Nebbiolo vines could face the loss of a hand or even hanging. Wines made with the Nebbiolo grape, such as Barolo and Barbaresco did not really expand outside of the regional area until the mid-18th century, but as with many vinis vinifera wines, it was crippled by the phylloxera epidemic and is still recovering today.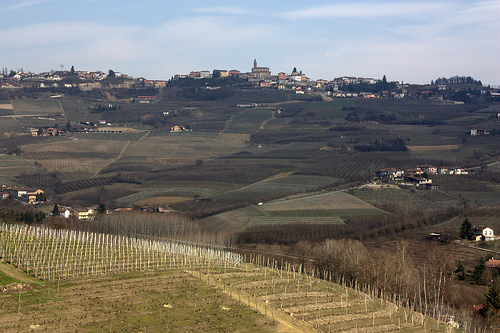 [Photo: Langhe Wine Region / Credit: Stevencore]
Nebbiolo is much like Pinot Noir in its difficulty to produce. It is one of the first varieties to bud and last to ripen, with harvest taking place in October, sometimes after other varieties have already completed their first fermentation. It is also extremely picky in regards to soil, temperature, geography and luminosity, in short it requires a very specific terroir to even bring the fruit to its full potential. Winemaking also requires extra effort and most frequently includes extended maceration, secondary malolactic fermentation and agings in oak to balnce the tannins and acidity of this grape.
The result of all this effort is most often a wine that can seem harsh and needs decanting when young, but ages into a complex drink with aromas of black fruits, tar, leather and floral notes of rose or violet. It starts off light ruby in color and ages through deep reds and purples to finally end up traditionally orange in its most mature vintages. This is a wine that overpowers lighter food dishes but easily stands up well to rich dishes, stews and meats with full flavors and lots of mushrooms or root vegetables. It also goes well with aged hard cheeses.
Name: Nebbiolo
Species: vitis vinifera
Origin: Italy
Color: red to orange wine (purple/black grape)
Other names: Barolo, Barbesino, Brunenta, Chiavennasca, Lampia, Marchesana, Martesana, Melasca, Melaschetto, Melascone, Michet, Spanna, Picoultener, Picotendre, Prunent, Chiavennasca
Notable Regions: Italy (Piedmont), United States, Mexico, Australia, Argentina, Chile
Common Food Pairings: Hearty meats, stews, and aged hard cheeses
Next Grape of the Week: Sangiovese >>
---