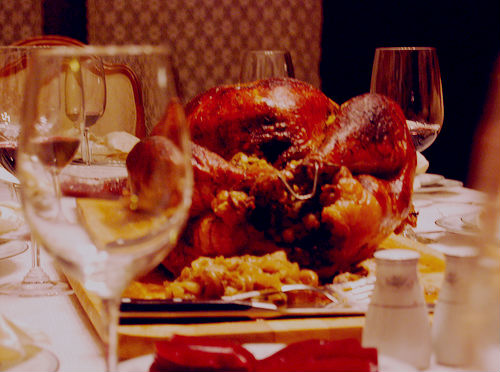 [Photo: The Thanksgiving Feast / Credit: *clarity*]
Serving wine for Thanksgiving is easier than you think. Here are a couple of suggestions so you can host a wonderful dinner with any or all four of these wine styles available for your guests. My advice is to have a wine for early in the event, two for dinner, and one to close out the evening that leaves everyone satisfied and praising your culinary skills. So get a pen and get ready to take some notes.
The Pre-Dinner Wine
OK, you want to start the day off right, so let's get a wine out that will go with the appetizers, the football game, and be great on its own while you mingle in the kitchen. A great wine to reset the palate and get your mouth watering is Pinot Grigio. The light-medium bodied wine with its crisp acidity will get your taste buds primed as it pairs well with a lot of appetizers, and won't fill you up. Pick up a nice Italian Pinot Grigio like Kris or Maso Canali. One great thing about Pinot Grigio is that it gets you ready for the next round. Pinot Grigio, with its light-medium body and moderate acidity often is seen as a great wine to refresh the palate. Similar to a sorbet, Pinot Grigio washes the palate, as the lighter alcohol sets up the taste buds to not be overpowered or "shocked," as some say, by a heavier wine.
The Dinner Wines
I always feel it is best to have a choice for your guests. One red and one white is best. For many, the sweetness of the Gewurztraminer is an excellent option for the white. Gewurztraminer chemically reacts with your mouth causing it to salivate more. Because of this, food often seems juicier, so if you are one of those who tend to dry out the Turkey with a little too much baking, you can hide it with this wine. Regardless, you'll amaze those eating your bird at how juicy it is is. I am a big fan of any Pacific Northwest Gewurztraminers, like Snoqualmie and Columbia Winery, both very nice wines that won't break the budget. If you have tried the Chateau Ste Michelle Riesling and liked it, why not try their Gewurztraminer. Not too sweet, it will play nicely on the palate and pairs well with the stuffing, mashed potatoes, sweet potatoes, and cranberries. Also, if you are serving a honey ham, this wine goes wonderfully with its sweetness.
For the red fans, a Pinot Noir will please the palate. A smooth fruity pinot from Edna Valley or a pinot from Santa Barbara will not overpower the bird while still giving your side dishes a great flavor enhancer. Guest will enjoy its fruity flavors that will bring out the tartness of the cranberries or bring out the freshness of any vegetables. This too, will pair nicely with a ham or any pork dish you might be serving.
After Dinner/Dessert Wine
What goes best with that pumpkin pie you ask? Well, try a cream sherry. If you can find Dios Baco you will be pleasantly surprised at its smoothness. A great wine with hints of apples and spice, allow it to pair with the apple pie too. Other good choices to get your hands on include Duet and Alvear Solera Cream. This will definitely leave your guests bragging about their dinner to everyone the next day.
Remember, you should plan on having enough wine for everyone to enjoy. As good rule of thumb, a bottle will give you five glasses and each person will likely have at least one glass of each wine, depending on other libations available (ie. beer, booze, soda, etc.) Thanksgiving is a great time to relax, enjoy your company and not worry about the details. Have a wonderful holiday and don't eat too much… on second thought have seconds and even thirds.
---