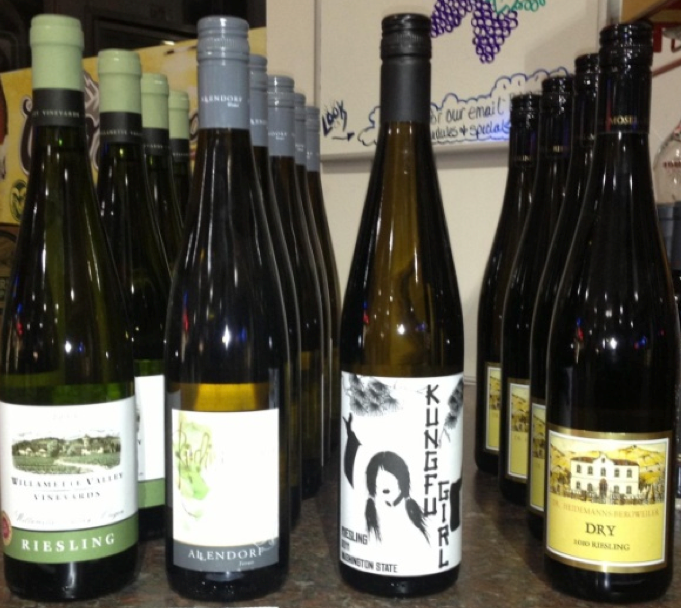 The white grape, Riesling, originated in the Rhine region of Germany and still remains that country's most grown variety. With varying flavor combinations on holiday tables, Riesling is the perfect palate cleanser matching the ability of a sweet sorbet. Rieslings are usually varietally pure and unoaked. In order from driest to sweetest. Consider the following four Rieslings to present to your guests or host this season. Each has a Stelvin screw cap which prevents the embarrassment of a corked wine and keeps the wine fresher, longer.
Dr. Heidemanns-Bergweiler Riesling 2010: This wine is harvested in the region of Bernkastel, Germany and it shows the excellence and uniqueness of premium Mosel Rieslings. With an exquisite bouquet of peach and ripe apple aroma, it is dry with a very low alcohol content. An ideal match with savory turkey and dressing. $10
Kungfu Girl Riesling 2011: Vintner Charles Smith was honored as Winemaker of the Year, two years in succession. His Riesling grapes are grown in the Columbia Valley of Washington. One reason people love this wine has to do with an aspect of Kung Fu: balance. It has tastes of apricot, kumquat, nectarine and lime leaves with a long, minerally finish. $12
Allendorf Kabinett Riesling 2009: Awarded the highest prize for the overall performance of a wine estate in 2009 at the "AWC – Austrian Wine Competition" in Vienna, Kabinett wines are made in a light style from perfectly ripened grapes. This Riesling bears a brilliant, deep straw color, and aromas of grapefruit peel, green apple and peach. A medium-dry wine with nice balancing acidity. $12
Willamette Valley Vineyards Riesling 2011: Hillside plantings and Oregon's Willamette Valley with its cool climate create optimal conditions for growing world-class Riesling. This is a wine to be truly grateful for. It's flavor is fruity and crisp with acidity and sweetness in perfect balance. This is the Riesling of choice for Mr. and Mrs. Poet for the holidays.
---