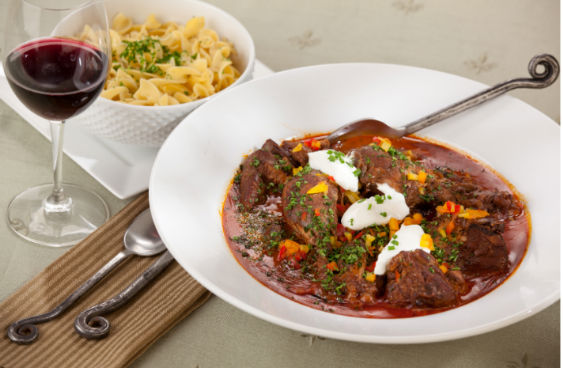 Harry's Pairing Tips: Pick a rustic Hungarian red wine to go with dish, such as an Egri Bikaver. This is not the place for subtlety. A Barbaresco would also work well as would a spicy cool climate zinfandel.
Serves 4
Ingredients
4 chicken breasts, legs and thighs bone in
3 T. vegetable oil
2 medium onions, peeled, cored cut in quarters and thinly sliced
1 T. hot Hungarian paprika
1 T. sweet Hungarian paprika
½ C. dry red wine
Make the Dish
1. Season the chicken with salt and pepper. Place the pieces in a pot, cover with water and cook over high heat for about 2 hour Tip: Prepare two whole chickens and use the remaining parts for making a chicken broth. This first step can be done a day ahead of time.
2. Heat the oil in a large pot and brown the chicken pieces thoroughly, a few pieces at a time. Do not add too many pieces or the oil will get cold and the chicken may become greasy.
3. Add a little more oil if needed and sauté the onions in the same pot as the chicken over low-medium heat, about 15 minutes.
4. Sprinkle the paprika over the onions, stir until evenly coated and cook 2-3 minutes.
5. Pour the wine over ingredients in the pot and scrape all the little brown bits off the bottom of the pot. This deglazing adds lots of flavor. Simmer until the wine is reduced by about one half.
6. Bring everything to a simmer on the stove, cover and cook slowly 60 to 90 minutes until the chicken is a bit more than fork tender.
To Serve
Serve family style with chicken and sauce in a large bowl garnished with sour cream. Serve with a steaming bowl of egg noodles.
---