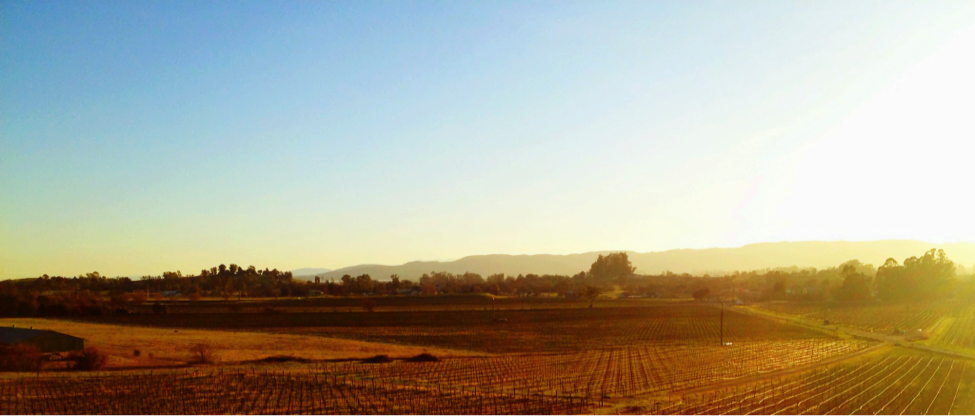 [Photo: Lauren Barnard]
In South Africa, wine production reflects the dichotomy of a time rich in opportunity yet troubled with social and economic struggle. The struggling tides of Apartheid prevented much of the wine industry's growth and fostered a demoralized work force. As it broke apart in the 1990's, Fair Trade wine became one such avenue to invigorate the wine market and communities among them.

The Emerging South African Wine Market

During Apartheid, South African vineyards were largely controlled by Afrikaners (Dutch and other European settlers), who many times paid vineyard workers on the premises of trade rather than cash. Wine was largely a form of payment for labor, perpetuating alcoholism and a cycle of dependence from workers to the vineyard owners.
Even today, opportunities for work can be few and far between as the South African wine market continues to develop, forcing laborers to take vineyard jobs in conditions well below their deserved wages and working conditions. In recent years, vineyard workers have coined the term as "the hunger wage" because they are receiving barely enough to live on let alone thrive alongside the global South African wine market. (Guardian Africa Network 2012).
Opportunity for social and economic change emerged as Apartheid broke apart, and Fair Trade wine practices became once such avenue to solicit change in the vineyards and beyond. Fair Trade Certified™ (FTC) is a global certification model that enables equitable trade and labor practices and allows buyers to quickly identify if products were produced ethically. More specifically, it helps negotiate minimum floor prices for goods, safe working conditions, sustainable wages, and community development, to name a few.
Fair Trade, the Black Economic Empowerment Model, and Wine

Because Fair Trade certifies equitable trade and labor statuses at the outset, it helps to break the cycle of poverty this emerging wine industry encounters while empowering communities to band together in favor of human rights. The Black Economic Empowerment (BEE) program, for one, is a program established by the South African government to remedy the effects Apartheid had on marginalized groups through equal opportunities. The BEE is working hand-in-hand with the Fair Trade movement throughout South Africa's vineyards. Maya Spaull, Director of New Category Innovation at Fair Trade USA, explains what this collaboration between the BEE and Fair Trade looks like in practice.
"How do you place more opportunities into the hands of marginalized groups in South Africa?" Spaull said. "With Fair Trade certification, workers actually own a percentage of the vineyard or the wine brand. There is a sense of ownership and incredible buy in because they have shares in the business. In some cases, you have workers and management on an equal footing and collaborating for the first time."
Through Fair Trade, vineyard workers organize into co-operatives or workers associations, using power in numbers to maximize their economic benefits and to amplify their decision-making power. For example, they set up co-ops that guarantee their minimum selling prices, plus receive a $0.06 Fair Trade premium (negotiated in part by organizations like Fair Trade USA). This premium then goes into a bank account where, as a whole, they decide responsible use of the funds to improve their business or communities, such as through clean water initiatives and HIV prevention programs.

Fair Trade in Action

Since the 1990's, Fair Trade USA has worked with 1.5 million farmers and helped facilitate $220 million in additional income. Fair Trade USA aligns importers, distributors and retailers in the U.S. with registered producers across the world to source Fair Trade Certified products. When consumers purchase products that feature the FTC logo, more of their dollars go directly back to benefitting Fair Trade farming communities.
Heritage Link Brands is an importer of South African wines in the United States with a committed focus on sustainability and social responsibility. They offer Fair Trade wines such as One World and the newly launched Thembu FTC House of Mandela brand. Created in partnership with Nelson Mandela's daughter and granddaughter, the House of Mandela is deeply committed to connecting community through wine by promoting social programs, committing to charities, and working with producers under Fair Trade conditions.
"When South African wine growing communities receive this [Fair Trade] benefit, they are increasingly self- empowered to improve their livelihoods," Spaull said. "We are at an incredible crossroads with Fair Trade and social sustainability in general. Consumers are purchasing products that are not only healthy and safe for themselves but that are good for others and good for the planet. With Fair Trade wine in particular, there is a tremendous opportunity to enlist more companies to develop Fair Trade wine brands and to educate wine drinkers about what it means."
Ready for Part 2? Take a closer look into what Fair Trade in action looks like in the United States and how Fair Trade wine is connecting communities beyond the grape.
Lauren Barnard is the owner of Taproot Wines, a sustainable wine company. Learn more about the sustainably produced South African wines in Taproot's wine portfolio and how Taproot's story began, thanks to South African wines.
---