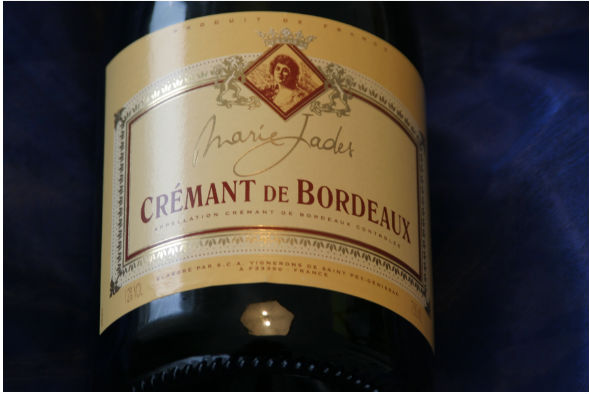 [This Crémant de Bordeaux cost about 5,50€ and was my favorite / Eva Weirich]
Every time my family gets together at Christmas or for any other celebration, question number one is always who would like a glass of Crémant [pronounced: kRemã] to drink to it. Why not Champagne, you ask? One might think a big celebration would be worth a bottle of the purest Champagne. So why Crémant? Crémant is extremely popular where I live in Saarland, Germany, because of our proximity to Alsace, France, one of the Crémant-producing areas. This not only makes it easily available (since it's produced literally next door), but also makes it the drink of choice. The most expensive Crémant is still cheaper than the cheapest Champagne for us, but in that case I'd say that the most expensive Crémant is the better choice.
Quite a bit of variety exists with Crémant, because it is produced in seven different French appellations, all noted by the inclusion of "Crémant" in the name. This is why you may come across such cryptic names as Crémant d'Alsace, Crémant de Bordeaux, Crémant de Bourgogne, and so on (the names might twist your tongue trying to get the pronunciation right, but the creamy sparkle smoothes it and makes up for the pain of speaking French). Which Crémant you choose is up to you. If available, you should try different ones and then find out which suits you best. The only guideline is (just the same as when choosing a Champagne) that it should be as dry as possible.
Unlike Champagne, which is made only from three types of grapes, Crémant uses a bigger variety and therefore offers a range of very different flavors—good if you like variety. The popping sound of the cork is about the same as with Champagne. Admittedly, nothing sparkles as much as Champagne, and in fact, Crémant originally received its designation because it bubbled less due to lower carbon dioxide content had instead a creamier mouthfeel (the creaminess you feel when it runs down your throat is a very much-desired effect). If you find a good Crémant, you'll find that it's got no reason to hide its light under a bushel.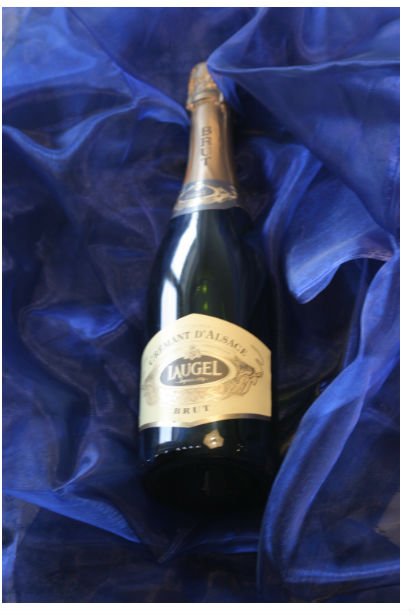 [This Cremant d'Alsace cost about 5,99€ and was my parents' favourite / Eva Weirich]
To make all this less theoretical, my family and I took the pain of drinking two bottles of Crémant recently. We chose a Laugel Crémant d'Alsace and a Marie Jades Crémant de Bordeaux – north against south. Both gave a nice popping sound when we opened them, and both sparkled and foamed when we filled the glasses. Both were described as dry and fruity. So much for the similarities.
While one half of my family favoured the Crémant de Bordeaux, the other half preferred the Crémant d'Alsace. On questioning them why, they said that the Crémant de Bordeaux had a much fruitier taste than the Crémant d'Alsace. What struck us as unusual was the extremely pale colour of the Crémant de Bordeaux. Crémant usually has a creamy colour but this one was really pale; yet, the flavour was very rich and pleasing. Both are sure to be served again in our house.
Last but not least, if you need a sparkling wine for cooking, Crémant is my recommendation. It kind of hurts to cook with Champagne. A high-grade Crémant costs between 5€ and 10€ (about $6.50 to $13) over here; a high-grade Champagne is at least 30€ (about $39). I just can't bring myself to pour a glass of Champagne into my soup or sauerkraut (choucrote royale, a popular dish in France that calls for Champagne), however good the result may be, and I bet I'm not the only one thinking that way.
Well now, go to your favourite wine store and ask for a Crémant. I'm quite sure you'll drink some to your next birthday and your guests will be excited to hear the story behind your choice.
---