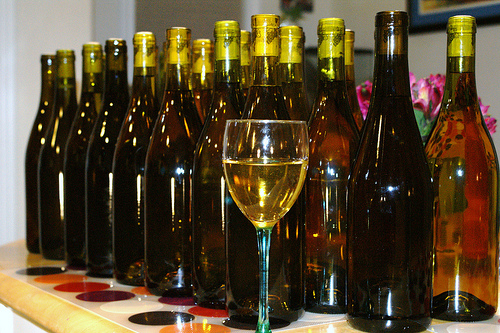 [Credit: Daniel Spiess]
Rule #1: Do not drink Chardonnay with Thanksgiving dinner.
Rule #2: Drink all the Chardonnay you want (just not on Thanksgiving).
Ok, the real number one Chardonnay rule (or any wine rule, really) that you should be absolutely sure to follow is this: if you don't like the way it tastes, don't drink it.
As for Chardonnay and Thanksgiving, why is it not the best option for the variety of foods served on Turkey Day? It brings out a metallic taste in the food and doesn't pair well with dressing, cranberry sauce or other Thanksgiving favorites. Some better choices would be Pinot Noir, Riesling, Gamay, Pinot Gris or Gewurztraminer. But enough about those other wines. This article is about Chardonnay. So read on, friend.
WHAT IS CHARDONNAY?
Chardonnay is a white wine variety made from green-skinned grapes. It is a member of the Pinot family of wines. Depending on who you choose to believe, this variety of wine either originated in Israel and was taken to France during the Crusades, or it originated in a Maconnais village by the same name. Whichever is the true origin, sources say Chardonnay was present in California by the 1880s.
REGIONS
Chardonnay is planted all around the world with some of the most favored varieties coming from France's Burgundy region, as well as California, Oregon, and Washington. Other popular regions for Chardonnay include Argentina, Chile, and New Zealand. Fun fact? Anywhere you find Chardonnay, you will find Pinot Noir.
CHARACTERISTICS
Chardonnay, along with its sister grape Pinot Noir, grows well in warm or cool climates. The warmer climates produce Chardonnay with honey and butter flavors, while the cooler climates tend to produce wines with more fruit flavors.
Chardonnay Characteristics, by region:
In Burgundy, look for characteristics of crushed rocks and minerals, tropical fruits, chalk and white flowers alongside some really ripe, bright and mild flavors.
California Chardonnay is loaded with tropical tree fruits, pear, vanilla and oak spice, as well as ripe fruits such as pineapple, peach, Bartlett pear, and lemon custard.
In Oregon's Willamette Valley, with its Burgundian-like climate, you will notice a similarly delicate style with complex structures including a base of minerality, green and yellow fruits (like apples and lemons), and a restrained use of oak.
Washington Chardonnays contain a lot of fruit flavors ranging from apples and pears to peaches and apricots. I can't help but wonder if that has anything to do with the prevalence of stone fruit orchards throughout the state of Washington.
Chardonnay can take on different styles of winemaking, from dry still wines to sparkling wines and sweet late-harvest wines. Chardonnay and other whites such as Sauternes and White Bordeaux, will become more honeyed and turn a deeper golden color as they age.
FOOD PAIRINGS
The full flavors of Chardonnay pair excellently with full-flavored dishes:
Crisp Chardonnay – Fish, seafood, light hors d'oeuvres
Oaky Chardonnay – Smoked white meats, creamy sauces
Elegant Chardonnay – Grilled chicken, pork roast, veal
OTHER INTERESTING POINTS
In his book, Judgment of Paris: California vs. France and the Historic 1976 Paris Tasting That Revolutionized Wine, George M. Taber chronicles the shock wave in the wine world, when in 1973, California's very young Chardonnay industry outscored esteemed French winemakers and their prestigious white wines. Rather see the movie? Check out Bottle Shock. Bottle Shock gives you a look into the Judgment of Paris, with plenty of Hollywood scripting and editing. It's a fun movie with nice scenery, great music and a decent overview of what went down between California and French Chardonnays in the 1970s.
After the success of Chardonnay's victory in Paris, Chardonnay plantings went from 2,700 acres in 1970 to 45,000 acres by 1988. The increase in acreage brought with it an overproduction of "flabby" or "fat" Chardonnay and brought about the "ABC boycott," ABC meaning "Anything But Chardonnay." Responding to these criticisms, Chardonnay producers started making a more crisp style, fermented in steel tanks, with high acidity.
On a personal note, I was never a fan of Chardonnay until I learned what an "unoaked" or "lightly oaked" Chardonnay tastes like. My first favorite was a Chilean Chardonnay, the Santa Rita 120 Chardonnay. I was 22 when I discovered it, and my fresh-out-of-college self especially loved that $6.00 price tag.
Big thanks to my dad, Randy Walker, certified wine professional and Resident Wine Guy at The Cellars Wine & Spirits in Woodbury, Minn. for his extensive knowledge of wines and for sharing that here with us.
---