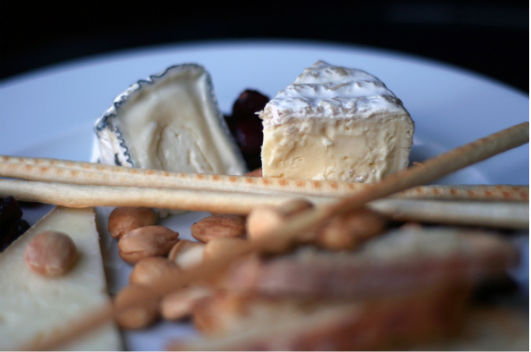 [Photo: The cheese plate at BOKA / Credit: Doniree Walker]
Every best meal I've ever had starts with a cheese (or cheese and charcuterie) board and champagne. Check out Grace Boyle's tips for a perfect cheese plate, or just grab your own favorites. Need a hand putting together the perfect cheese or charcuterie board? Portlanders can visit places like Steve's Cheese Bar, Cheryl's on 12th, Olympic Provisions, Laurelhurst Market, and the Woodsman Tavern Market. If you're in Seattle, the cheese plate at BOKA is the perfect starter.
Otherwise, scope out your own local cheese shop and go for a balance of soft and hard, mild and strong cheeses. When it comes to charcuterie, balance salt with spice.
What should you pair with your cheese and charcuterie? Why, champagne, of course! You're celebrating, aren't you? And champagne is just the perfect complement to creamy cheeses and cured meats that have a little kick.
Salad
Whether you go for a light salad like butter lettuce, strawberries, and champagne vinaigrette, or you like something a little bit heartier (might I recommend a shredded kale salad, topped with grapefruit and avocado, and drizzled with a honey mustard vinaigrette?), if you're eating greens for this part of the meal, my top recommendation would be to pair it with a light and grassy Sauvignon Blanc. Randy Walker, my dad and wine professional at The Cellars Wine Shop in Woodbury, Minn., recommends anything from from The Santa Barbara Winery or The Seventy Five Wine Company's 2011 Sauvignon Blanc.
The Main Dish
Cooking to impress someone? If you're a meat-eater, you must, must, must try this steak recipe from Whit's Amuse Bouche. It's easily the best steak I have ever made myself. Steaks go well with big reds, so grab your favorite Cabernet Sauvignon. My most recent favorite Cab (that I think is big enough to pair with a juicy steak) is the 2008 Bowlus Hills Cabernet Sauvignon from Zerba Cellars. If you'd rather try something a little different, the 2009 Bodegas Volver Tarima Hill is a beautiful Spanish red (ooh, how sexy!), aged in 100% French oak for 20 months, and is packed with the punch of black raspberry, spicy, and anise.
Dessert
Ah, the sweet spot. If I order dessert, I'm a total sucker for a flourless chocolate cake, but I'd more likely opt to drink my dessert and go for a tawny port or sherry. They're made for sipping, taste so indulgent, and there's something seriously romantic and sexy about their sweetness and silkiness.
If you're not quite sure what or where you'll be dining for Valentine's Day, but want a few general rules of thumb, here you go:
Sweeter white wines (like Rieslings and Gewürztraminers) balance spicy foods out well.
Red wines go well with red sauces. Same with whites. So, if you're serving chicken in a pasta dish with a marinara, find a good Chianti. Chicken and Fettuccine Alfredo on the other hand, would pair very nicely with a buttery Chardonnay.
Start light and build up. This is why we start with champagne (the lightest), move to a crisp white to pair with the salad, and then move into reds, followed by the heavier, sweeter dessert wines at the end. White to dark, light to full-bodied.
Champagne pairs well with just about anything salty (like Parmesan).
Moscato d'Asti (a sweeter sparkling wine) is a lovely complement to fruit desserts (like tarts and pies).
Also, now that you know the rules, feel free to break them! The #1 rule is always this: drink what you like and what you think tastes good.
---