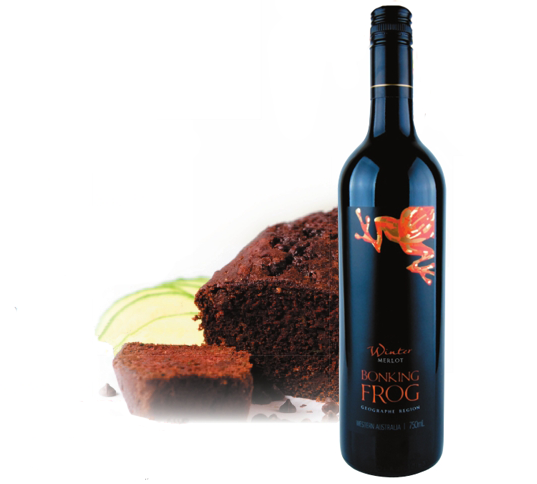 From Bonking Frog's Julie Hutton comes this chocolate (and merlot!) zucchini cake. It was featured on Australia's ABC Radio program, "Kristy's Kitchen with Ron Tate." Julie says, "It's absolutely delicious and easy too!" The recipe calls for a bit of Bonking Frog merlot, but leaves plenty for you to enjoy with the cake once you pull it out of the oven.
Read our Women & Wine feature on Julie Hutton >>
Ingredients:
1 C. cocoa
1 C. sugar
2 C. flour
1 t. baking powder
1 t. baking soda
1/4 t. salt
2 T. poppy seeds
1 t. cinnamon
1/2 t. nutmeg
1/2 C begetable oil
2 eggs, beaten
1/2 C. buttermilk
1/2 C. Bonking Frog Winter Merlot
1 1/2 C. grated zucchini
To Make the Cake:

1. Preheat the oven to 3250F (160oC).
2. Mix all dry ingredients together.
3. Blend the oil and eggs.
4. Add the merlot and buttermilk, mix well.
5. Fold in zucchini.
6. Stir all ingredients together well.
7. Pour into greased loaf pan.
8. Bake for 60 minutes.
Enjoy with a glass of Bonking Frog Winter Merlot.
---