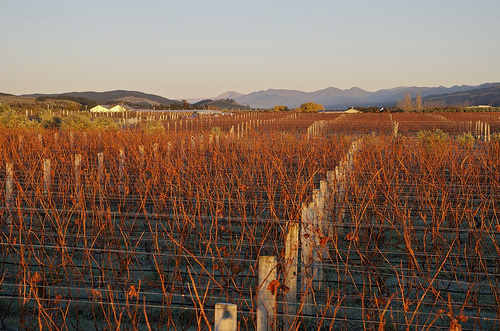 [Photo: Early morning sunrise over a biodynamic vineyard in New Zealand / Credit: peter burge]
Just when you thought you had figured out how to define organic and how to even notice when it popped up on a wine label, an even more organic wine has hit the market: biodynamic wine. Is this another passing trend?

Considering that the early practices of biodynamic farming have been around as long as there's been farming (which is a really long time) and popularized in the 1920s, it shouldn't really be classified as a trend. It's more a back-to-basics wine production approach and it's certainly worth a new look. To give a little context of how unique biodynamic really is in the wine world, of the tens of thousands of wine producers worldwide, there are currently only a little more than 500 biodynamic wine producers. Let's take a closer look.
What is Biodynamic Wine?
Biodynamic wine is produced more or less within a self-sustaining system. It functions wholly and holistically without outside or unnatural processes brought in for support. For example, flora that attracts disease-fighting insects is planted on areas of the vineyard to bring in the good bugs to control vine-ruining pests. Cows are on site to help make compost, used as vineyard fertilizer. Sheep, with their affinity for snacking, can aid in ridding the vineyard's weeds instead of a lawn mower. And so it goes.
Perhaps the most important characteristic of biodynamic is the commitment it takes to properly sustain it. A true biodynamic vineyard has to create a symbiotic relationship between organisms to foster a thriving equilibrium that supports quality grape production. It takes a huge amount of intuition and care from producers to make all of the pieces come together successfully. That is why many classify biodynamic as more of a philosophy than a practice.


Getting the biodynamic seal of approval comes from the Demeter Association, which is the only certifying body in the world that can provide a biodynamic certification. Certified organic is a baseline requirement and much more is necessary to achieve the Demeter Biodynamic® Farm Standard certification.


A Nod to Biodynamic and High-Quality Juice

Aside from simply striving to "save the planet," biodynamic is worthy of a nod because it gets back to finding the best way of producing high-quality wines. Australia's Ron Laughton of Jasper Hill Vineyards summarized this best when he spoke to the Organic Wine Journal. He said, "Flavors are created in the vine. The building blocks are the minerals in the soil. If you keep applying synthetic chemicals, you are upsetting the minerals in the soil. So if you wish to express true terroir, you should be trying to keep the soil healthy. Let the minerals that are already there express themselves in the flavor in the vine."
While synthetic fertilizers and unnatural practices may create short-term gains, they arguably lead to irreversible destruction in the long-term. Poor-quality grapes produce poor-quality wines. Sustainable production processes are working to reverse this. Biodynamic takes it to a whole new level.

We will investigate a few of the rare biodynamic wine producers in Sonoma County in a coming article. Stay tuned.
Lauren Barnard is based in San Francisco and is the owner of Taproot Wines, a sustainable wine company.
---