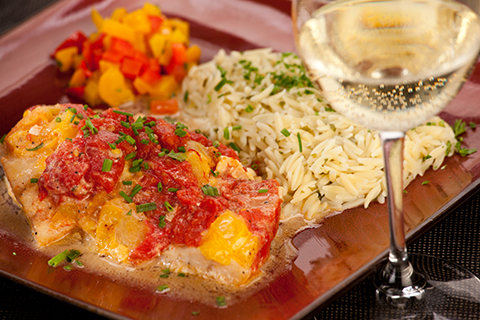 Harry's Pairing Tips: This to me would be wonderful with an albarino from Rías Baixas in Spain, or for a drier wine, try a verdejo.
Ingredients
4 6-oz. bass filets
6-8 oz. dry white wine
½ C. diced yellow and red tomatoes, peeled and seeded
1 lemon thinly sliced
Tabasco
4 oz. cream
To make the fish:
Pre-heat oven to 400°
1. Season the bass filets with salt and pepper (or other desired spices) and place in individual or large buttered baking dish. Sprinkle with a little dry white wine.
2. Add ½ cup peeled, seeded diced yellow and red tomatoes and place the sliced lemon around the fish.
3. Add a small splash of Tabasco sauce to the liquid in the dish, and add a little more white wine to come up to ¼ the height of the fish.
4. Cover with foil and bake in a 400° about 15-18 minutes. When the fish looks very white but before it "flakes," remove to serving plates, strain the liquid into sauce pan and reduce quickly.
5. Add the hot cream to the sauce while reducing and reduce to desired consistency, add tomatoes, adjust seasoning and ladle over the fish.
Serve with a pilaf of orzo or rice.
---