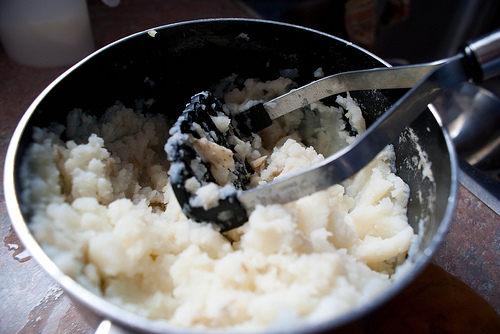 [Photo: Mashed potatoes with butter and cream / Credit: gkdavie]
One of my favorite dishes from our family Thanksgiving is mashed potatoes. They are rich and creamy, full of butter, salt, cream and at least two full cloves of roasted garlic mashed into the mix. We usually use red-skin potatoes for the color of the skins and when we mash them, you have to be sure to leave a few chunks of potato solid for the textural difference when you bite into them. So many rich flavors in the potatoes, topped with gravy and even more spices, makes the lowly potato a difficult dish to pair wine with, not even counting the seven other side dishes and turkey that are crowding the plate as well.

This year I also wanted to look at wines from regions that don't always get the attention at this time of the year. With mashed potatoes firmly in mind, I chose the Secateurs 2011 Chenin Blanc from Badenhorst Vineyards in South Africa. This is a zesty refreshing wine with enough acid to cut through the cream and butter of the potatoes while still presenting the full mouth feel traditional to Chenin Blanc so that it stands up to the food. With aromas and flavors of honeysuckle, yellow apple and a little bit of spice, it also does a surprising job of matching to a traditional thyme flavored turkey. With the ever expanding expenses of the holidays a $15 price range is a nice treat as well.
Editor's note: We can't talk about mashed potatoes without a little music playing in the background...
---