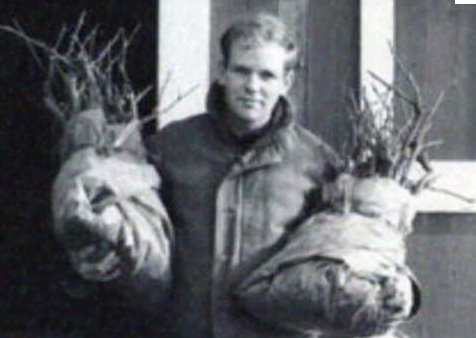 [Photo: Oregon wine founding father David Lett and some Pinot Noir plantings, 1960s]
Although the California wine industry receives the most press, the Oregon wine industry is starting to gain international recognition. The Oregon wine industry effectively began in the 1960s. In 2003, the Oregon Wine Board was formed to oversee and support the state's wine-making industry. and wineries there are now producing some of the most acclaimed pinot noir in the world. Today, Oregon is the fourth-largest producer of wine in the United States, and second only to California in the number of wineries.
According to 2011 numbers, there are now 519 vineyards in Oregon (all but 100 of them have on-site wineries, too) with 20,500 acres planted. Even though the California wine industry is still the benchmark (In 2004, California had 1,689 wineries, which accounts for 45% of the total U.S. wineries), the emerging Oregon wine industry has expanded internationally in the last half-century with a few pioneers like Dick Erath of Erath Winery, David Lett of Eyrie Vineyards, Dave Adelsheim of Adelsheim Winery, and Bill and Susan of Sokol Blosser Winery who along with Don Byard, Myron Redford, Fred Arterberry, Fred Benoit, and Joe Campbell were the founding members of the Yamhill County Winery Association in Oregon.
The Oregon wine industry also got a huge boost when Robert Drouhin of Maison Joseph Drouhin—one of the most respected wineries in France—decided to open Domaine Drouhin in Oregon in 1987. Robert bought 100 acres in Oregon as he felt that the conditions in Oregon were similar to the conditions in Burgundy, France--the birth place of pinot noir. He has said he would only grow pinot noir in two places in the world: France and Oregon. His daughter—Veronique—is the current winemaker at Domaine Drouhin in Oregon. Each year, she spends about three months in Oregon primarily during the harvest and winemaking in order to create unique pinot noir wines that she likes to describe as "elegant."
As the Oregon wine industry has grown and become more recognizable internationally, so has its reputation for great pinot noir. In 1998, a contest was held to describe the traits of the Oregon pinot noir. The winner was Steve Heimoff, who wrote that Cary Grant best characterized Oregon Pinot Noir because, "His personality was romantic, urbane, charming, seductive, sophisticated. He had lots of style and finesse. He possessed youthful charm, yet he aged well. He was graceful, elegant, and debonair. His voice and mannerisms were silky smooth. His style was seamless. All the parts came together in harmony." Furthermore, the wine glass company Reidel created a pinot noir wine glass specifically crafted for the pinot noirs of Oregon. Indeed, each year Oregon hosts the International Pinot Noir Celebration.
Today, the wine industry has become a vibrant slice of the state's economy. The challenge now facing the Oregon wine industry is how to improve its overall effectiveness in order to remain competitive. Too often, winemakers face a steep climb in raising awareness and recognition of their wines, which impacts their ability to sell to and through retailers. In Colorado for instance, liquor stores stock little to no Oregon wine. Nevertheless, due to its emerging importance, it is vital that Oregon's wine industry be studied to improve its development and effectiveness at raising awareness about the excellent wines made there. This is the challenge of marketing and Oregon's wine industry needs to tackle it head on.
---