Chateau Montelena Chardonnay
Region: United States, California, Napa County, Napa Valley
Vintage: 2009
---
Average Review (1 Reviews)
---
| | |
| --- | --- |
| Winery: | Chateau Montelena Winery |
| Type of Grape: | Chardonnay |
| Style: | White |
| Price: | $50 |
Description: In the glass the wine is exactly what you would expect from a young Montelena Chardonnay, showing bright yellow gold, with good color density. It smells great, like a green apple pie, bright and a little citrus-y, a bowlful of fresh fruit. The palate is very nice, very smooth, with classic Chardonnay flavors of apple and kiwi, and a lovely finish that leaves the palate refreshed and wanting more. Typically a little tight in its youth, a textbook characteristic of a Chateau Montelena Chardonnay, this wine will reward you with pleasing structure and complexity after some time in the cellar.
Chateau Montelena's rich history began on a chilly fall morning when Alfred L. Tubbs spaded over and inspected the soil where he thought of planting estate vineyards. He had heard the Napa Valley was the best place to grow grapes in California. A deal was struck, and in January of 1882 the San Francisco entrepreneur owned 254 acres of rugged land just two miles north of Calistoga at the base of Mount Saint Helena. The soils are well drained, stony and loose - perfect for the vines he would plant.
---
| | | | |
| --- | --- | --- | --- |
| Filter Reviews by Title: | | by Rating: | |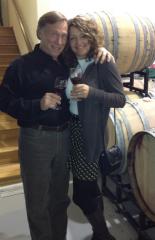 William & Natalie Myers / Blogger , Journalist , Enthusiast
Classification: White; Smell: Fruity; Taste: Fruity; Body: Light-Medium; Finish: Sweet;
The palate is smooth, the fragrance is sunny. Like apples of gold, enjoy with your Honey!
reviewed 10 years 2 months 22 days ago