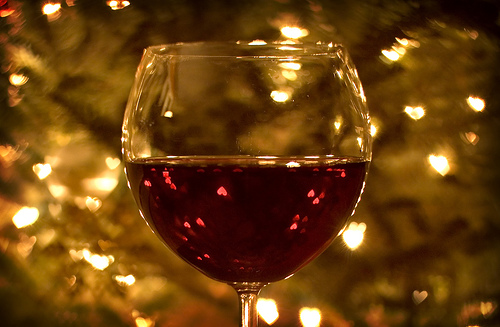 [Photo: Red wine for the holidays / Credit: Heather Katsoulis]
'Tis the season to throw parties, one of my favorite pastimes. Deciding on the guest list, hors d'oeuvres, which cheese pairs with which wine, and every other detail that goes into planning a holiday party can be exhausting. We understand you have a wide range of guests and different palates to satisfy so here's your fail-proof wine guide for all your holiday events.
The first rule is, don't stress about the perfect pairings. The fact is, good friends, good food, and good wine IS the recipe for the perfect pairing. No one is going to worry that your Sonoma-Cutrer Russian River Pinot Noir didn't pair exactly right with the raspberry and Brie puff pastry (although that is a good match)! The most general and easy-to-follow rule is to match the heartiness or delicacy of the wine with the dish. Light with light, medium with medium and big with big. What does this mean, exactly?
Hors d'oeuvres and aperitifs – The starter beverage, or aperitifs as they say à la Française, should stay light to medium in body. You don't want to overpower your more delicate appetizers with a heavy cabernet. Good starter wines for your holiday parties are Pinot Noir, Tempranillo (better known as Rioja), and Syrah (from the region Cotes du Rhone, France), which leans towards a lighter style then the Shiraz from Australia or from certain areas in California. These all have a nice spiciness and good flavors to them, and they range from light to medium, which will be great starters that won't interrupt your lighter fare.
Dinner pairings – Wines for the sit-down dinner party can range from light to full body depending on your meal. You have more heartiness, flavors and textures to work with then you do with your starters so a larger variety of wine will work. You can always count on Pinot Noir to pair with pretty much anything. Chefs love it and if they had to pick one wine to pair with every course most would go with Pinot Noir. Its silky tannins, delicate flavors and high acidity makes it the "easy button" for most dinners. A great Merlot from Washington State from producers such as Pepperbridge, Seven Hills or Walla Walla Vintners will be blissful with almost any meat such as lamb or duck but can also stand up to prime rib or a crown roast. Washington is on the same latitude as Bordeaux and produces wines with refined tannins, finesse and grace.
Hostess gifts – If your only responsibility is to bring a bottle to someone else's party, you've got it easy, so have some fun with it! A good holiday party spend on wine will start at $30 for a respectable bottle and you can go up as far as you see fit. Holidays are a great excuse to up your price point and open those special bottles to see what they've got going on rather than the $10 bottles you may open any day of the week. Any of the wines mentioned above will be great for pairing options but something unique and delicious that your local wine shop suggests is always a good route to go, and maybe you'll introduce something new to your group.
Have a special holiday wine in mind? Share it with us!
---