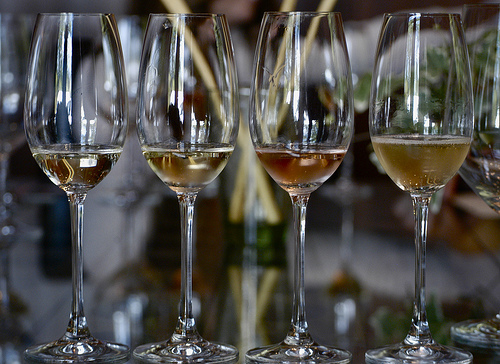 [Credit: maureen lunn]
First and foremost this is a festive time of year, so something with bubbles will always be welcome. This does not mean dropping a bundle on champagne, although it is never money ill spent, but try some different types of bubbles with some flavorings and maybe add your own special ingredients to personalize these drinks for you and your guests. Have you had a Bellini? This is a classic from Harry's Bar in Venice and is made with white peach puree, about 25%, and topped with Prosecco. This ancient grape makes a very tasty sparkling wine and peach is one of the characteristic flavors of a well-made Prosecco. For a variation, after the ingredients are in the glass, take a teaspoon of Crème de Noyeaux, a crimson colored almond flavored liqueur, and drizzle it just inside the rim of the glass so it cascades down the side. Think of your own variations with tastes that go with peaches and bubbles!
And while we are talking of bubbles, why not serve a brut rosé? Cava is always a good choice; drizzle a little Crème de Cassis or cranberry liqueur instead of the Noyeaux as you would for the Bellini. (Bellini is also the name of a famous Italian opera composer.) There can be lots of variations here for your creativity. And do not forget those "other" sparkling wines from France called Cremant which are made in regions that are not Champagne. So how about a Cremant d'Alsace, made with riesling grapes, and a little touch of Calvados? Or Cremant de Bourgogne with a touch of Cognac? Or Marc de Bourgogne for a spicier taste?
---