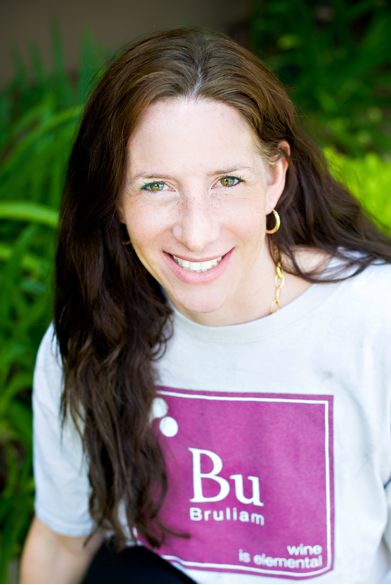 Kerith Overstreet, Winemaker at Bruliam Wines, Russian River Valley, Sonoma, California
A few years back I stumbled upon a webpage that told a story of a couple falling in love with wine, deciding to make their own, etc. The tale seemed charming enough, so I read on. I had not paid any attention to their names as I read the article. Then I saw the picture. Take double did I says Yoda. I KNEW those people. I'd even played high school football with Brian and remembered that he had impressed me back then with a gritty determination on the gridiron. Both Brian and Kerith, I also recalled, were wicked smarty-pants.
We got back in touch. In 2008 I tasted Kerith's pinot that she made at Crushpad. Whoa. Let me swirl and sip that again. And again. My oh my I thought, for one of her first attempts, hell, for a thirtieth attempt, this juice was special. Really special. This was not some, "oh my friends make wine so I'll cut them some slack and say it is good" reaction. No. This stuff was rocking, elegant, and mouth-wateringly delicious. In fact, their pinots consistently rank among the top wines I drink each year.
Kerith went on to craft even better vintages and she seems to be gaining speed. Take note of the Bruliam story, and seek out these wines. You will not be disappointed, plus, you'll be getting charity karma points.
Kerith was kind enough to answer twenty-one of my questions, below.
21 Questions
1. What were you before you were a winemaker? A surgical pathologist.
2. If you weren't a winemaker you'd most likely be a wine-drinking surgical pathologist.
3. Happiest moment(s) during the wine crafting process (besides "finishing")? It's always exciting to sort your fruit, especially the first fruit of the season. I still enjoy punchdowns. It's important to know what's happening during every stage of fermentation and punch downs are a terrific way to assess aromatics, cap condition, and CO2 production. It's gratifying to use some elbow grease and hear the hiss of CO2. I also enjoy inoculations and working with yeast. But then again, I also like baking bread and making pizza dough.
4. Worst moment(s)? The 2008 smoke taint - knowing your wine is beyond redemption. (Note from Keith – this refers to the 2008 fires in Sonoma that created so much smoke that most grapes soaked up overbearing barbequed / smoked meat aromas and flavors - rendering much of the 2008 crop undrinkable.)
5. For the rest of your wine-crafting days, if you could only make wine from one red grape variety what would it be? Pinot noir.
6. For the rest of your wine-crafting days, if you could only make wine from one white grape variety what would it be? A marsanne/rousanne blend is on my winemaking bucket list.
7. How do you define "bottleshock"? The temporary dulling of aromatics, flavor, body, and complexity that follows bottling. While the exact scientific explanation is still debated, the condition is universal. I prefer to reframe the term as "bounce back," as in "the wines will bounce back soon." It sounds less traumatic.
8. With regard to bottleshock….how long do you let your purchased wines rest after they have been delivered? I'm a poor model; I'm impatient. I've had wines shipped within California and opened them that night at dinner. I don't try my own wines until 8 or 12 weeks post bottling, though.
9. Please list 5 words (or more) to describe Mega Purple and/or its use and/or users. I've never used Mega Purple. I don't personally know anyone who does.
10. What is your favorite beer(s), and why? I'm not a beer drinker.
11. Your favorite cocktail(s), and why? Anything pink, fruit, fruffy, and flirty- with extra consideration for anything with Marascino cherries, sugared lemon rinds, or paper umbrellas.
12. How long to you typically decant red wines prior to enjoying them? Geez, I'm going to get called out on the impatient card again. I also lack foresight, so I'm lucky to get anything decanted 30 or 45 minutes before dinner is on the table. But then again, I also save a glass to savor once the kids are in bed. That juice sits in a glass on the counter for a couple of hours. It's jerry-rigged decanting.
13. Under what circumstances would you decant a pinot? If I poured myself a glass or a splash, and it seemed tight, reductive, or introverted, then I might decant the rest to see if it blossoms with air and time. I generally taste everything before decanting. I'd hate to decant an old cab simply because it's "what you do" only to lose the last wisps of currant or berry.
14. Under what circumstances would you decant a white wine? I've actually decanted a Condrieu. I swear when I pulled the cork it smelled like stinky cheese. I love, LOVE stinky, runny unpasteurized cheese, but it wasn't what I was expecting from that bottle. That splash of oxygen vaporized that cheesy stuff into the heavens, and the bottle opened up with gorgeous floral aromatics.
15. Choose one or more of the following to describe vacuum aerators and similar apparatus.
a. Gimmicks.
b. Useful, have a positive effect on the wine above and beyond what decanting can accomplish.
c. Same effect as decanting, just quicker.
Answer(s): C (although I am the first to admit there are times I can't distinguish the non-aerated glass from the aerated one).
16. Choose one or more of the following to describe metal dipping devices and similar apparatus advertised to almost instantly "age" wine.
a. Gimmicks.
b. Useful, have a positive effect on the wine above and beyond what decanting can accomplish.
c. Same effect as decanting, just quicker.
Answer(s): I've never used one.
17. Your favorite brand of wine glass is Riedel for reds, Riedel for whites.
18. Some of your favorite non-US and non-European wines come from where? Chile, Argentina, and South Africa.
19. Have any wine / food pairing(s) that seem odd, but really work? Bruliam Rockpile Zinfandel and my homemade chocolate-almond-spice biscotti.
20. What work do you suppose you will do after your last punch down? Technically after the last punchdown, the wine is ready to press off of the skins. But if you mean what will I do when my last wine is finally put to barrel, then I guess the answer is laundry, grocery shopping, return phone calls, catch up on work and everything that got put on the back burner before harvest. But I could really use a manicure. My cuticles are stained purple.
Follow-up to this same question…
As you know, Bruliam is a not-for-profit winery. 100% of our profits are donated to charitable endeavors. To date, Bruliam Wines has donated money to almost 40 different charities. But I don't get to pick the beneficiaries. Our mailing list and Bruliam Brigade get to choose and do the really fun work. When I am done making wine, I hope to devote more time to the community endeavors that speak to me personally. I am passionate about education reform, arts education, access to art institutions, and military veterans support groups. We live in an agricultural community rich with bounty and natural beauty; Sonoma County is magical. But there are still too many children without enough food, without access to arts, and without adequate creative outlets. Besides making wine, there is much work to be done.
21. If you could give any beginning wine drinkers one sentence of advice, what would it be? Taste more wine, and trust your palate. You will know what you like to drink.
Kerith's Biography
"As a child growing up in San Diego my parents always told me that I could be whatever I wanted, just so long as I went to medical school first! And that's exactly what I did. I earned my M.D. at the University of Rochester and found myself on the fast track towards a life as a plastic surgeon. However, after a sleep deprived residency year in general surgery at Loma Linda University Medical Center, I was burnt out on medicine.
I decided to take a year off and explore other passions, namely cooking. I enrolled in culinary school and enjoyed that immensely. But about half way through that gap year, I befriended a pathologist who cajoled me into spending a few days trailing her through the San Diego hospitals. It didn't take long for my passion for medicine to return. I completed my residency and two fellowships in pathology at University of California San Diego. I loved the academic and lab-focused work in the Pathology department. I published papers, presented at medical conferences, led teaching sessions for medical students, presented at tumor boards, and very much enjoyed being part of the "science geek" crowd that provided the answers for the other physicians at the hospital. Best of all, there were no sick people to deal with!
After I completed my training and passed my boards, I took a staff position at Kaiser in San Diego. Shortly thereafter I gave birth to our first child and started to cut back my hours. Before long I was pregnant again (this time with twins!) and knew it was time to hang up my medical hat – at least for a little while.
Shortly after the birth of our twins, my husband and I began talking about expanding our passion for wine into making some of our own. We became clients of Crushpad in San Francisco and made a single barrel of pinot noir. I fell immediately in love with winemaking - the mix of science and art was a big draw for me. With my years in the path lab, I was very comfortable with the chemistry and biology components and loved how many different decisions were involved in crafting a well-made wine.
We increased our production at Crushpad and stayed with them for the 2008 and 2009 vintages. During that time, I enrolled in the year-long enology certificate program at UC Davis and found the same passion for scientific exploration I had in pathology fulfilled with learning about the esoterics of winemaking. I began experimenting with taking the Crushpad "training wheels" off in the 2009 harvest when we crushed a small lot of Rockpile Zinfandel at a facility in Healdsburg – and I was totally hooked.
We began sourcing our own fruit for our pinot program in 2010 and moved all of our production to Healdsburg. From day 1, my goal has always been to seek out the best growers in each of the appellations we want to work with. I was both naïve and fearless about cold-calling famed growers and asking for 1-2 tons of fruit. Some of them laughed out loud at my requests, but all of them ended up agreeing to work with us. It helped that I could rely on my old culinary school days to bake up cakes, pies, and galettes as bribes (something that continues to keep me in the good graces of our growers!).
We're now going into our fifth harvest and I finally feel like I have a good idea of what I want to do with our wines and how to accomplish those goals. We've also recently purchased our own small pinot vineyard in the Russian River Valley. We'll continue to work with our amazing grower partners, but it's going to be a fun new challenge to work with our very own fruit through the entire winegrowing process.
There's no question that my medical background has provided me with a great science foundation to execute on my winemaking. And I always feel like I've come full circle when I'm invited into a medical conference or pharmaceutical company to give a presentation on the biotechnology of enology and my decision to leave medicine for winemaking. I usually lead off with a picture of me doing an autopsy during my first year of residency and then a picture of me harvesting grapes on a beautiful fall morning. That tends to stop any questions about why I choose to do what I do."
About Bruliam Wines
"Bruliam Wines is a boutique producer of single vineyard premium wines. Established in 2008 by Kerith and Brian Overstreet, "Bruliam" is an amalgamation of our three children's names. We strive to craft world-class wines and use 100% of our profits to support charitable endeavors. Since our 2008 inception, Bruliam has donated to over 30 unique, charitable organizations selected by our followers through our 'Bruliam Brigade' program. We've extensively documented our start-up and on-going growth on our blog."
Next Winemaker in the Spotlight: Janet Myers >>
To learn more, visit Bruliam Wines' website (don't miss their hilarious, and truly well written blog), Facebook page and find them on Twitter. Or read more articles about Bruliam Wines and Kerith Overstreet by Keith Hoffman.
CTRL + Q to Enable/Disable GoPhoto.it
---