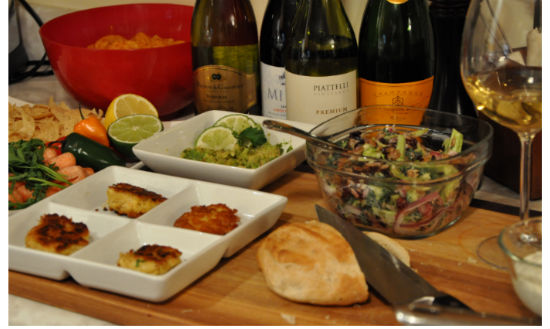 I'm in planning mode for my Super Bowl party this year, and let me tell you, I've got my game face on. I'm set on scoring a touchdown in planning and execution of timing and menu. Here are some of the tips I'm writing in my playbook as I develop my game day strategy. What else would you recommend?
Choose a menu that can be made at least 90% ahead of time. Most people would probably chide me for stopping short of 100%, but I must be honest. I do love being in the kitchen, fussing over the final details of prep as people are settling in. Nevertheless, a couple good make-ahead options are Marilyn's Chili Colorado and Mini Crab Cakes (which can be frozen, then reheated with plenty of crisp).
2. Plan for a bunch of food with all the traditional "greasy finger foods" you love on Super Bowl Sunday and a few new ones. I admit, I've got a rather large weakness for bean-and-cheese dip. And bacon. Oh yes, and chocolate. So I'll definitely be perusing our Pinterest board for recipes (and president Paul Giese's wine pairing suggestions).
3. Set up the bar with wine and beer paired to the menu and plenty of ice on hand. Once you've decided on the menu, check out our Super Bowl guide for some great pairing suggestions or peruse the Food Pairings section to find wines suited for your particular menu.
4. Get your glassware out in advance. Just as important as the bottles themselves is being organized with your glassware. Will you be pulling out different wine glasses for reds and whites? What about beer glasses? Opting just for those classy plastic cups so your more precious stemware is safe from a stampeding crew of hungry football watchers? Whatever your decision, set out the glasses in advance, so drinks are in-hand as soon as people arrive.
5. Save yourself from hovering—put out plenty of plates and napkins. In true "best-offense-is-a-good-defense" style, equip your hungry crew with the utensils they need to help themselves to seconds (and thirds). You don't want to miss all the Super Bowl commercials, so plan ahead for a multi-round feast. Then sit back and relax.
6. Tell your guests to arrive before the game starts. Set your party start to at least a half-hour (or more!) before game time. That way, everyone can get their coats off, glasses and plates filled and settled into their seats in front of the big screen by the national anthem. This is a hard one for me, so it's a good thing I'm hosting…I'll be sure to be there well ahead of time.
7. Make it a team effort. Super Bowl Sunday is the second-biggest eating day after Thanksgiving. Who says you have to make all the food alone! Have your guests each bring an app to share. Challenge them to pair a wine with it, and you'll have the bar covered, too. (Send them this link…they'll have so much fun perusing, they'll feel compelled to bring wine.)
8. Have an app ready to go before the doorbell rings. The prep is done, crockpots are turned on and pans are in the oven. But having an appetizer that is eat-ready as soon as people start arriving will get the party hopping from the get-go.
9. Have an easy snack in-queue for half time. It's all part of your menu strategy. Anything that requires more lengthy prep should be done well before the game. But keep a quick-and-easy snack in reserve to re-energize the food line with something new at half time, such as this guacamole with variations for 49ers or Ravens fans.
10.Think about where the food goes in the living room. You know the crunch. Someone gets up in the middle of a family movie night and puts their dirty sock right in the middle of the chip bowl sitting on the floor. End tables are a great solution to the problem, and you may want to consider setting up a few additional TV trays so everything can be comfortably elevated and out of traffic patterns. Coasters are good if you care about the wood.
Now I'm interested in hearing from you. What's your menu look like? What drinks are you planning on having? What's your best game day hosting tip?
---