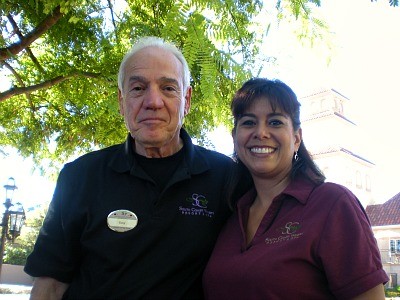 [Tony the South Coast Winery tour guide / Credit: Southwest Wine Guide]
If you're looking for a first-class southern California wine destination experience, South Coast Winery Resort & Spa has it all. Make no mistake, it's a bustling place with tours, dining, weddings and accommodations; but it still somehow manages to retain a relaxed wine country vibe. The grounds are beautiful for strolling after lunch or dinner at the Vineyard Rose restaurant, the villas are romantic and private with vineyard views, and the wines are surprisingly good!
Inspired in the mid-1990's by the film, A Walk in the Clouds, and his father's encouragement to purchase acreage in southern California's Temecula Valley, Jim Carter has built a successful wine business, planting and nurturing grapes and enlisting the help of expert winemakers. As he launched South Coast Winery Resort & Spa, Carter worked to created a true destination winery by building villas, a restaurant and a spa right in the middle of his 38 acres of vineyard.
Get inspired by watching some other great wine movies with an Oscars twist. Check out our list >>
His Spanish-mission style buildings convey an elegant Mediterranean charm. Separate from the resort, the tasting room can be found by following a vine-covered walkway leading to a large water fountain and tour gathering area. Double doors leading into the Tuscan-style tasting room is where guests register for the wine tour. The tasting room itself is spacious and there is also an adjoining gift shop packed with gift items.
Our knowledgeable wine tour guide was Tony. He welcomed the group by offering a taste of Ruby Cuvee, a sparkling Syrah with a deep ruby-red color and flavors of strawberry, raspberries and sweet chocolate. The distinctive taste was refreshing and a perfect way to begin a late morning wine tour and tasting.
The Several Vineyards of South Coast Winery
Our tour started at the edge of the South Coast vineyard, where Tony described the grape varietals planted on a total of 170 acres located in four vineyards in the Temecula and Mount Palomar areas. We were then taken behind the scenes to see one of the harvesting machines used to process the grapes from all the vineyards. Another door led us into the fermenting areas where stainless steel tanks and oak barrels age the many wine varietals. The bottling room was next and Tony explained the process of bottling and labeling 60 thousand cases of wine per year.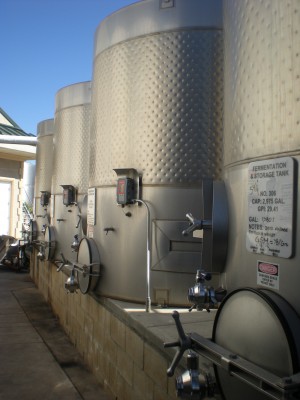 [South Coast Winery's Tanks / Credit: Southwest Wine Guide]
He then escorted us to the sweeping lawns at the rear of South Coast Winery where his co-worker, Sonia, joined us. She seated us at a table surrounded by grape arbors and lush greenery to begin the food-and-wine-pairing portion of the tour.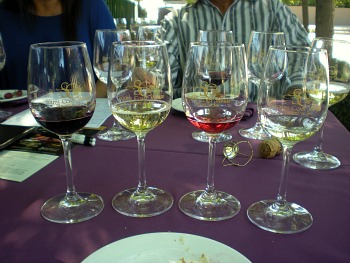 [South Coast Wine Tasting / Credit: Southwest Wine Guide]
Check out Carol's original article for the wine and food reviews in Southwest Wine Guide >>
---